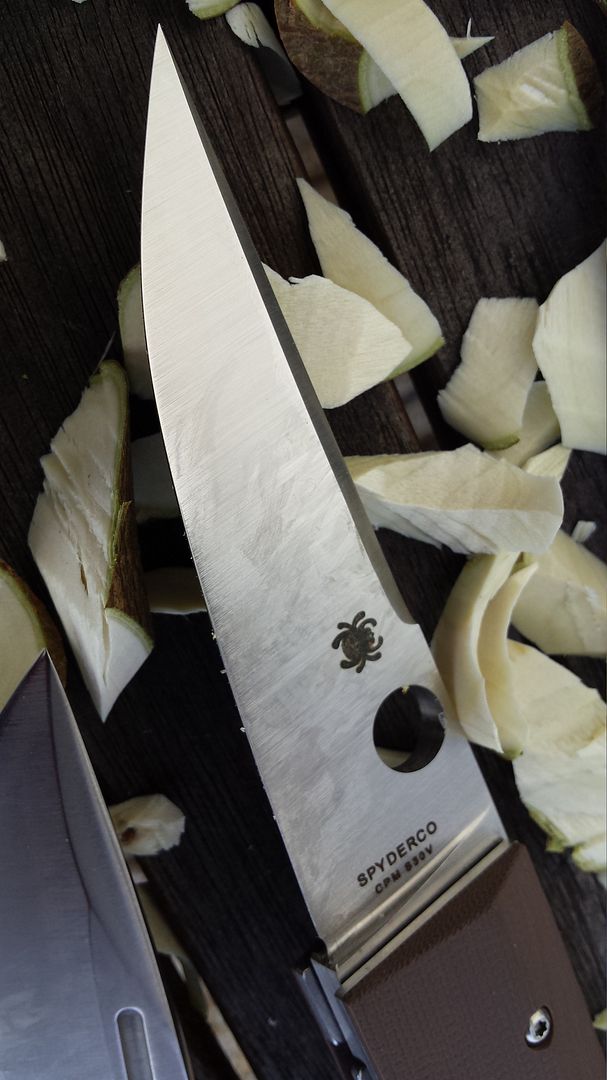 I could not imagine that a knife with a 4.5mm thick stock blade could be considered as some kind of safe queen ever. A delicate collection folder destined to open letters (and clean nails). The Nilakka is from Pekka Tuominen for God's sake. He is a exmilitary, a countryman, a masterbladesmith and a gifted knifemaker who is also genuinely "tool oriented" (even if he also loves precision and is "attention to details" driven). So. No safe queen. Let's use his Nilakka like it deserves it: hard. Everyday. In all conditions. And it has to be successful ! I'm a grandson of a farmer which used to clean his knife on his trousers, drink like a hole, spit on the ground, and fart loudly to make his point. I will use the Nilakka like he would have use it.
But before, I needed to change some details to have that gorgeous folder fitting my personal tastes. First thing to be tuned was the clip. This a great deep pocket clip but this one was going to eat my pants pocket faster than a porcupine in love. Also, it was so tight, the Nilakka was not a fast drawing tool at all. Easy peezy lemon squeezy, some sanding with sandpaper (600 grit) and the handle is now soften as a hedgehog neck. And also, the Nilakka is much easy to pocket (in and out). I need to have my tools out of the way as fast as I need them to be drawn.
Second important personal tuning: the back of the blade is just too sharp for my delicate thumb. It would be a blister magnet to keep it with all those sharp angles that way. Again, some elbow grease and some sandpaper were able to fix that and… now my thumb can push the blade with confidence. this is important for power and control of my cuts.
Like I had noticed it, My C164GBM is from the second generation Nilakka: it is not a zero ground blade. There is a tiny tiny bevel.
Anyway, that knife does pushcuts into hard wood with an ease which is simply unreal! The Nilakka is by far one of the best wood cutters in my collection if not the best. Even my CPM Cruewear Military with its now impoved with a thin convexed edge is not a match for the S30V blade of the C164GBN. Into wood, the Nilakka goes deep, steady and makes big chunks of wood. It's so easy. It's so fun ! It's so reliable on the long run.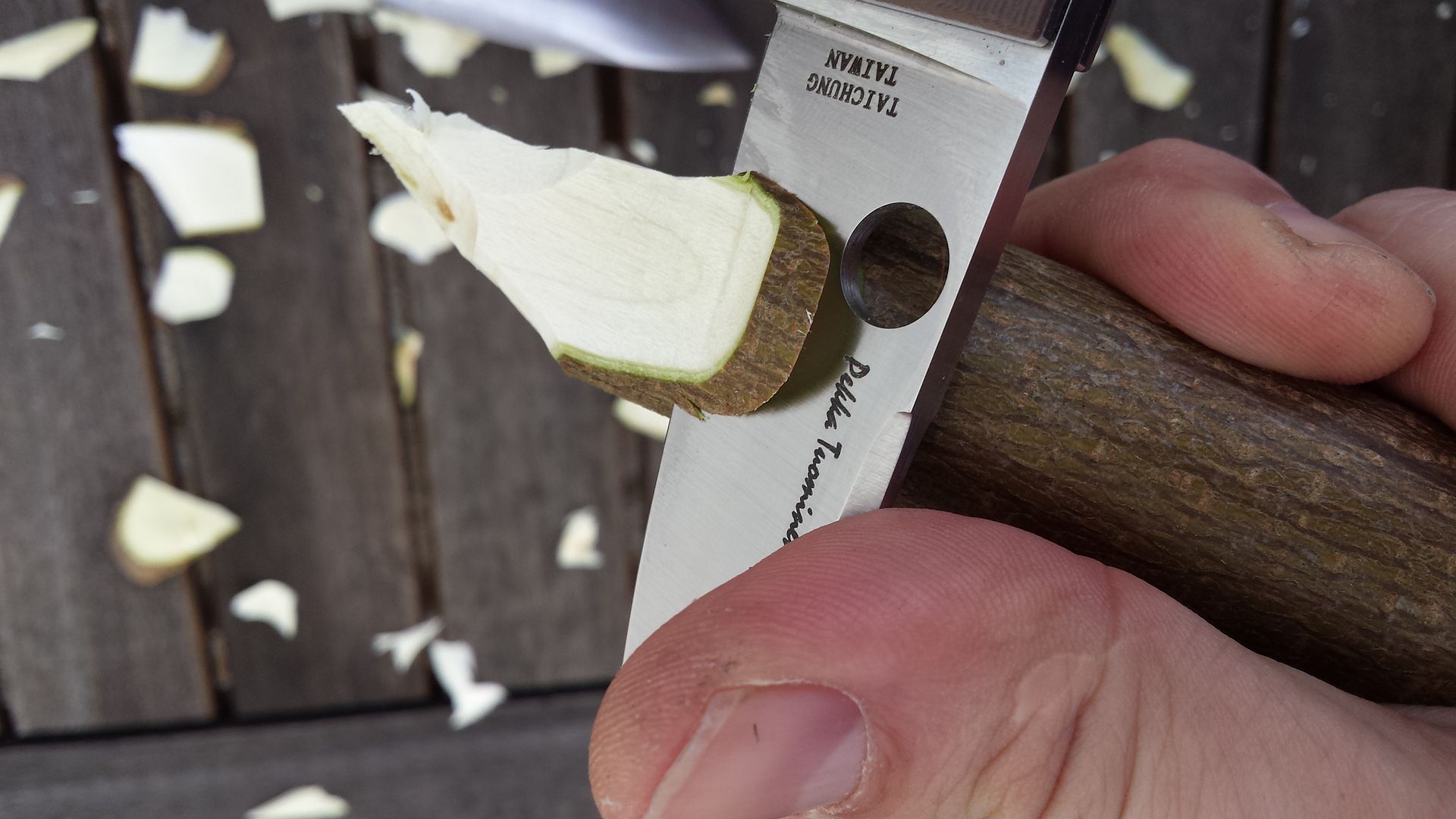 Oh, I'm so disappointed: I was not able to have my edge ruined !! I was expecting to have some damages by cutting bambu, hard plastic and bones… Nothing. I was able to dull it and I have also able to use ceramic and leather stropping to maintain the edge on a very keen level. In 2 minutes, S30V (which is not my favorite steel after using CPM M4, CPM3V…) is back to high level of sharpness and more stropping can make it a true razor able to whittle some hairs.
The handle is strange, isn't it ? Diamond shape. But once you know how to palm it it is very comfortable to use despite all its sharp corners. And yes I have grind the corner with sand paper too. Why it's so confortable in use ? It's certainly because the handle is fat and in "3D". This a particular shape you can find on Finnish fixed blades (Tapio Wirkkala's design and Sisu's version of Cold Steel named the Finn Bear, it's the same diamond shape handle…). It's very effective even when my hands are wet. If I need to stab anything I will rest the handle's butt in my palm. (Sanded sharp corners…) Anyway, such a thin edge doesn't need too much force to cut deep in any hard materials. I even cut into aluminium cans. I wanted to see how S30V would behave if I was using it like a CPM Cruewear blade. Spyderco excellent heat treatment and micro bevel is the key of success. The Nilakka's edge is now reliable.
So far so good. We still got a thin point blade which makes look the Military as a crowbar. After drilling some holes in chestnut wood, I have lost half a millimeter of that thin needle pointy point. In fact, I had noticed it after drilling a dozen of holes, twisting the blade again and again… No big deal, there is still enough point sharpness to pop any balloon around. I had the same with my Spyderco Ronin, Dodo and Yojimbo and it was not a big deal. It's relatively easy to regrind by hand and the new point is much more sturdy.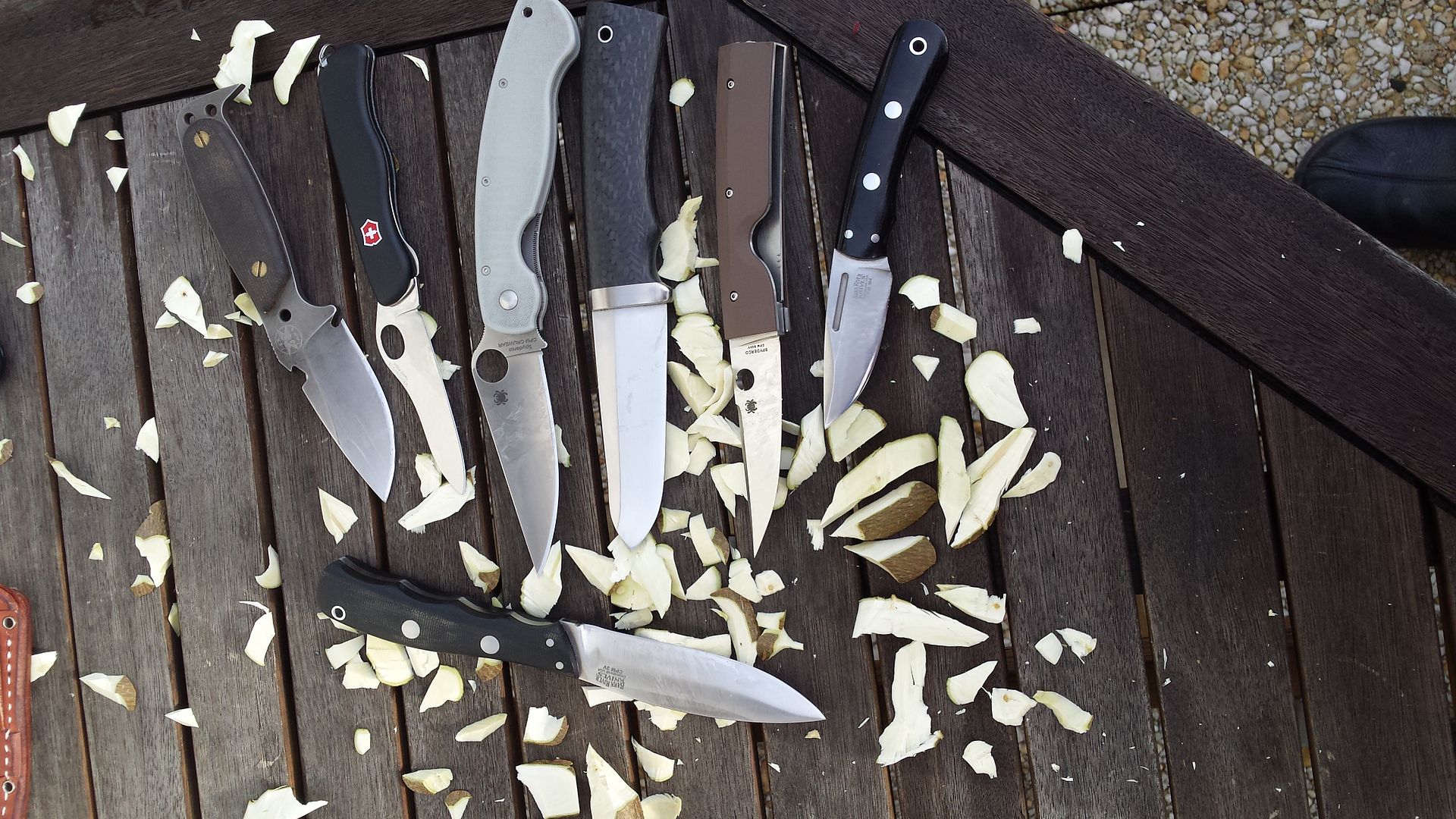 The kitchen is my main battlefield. You need to be able to process, flesh, bones, tomatoes,plastic bottles, cardboards, cling but also aluminium. Again as thin as it is, I was not able to damage the Nilakka edge. OK, I did not try to hammer the Nilakka through a concrete block just for the sake of breaking it. This would be (pardon the pun) pointless. But this is not a safe queen !
And I had used my folding puukko like my grandfather or my father in law would have use it.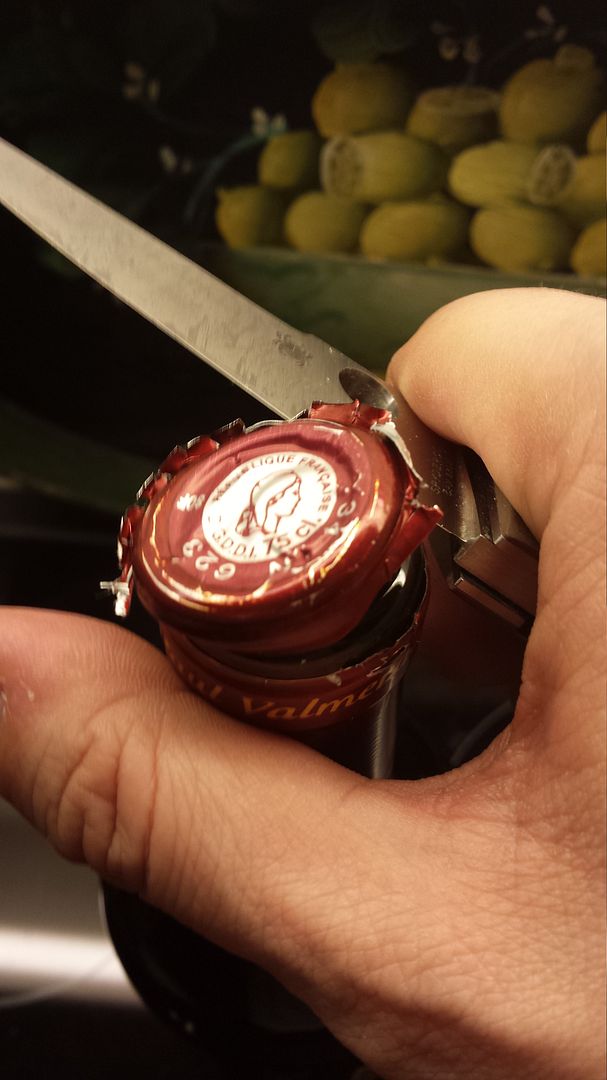 Now, the Coke bottles are one of my favorite test and many famous knives were not able to cut through the hard plastic bottom center. This is the thicker part of the plastic. Try that on your favorite knives and you will be surprised. Try to cut right in the middle of the butt. Here, the Nilakka was able of miracles. The same kind of powerful push cuts a sharp Opinel can provide. You know, thin ground blade Opinel are really kings in pushcutting hard materials. Try any of them on plastic and you will be really surprised. The Nilakka is in the same league. It is even better than Urban II, the Hunting knife from Pekka Tuominen I carry in my bag. This is something that many "tactical" knives makers are forgetting. (Mad Dog knives or Striders are not the sharpest tools for that…)
I was really surprise in how the S30V thin edge behaved on the long run. No more chipping, no bending, no more damage (but the point). I was really impressed.
Through all the holidays, the C164 has been rinse after use but not oiled (I use Nano Oil than I get from Isidore in Armes Bastille) and the Nilakka is as smooth as the first day. The lock has not moved. I was not able to have lock failure. The knife is easy to clean and shows no rust despite its use for cutting lemon without real cleaning.
The absence of guard on that design is not an issue if you know how to adapt and how to use a knife. There is plenty of ways to choke up the blade for delicate work and the absence of the usual Spyderco choil did not bother me at all.
Something, I have noticed and that I love about that blade's shape: it starts like a sharp wedge and ends like a needle. This is unique and radical in design. And you can find many use to it. The penetration power is tremendous and the slashing power at the top of my records.
I was not even able to notice any wears or scratches on the metal spacer.
So it has kicked my Millie from my pocket. And I will continue to EDC the Nilakka for the coming months until it fails me. Which is not certain.
I'm really surprised in how the mechanism is reliable and easy to rinse but most of all the keen blade is a pleasure to use and put all my other knives under a new perspective.
For example my Gayle Bradley seems like much duller knife compared to the easy deep cuts provided by the Nilakka geometry.
Also Pekka's design is so unique and beautiful, open and closed… it's really "sheeple friendly".
So the test will be continued in round 3.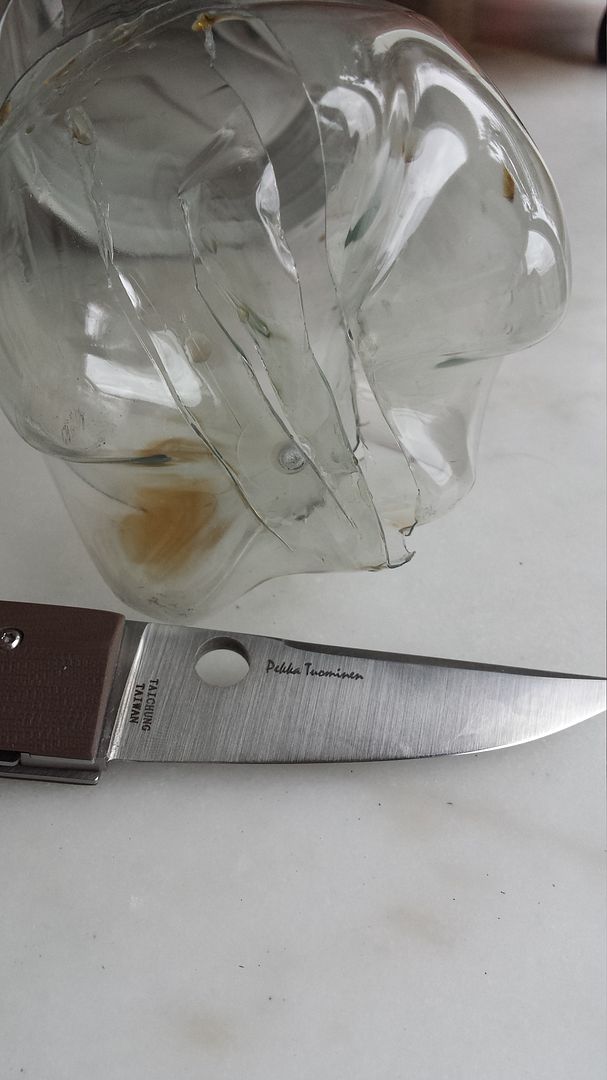 Stropping the blade is the best way to keep it to razor sharp level. It's easy and quick.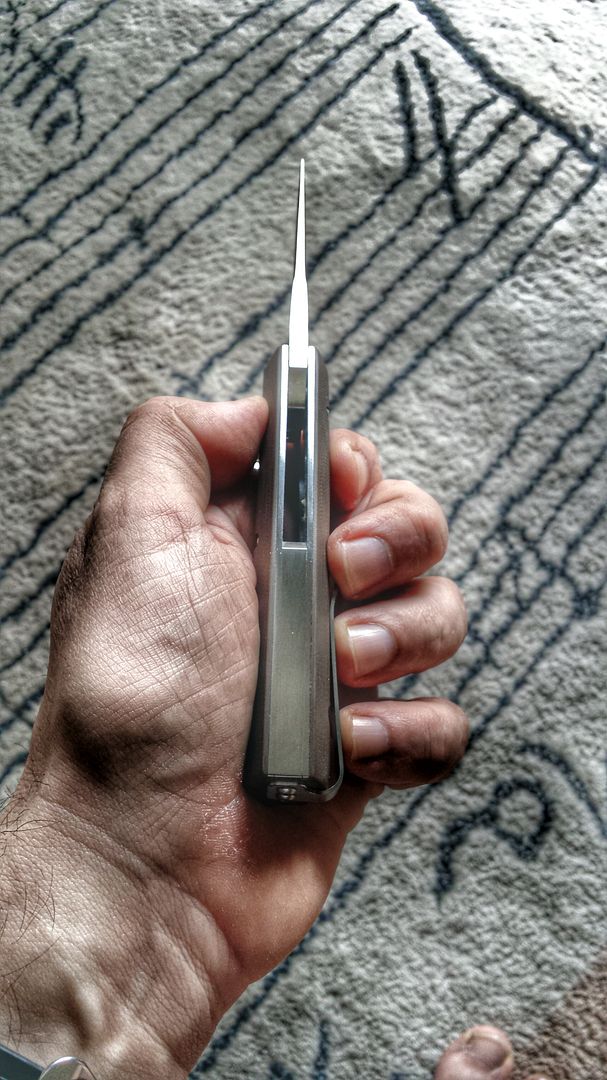 O
One of the most beautiful back in the folding knives industry. A steel spacer, a thick blade and a thin point. Unique !
---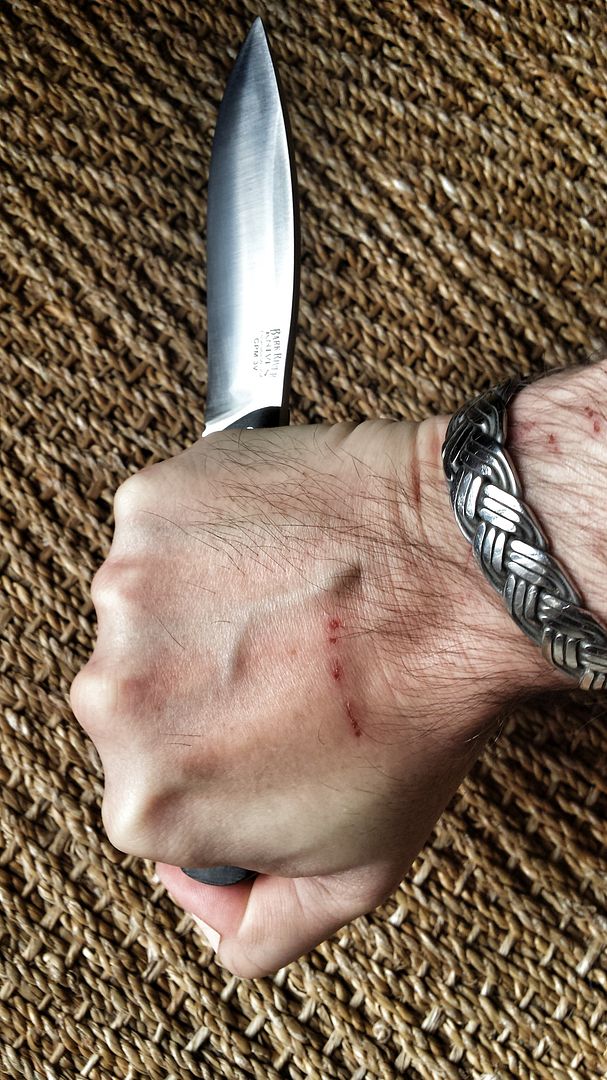 This a first glimpse at a new acquisition: the Canadian Special has been designed by Mike Stewart owner of Bark River Knives and it is his favorite knife of this size.
It's his own version of the famous Canadian skinner D.H. Russell Canadian Belt Knife made by Grohmaan since 1957.
This is not my first BRKT knife. I already got a Bravo 1 in CPM3V and an Essential in CPM-M4.
Again my Canadian Special came razor sharp. (Ordered at The Knife Connection, it was in France in 4 days BTW.) I was already amazed by CPM3V on the convexed ground blade of my Bravo 1 but I wanted a thinner edge. The same edge I got on the RWL34 blade of "Urbain II" my state of art hunting knife made by Pekka Tuominen.
One of my favorite all terrain outdoors knife is the famous Spyderco Bushcrafter. But as far as I love his ergos, I wanted the same kind of tool with a thin convexed CPM3V blade. That was my first goal when I had purchased the Bravo 1. It was evident other BRKT knives got better slicing performance without sacrifice to much strength e.g. the Canadian Special with its full flat convexed grind blade.
Also I really loved the curves on the Canadian Special. This atypical shape was also really attractive to me. A thin handle for a wider and pointy blade. This design looks ancestral for me.
Now beauty is in the eye of the beholder but I really love the light recurved edge, the leaf shaped blade, the almost full flat grind …
My Canadian Special is foremost destined to be used hard in the wood: batoning, light chopping, wood digging. CPM3V on such a thin edge platform should perform great. So far, I was not able to ruin a CPM3V edge either from Spyderco (The Tuff) or BRKT (I still waiting for a CPM3V Cold Steel Design which does not look like a Ninja's dream…)
The handle was a little to square to my like but everything was easily adjust with some sandpaper (they are two pictures here after, the first was the first stage and the second another 15 minutes more) .
And without to void the guarantee which is really nice from BRKT: having the possibility to adjust a knife to your own like is a real plus. Now the handle suits me much better. I have also filled the back of the blade for the confort of my thumb.
My Canadian Special is easy to strop on leather and right now I can shave with it. Some push cuts in bambu were deep and with zero damage on the edge. I was was surprise by the size of the chips the knife was able to produce: thin edge and great geometry.
So here are some pictures of this new hard chore user, before more tests in the kitchen and in the woods: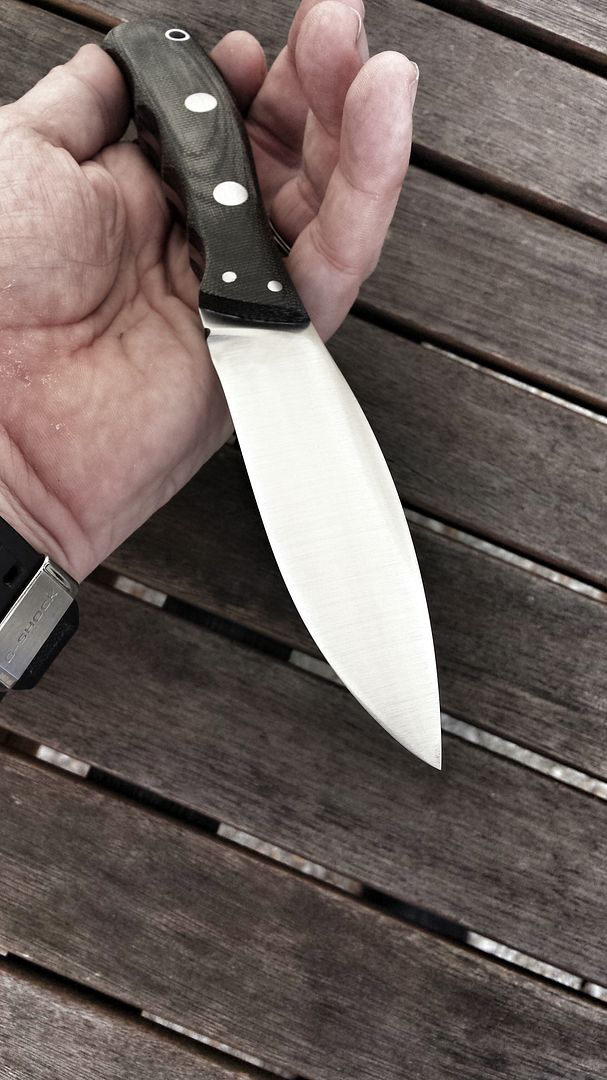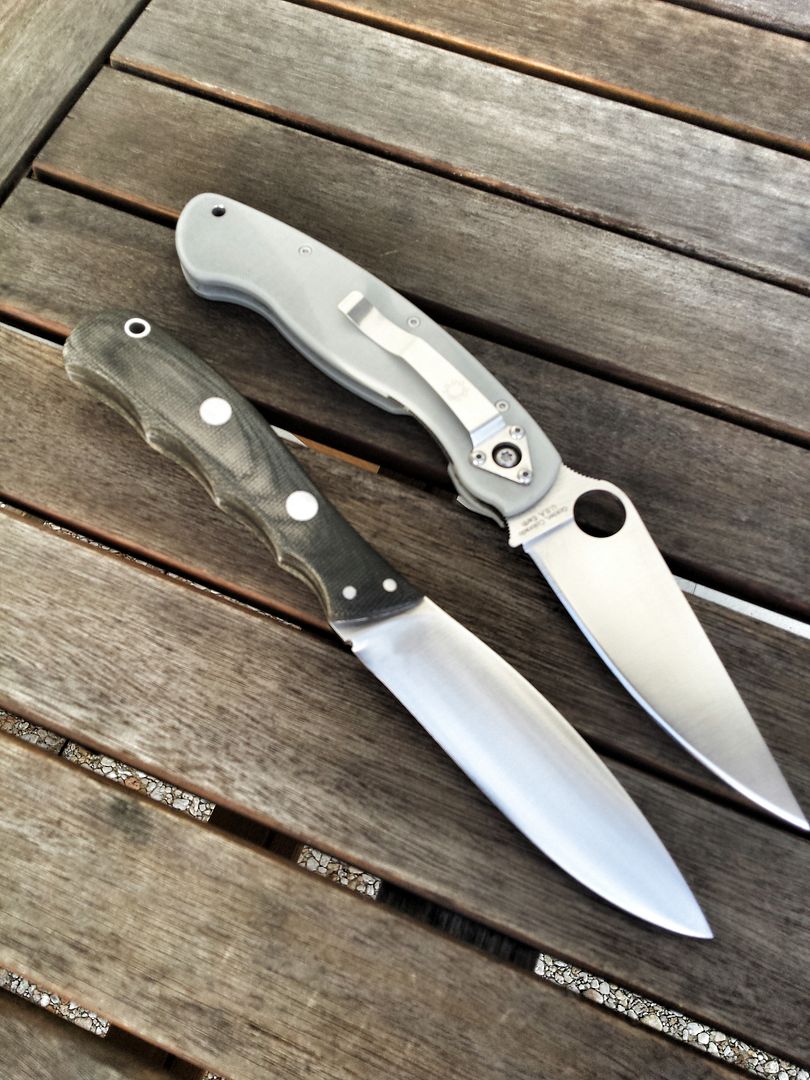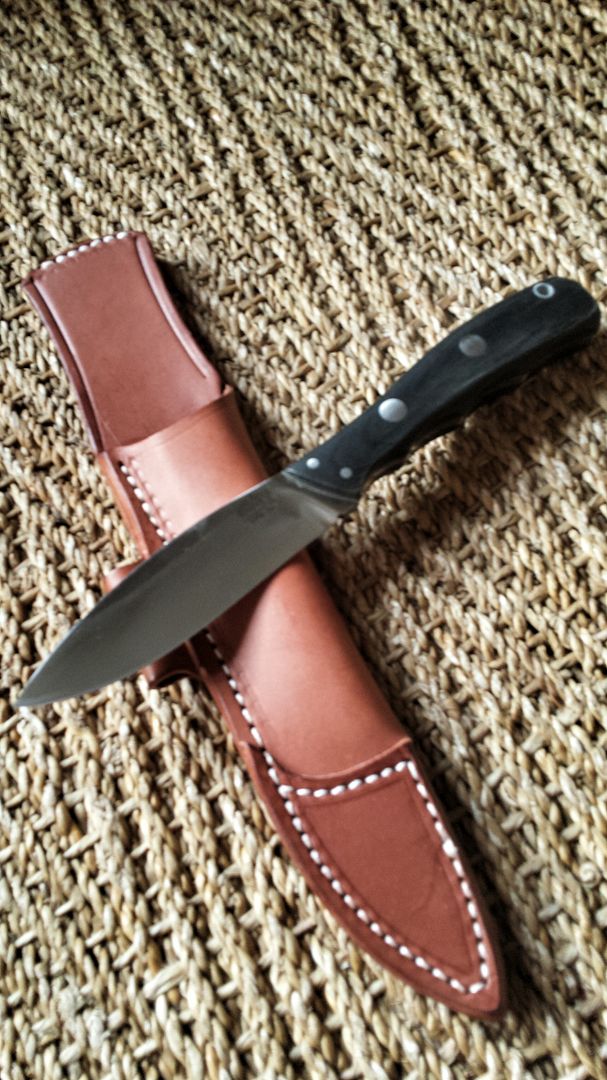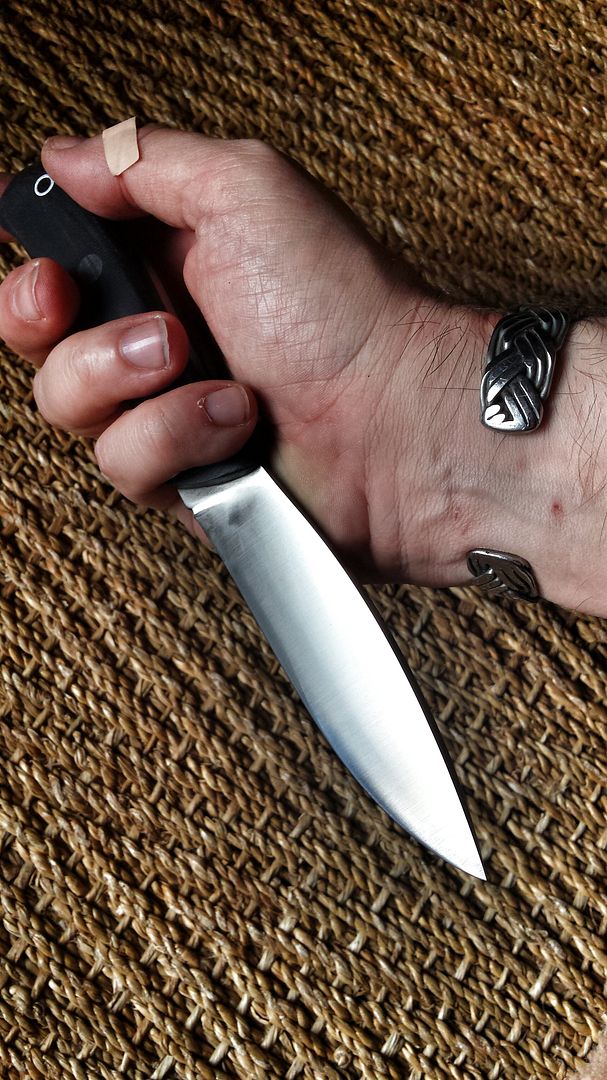 Some words from Mike Stewart (Knife forums the 12th May 2012)
"I took My time with this design because I am not an overthinker. I wanted a hunter and a bushy built into one package. I kind of thought that If i did all the ovrthinking on the front end of this one I could use it and not look back – I was right for me on the CS.
I love the Arched Back of the Canadian Blades for Scraping an mashing stuff while keeping the point out of the way.
I wanted part of the edge straight for Bush work and wood work and enough Curve to do hunting and meat work.
I wanted great Geometry with a good thickness edge spine and I still wanted the grind not to come up to the very top so that I had a parting shoulder at the top of the Blade to help in batoning and splitting.
The handle is deceiving – it looks like that finger grooves are limiting – in actuality they are not and when you open your hand the knife rights itself because the area under the grooves is actually almost totally flat.
The knife is Comfortable for me in every way I grip a knife in use.
I have no illusions about how people feel about the Woodlore style handles and how they have been taught it is superior – I love the Aurora and the Bushcrafter but the CS fits me better and more securely."
---
A smooth G10 handle after some sanding.
Back in 1996 I was handling my first Military. It was a CPM440V (S60V) blade with a black G10. Here the link to our old review Fred Perrin and I back in the Geocities'times.
Since, well, the constant refinement have made it ever more reliable.
Anyway, when I heard a Sprint run will be made with a CPM Cru-Wear blade, I knew this was going to be a excellent update.
What is CPM Cru-Wear ? My old friend Cliff Stamp was able to give the link:
http://www.nsm-ny.com/files/CPM%20CRUWEAR.pdf
It's the powder version of the ingot Cru-Wear an American cold work tool steel. A Mule MT12 has been made with the ingot version of Cruwear and their users were wishing out loud for a folder with that steel. Ingot Cru-Wear is tough and with a toothy edge which is really wear resistant.
Quoting Spyderco Mule Sheath: "Upstate New York's Crucible Steel manufacturers Cru-Wear which is very similar to Vascowear, a steel used by Gerber Legendary Blades in many of their past production knives.
Cru-Wear is a high-performance "V" tool steel that is difficult to process making it challenging for knife manufacturers to work with. It follows the same high-alloy, metallurgical tool-steel recipe used to produce D2, but with greater levels of vanadium, tungsten and molybdenum. It is air-hardened and worked in a cold state. Cru-Wear exhibits exceptional toughness, impact resistance and hardness for exceptional edge retention and is the first tool steel offering in Spyderco's Mule Team Series."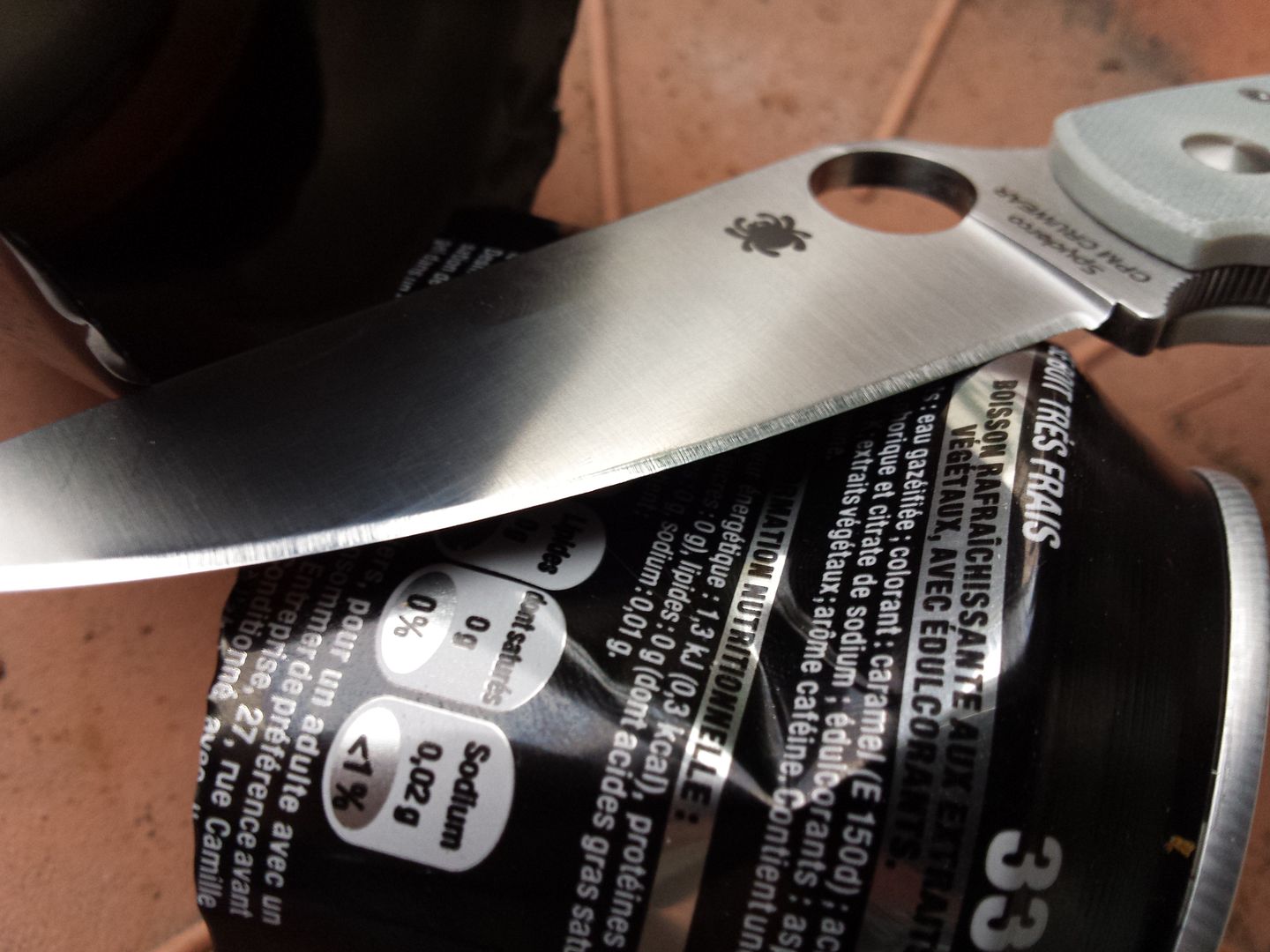 Cutting aluminium is easy and do not damage the edge.
Here is also a link to a great discussion on Bladeforums: MT12-Cru-Wear-real-world-feedback/a>
Now "CPM" Cru-Wear should be even better.
OK now, why I'm so excited? CPM Cru-Wear is destined to be tough. Not as tough as CPM 3V but more wear resistant. It supposes to be tougher than CPM M4 but less wear resistant.
The fantastic blade of the C36 can only get better with a tougher steel especially the needle point. Though, I have never had any issue with it, knowing the steel is tougher is always a plus.
Also I got a excellent user experience with CPM3V from Bark River Knives & Tools and Spyderco (Ed Schempp's Tuff!). So having a new steel in that range is a must for a great folder as the Millie.
Gandalf the Grey is socially accepted
I have sanded the beautiful grey G10 handle to suit me taste and spare my pants. Now they are smooth and… sexy. I like G10. But I love smooth G10. Being long, tall and grey, I have christened it: Gandalf. I have tuned the pivot for smoother operation. The knife is light is the pocket and is open in spyderdrop with authority. No play whatsoever. The blade is centered. Holding and using a Millie is pure Spyderco experience and performance.
Anyway. I do use my knives in the plate. I eat with them. Cook with them. Plates are very bad with the edge, unless you manage to never cut with the blade at 90°, which is not really easy. They were no bending or chipping of the edge after some clumsy "accidents" in the kitchen.
There is no stain. Cutting acidic ingredients or even been in contact with hot vinegar did not change the finish of the blade. No pitting, nothing. It's like a stainless steel so far.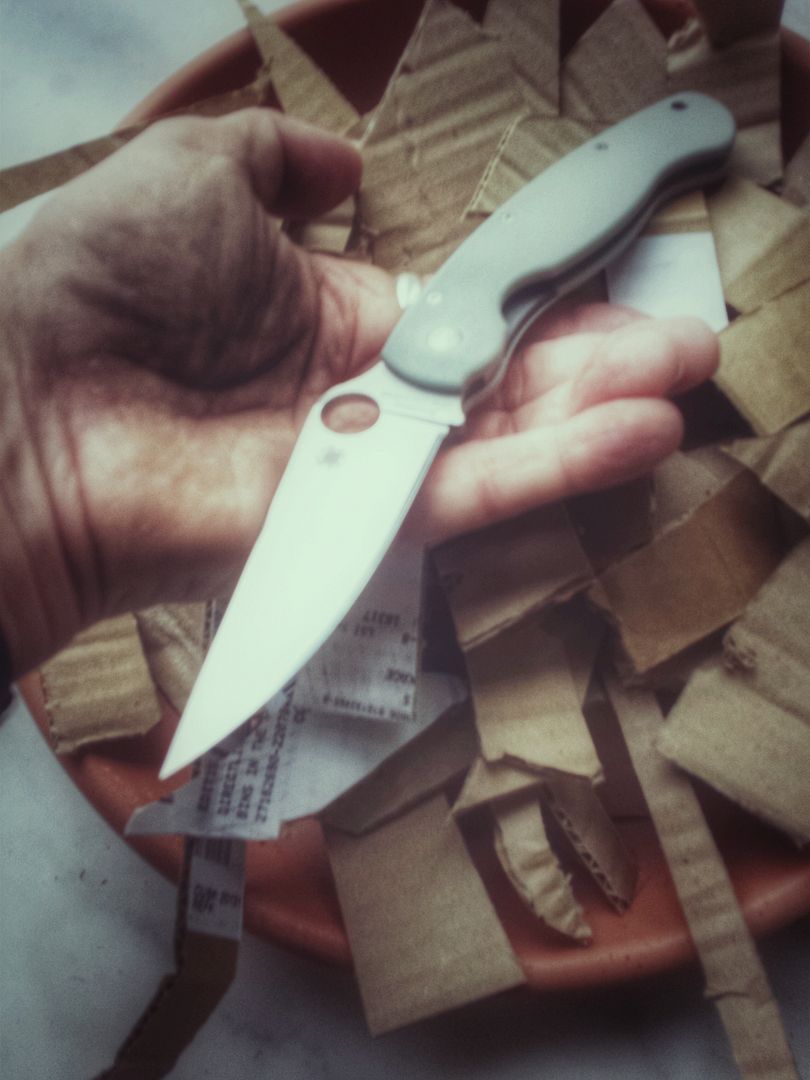 I was not able to dull that CPM Cru-Wear edge, like, for example, my Persistence or my Delica. I was always able to shave my arms'hairs. Brown cardboard cut and disposed on every day basis were not able to dull Gandalf yet.
Stropping CPM Cru' on leather is pure joy. Like CPM3V actually. I got some kind of mirror finish and a very agressive cutter. One of my favorite tests are tomatoes and bamboo. Both are no matches. The tricky tomatoes skins are cleanly cut and the hard bamboo do not roll or chip my edge (like I had experienced with ZDP189 at HRC66)
Also a Grey knife is not menacing like a tactically black camo counterpart: Gandalf is displayed in restaurant with stealth and elegance. Eating a good steack with a Millie is pure joy. They should have name it the "Meal-itary".
The four inches blade give great polyvalence with its pointy needly point and its strong heel. You can push cuts in oak wood and later do some eye surgery. Anyway, Millies are Millies great knives which get even better in those sprint runs involving CPM M4, CTS XHP, M390, CPM D2, BG42…
But it shines even brighter with a tougher steel like CPM Cru-Wear.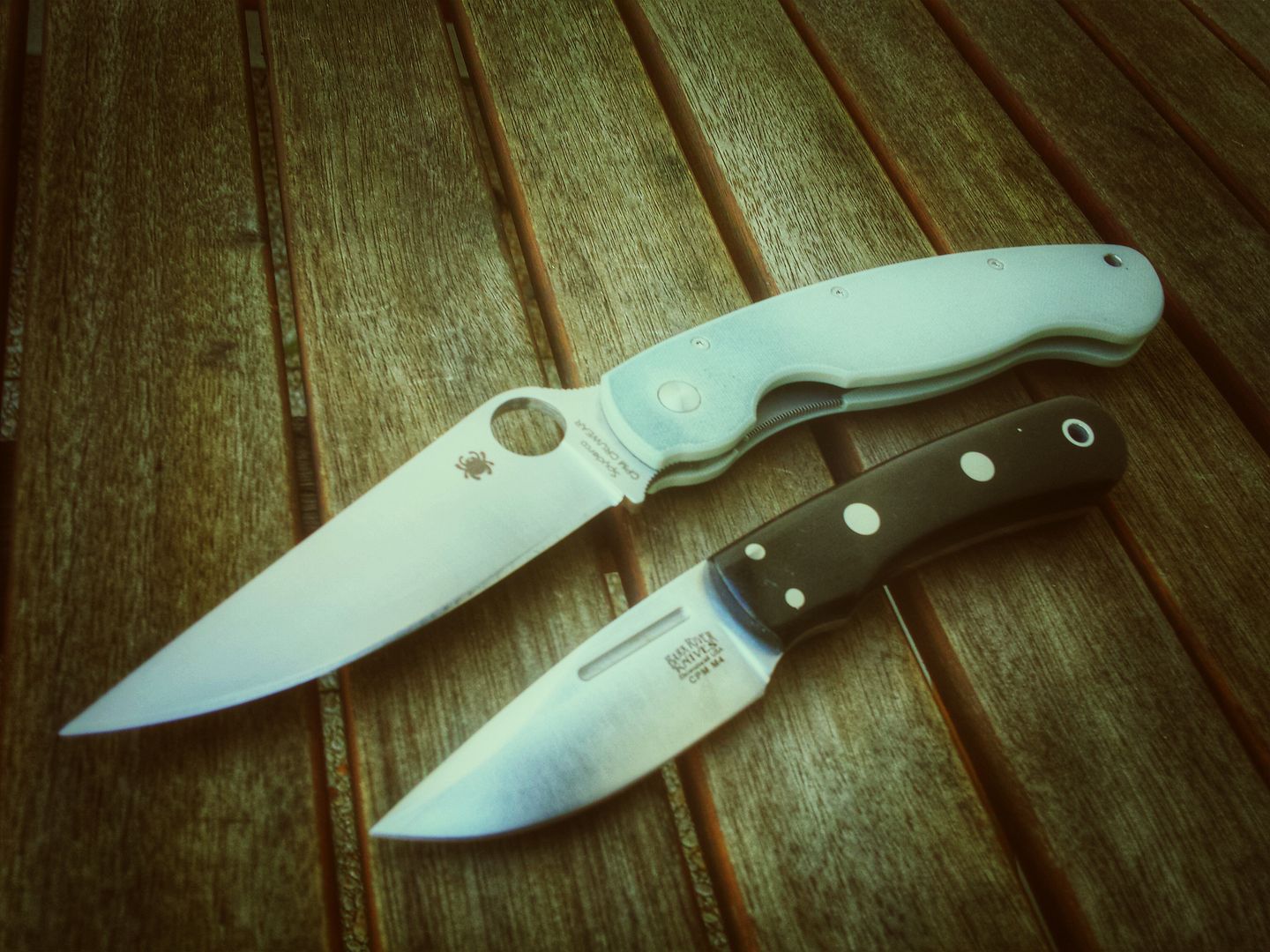 ---
I have had the chance to meet Pekka Tuominen two years ago at the SICAC (Paris Knifeshow) but six month before I was handling a prototype of his Folding Puukko at the Amsterdam Minimeet.
The design was very ZEN. For me it was like a Japanese hidden blade in a bambu handle. I was also impressed by the smoothness, the thickness and the profile of the blade.


For me, it was an object for collector. A tour de force, including the famous hidden stop pin.
Also the final choice of choosing S30V for a zero ground blade was really disturbing. I was hoping CPM3V or CPMM4 or even O1. But my experience with S30V has never been extraordinary.
Frankly S30V is not a steel which gave me good results even with the knives of the people who introduced that steel in the first place… I prefer VG10 for exemple which is not a powder steel but at least a reliable edge on thin grinds.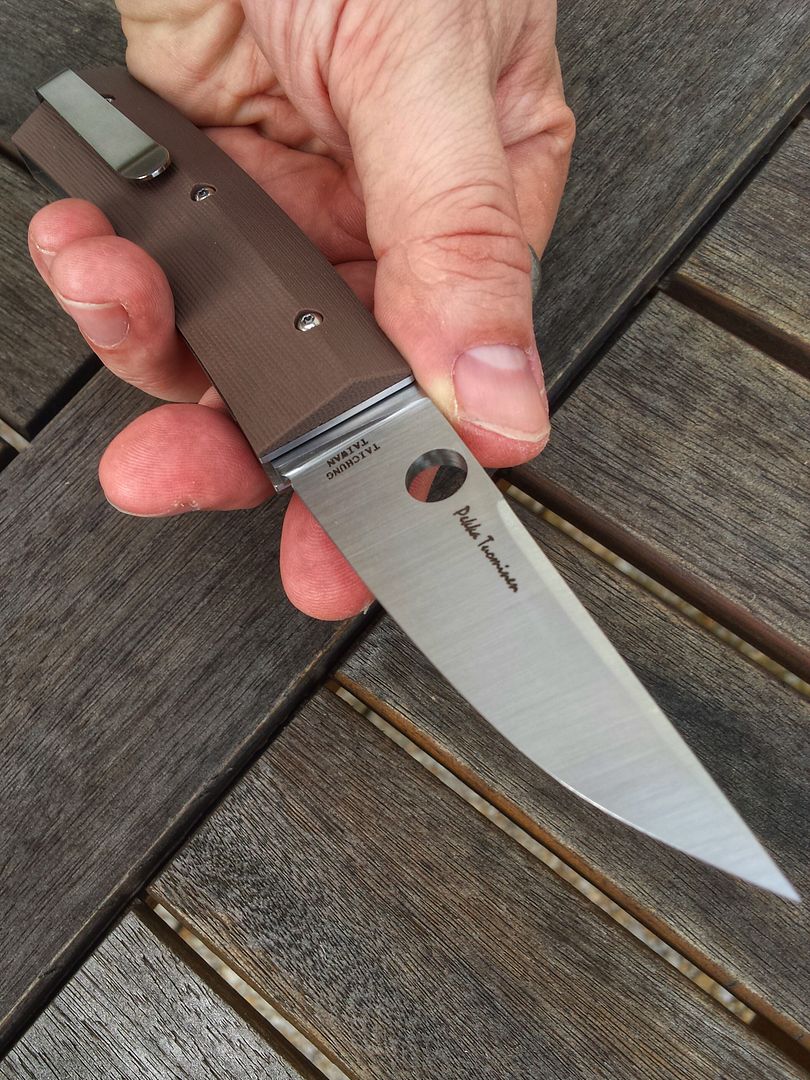 Anyway a folding Puukko in S30V was like a bushcraft knife in S30V. Why not. But I was not very excited by that choice…
Then I heard and read on Cliff Stamps forum how the burned edge was rolling. I was not surprised as S30V would have not been my steel of choice. Now perhaps the thickness of the stock available was the reason it was chosen ?
It was a shame as everything in Pekka design was oozing quality and his quest for excellence. It is also a very very clever mechanism. He is a perfectionnist. I remeber how he was inspecting the prototype of his Spyderco (not folding) Puukko's sheath. He wanted everything to be perfect. And he knows his business about Puukkos.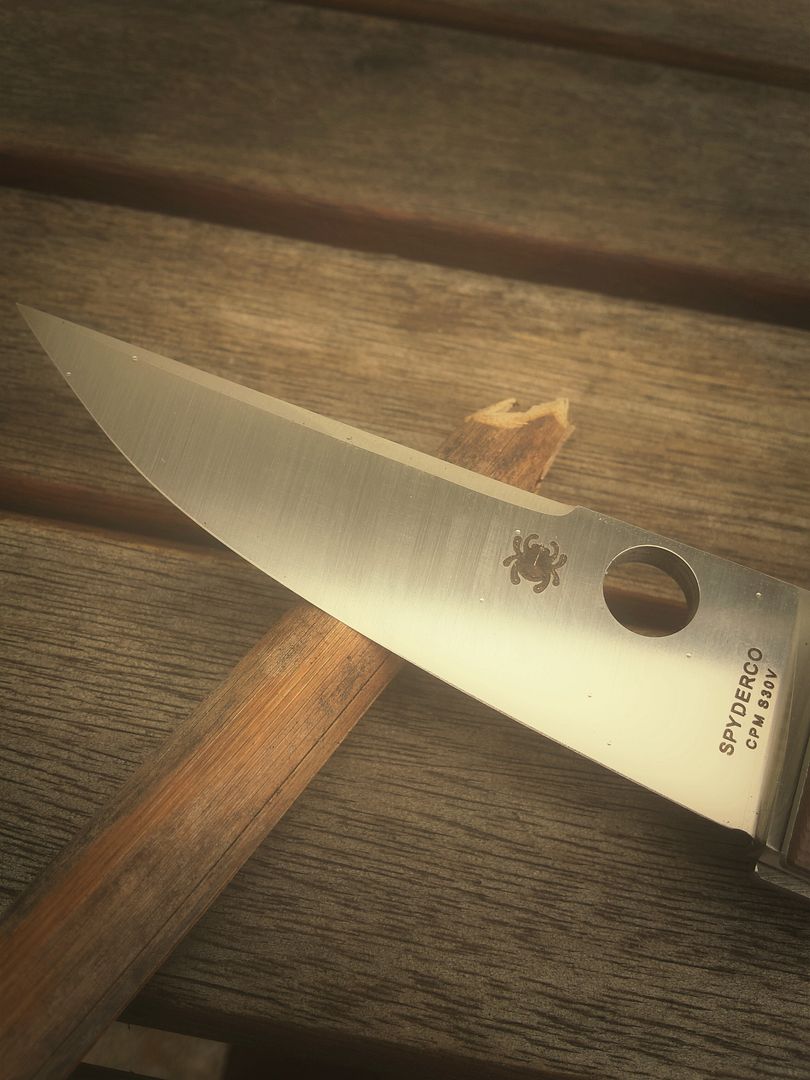 I had experience with thin stainless grind blade rolling on very pricey folders too. My Rockstead was an example and since I have been able to hone a secondary bevel and the de-stress the edge for excellent results.
Then I got the honor to receive a gift from Pekka: his Nilakka, second generation.
I immediately tested on hard bambu and the edge did not suffered.
There is a micro bevel which now strengthen the edge. So there is no reason not to use it hard.
Again, the folder is smooth like Normandy butter. The heel of the blade is very thick when the blade point is thin like a needle. You find yourself contemplating, trying to understand how the tappered design works. The large gap between the liners on the back of the handle is not an issue when you know how to switch your grip (like I did on my Lionspy) to avoid hurting your palm during cuts on hard materials.
What I love in the Nilakka is how original, practical and radical the design is. Closed it is wonderful to handle and manipulate. It's an absolutely non threatening design. The gentle curve of the handle give a very natural look to the package. Open, it's real Puukko. There is no hint, no axis, showing this is a folder. (The axis screw is hidden under the G10 slabs!)
It is a pleasure to take on hike and use in the forest. The open design makes it easy to clean by blowing air and rinsing it. The choice of a stainless steel blade gives confidence to mechanism maintenance. There is no reason not to EDC and use that knife in the wild like it was designed. It is not a safe queen curiosity anymore. (A first generation after some work on the edge would have been the same anyway.)
Looking at Pekka official site and it's easy to find other eye candy !
His blog: http://www.puukkopekka.com/ is a feast for the eyes !!!
Living in Finnish countryside, Pekka is a colossus with a great sens of humour. You can feel in every details of his Art that he has blown passion, intelligence and a special pinch of that natural cleverness from farmers and pragmatism of soldiers. His knives need to be reliable and beautiful. Also he needs to have fun while making them. From the design, to the forge, to the heat treatment, to the choice of materials, to the different type of sheath, Pekka does everything !


So eventually the Nilakka in its second incarnation is a very unique and practical EDC. It is also a great conversation starter because this folding Puukko is a great ambassador to modern and traditional cutlery. Mine is going to be used on a EDC basis and I will complete that review later.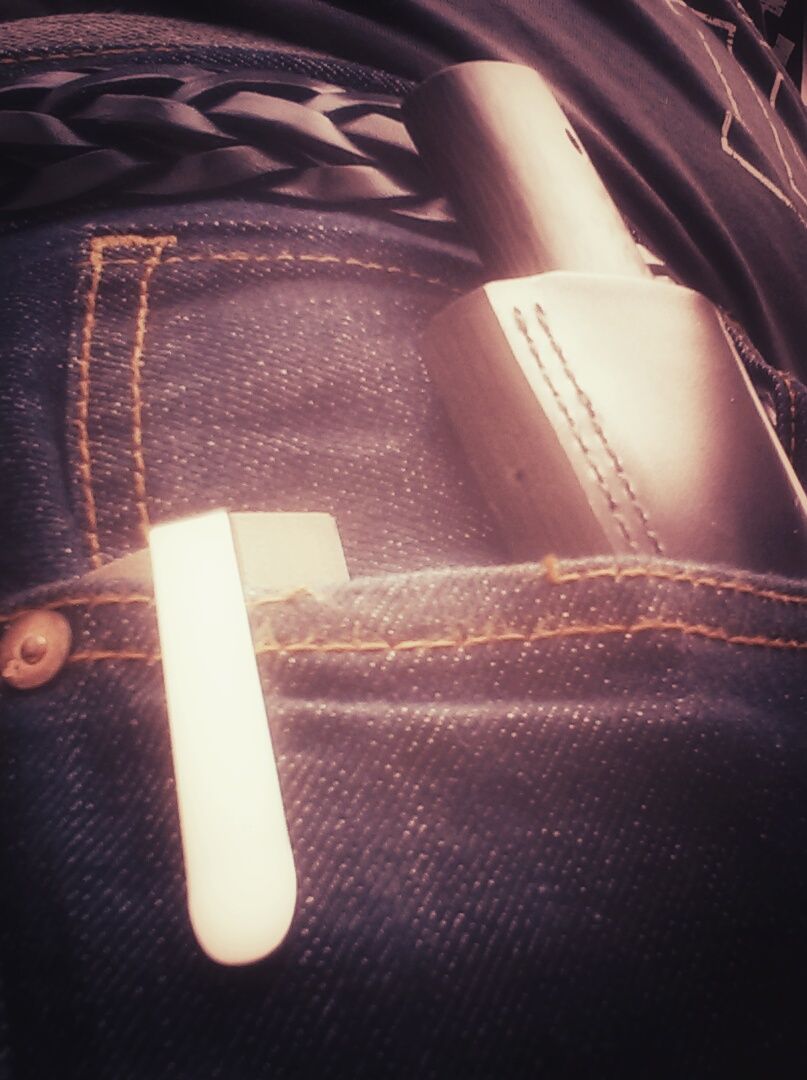 ---
For this post I have invited my friend JD to discuss together about the Domino.
It's a on going project and the post will be updated regularly instead of letting the discussion rolls afterward. Also more pics will be released later.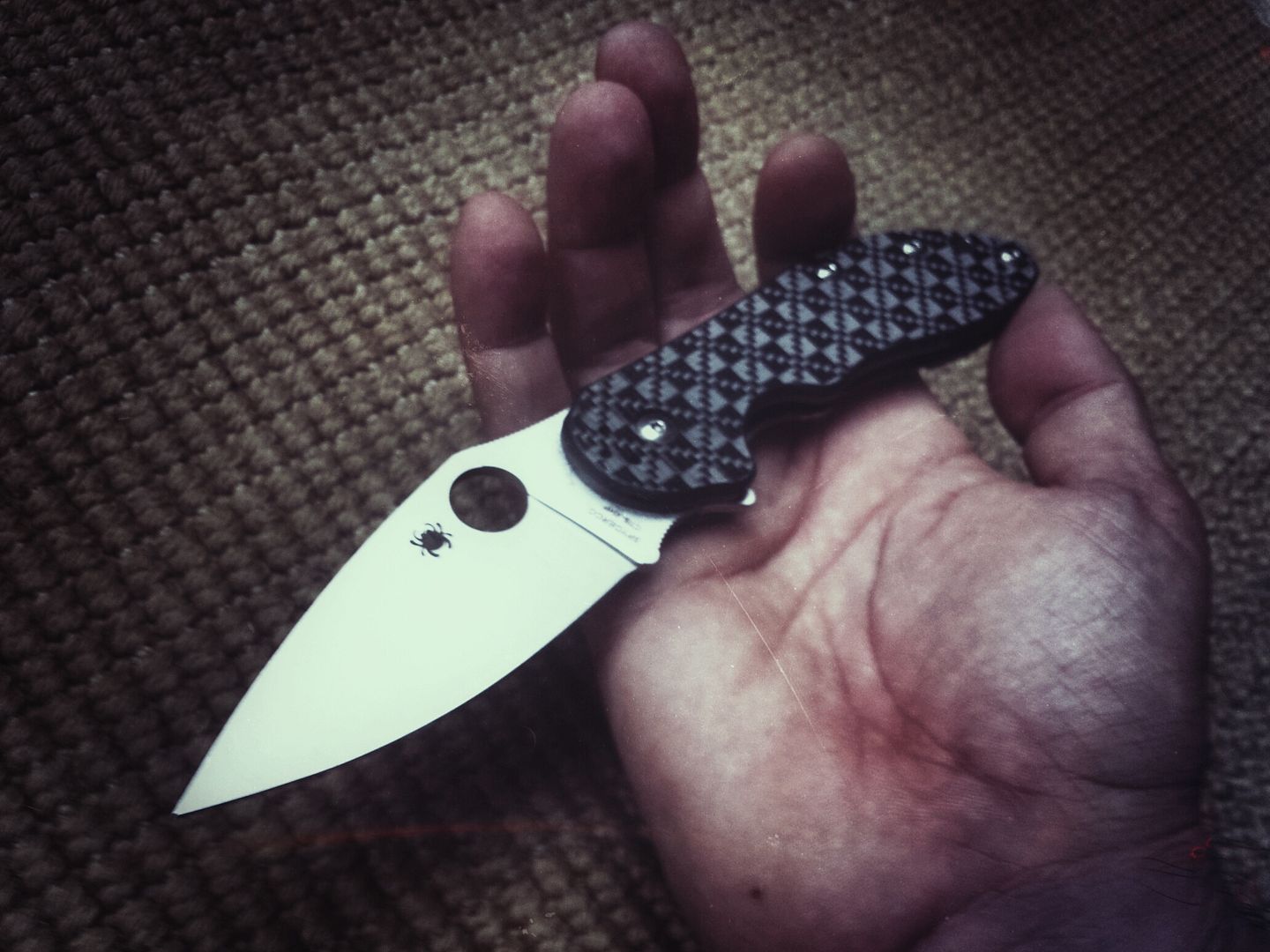 When I first heard about the release of the Domino and being not present at the Minimeet. Well, I was not excited. Another Spyderco flipper, why not, the more the merrier. On the picture I have found that the hole on the blade was made to much forward for my test giving to the knife an unbalanced look.
But that was on the picture.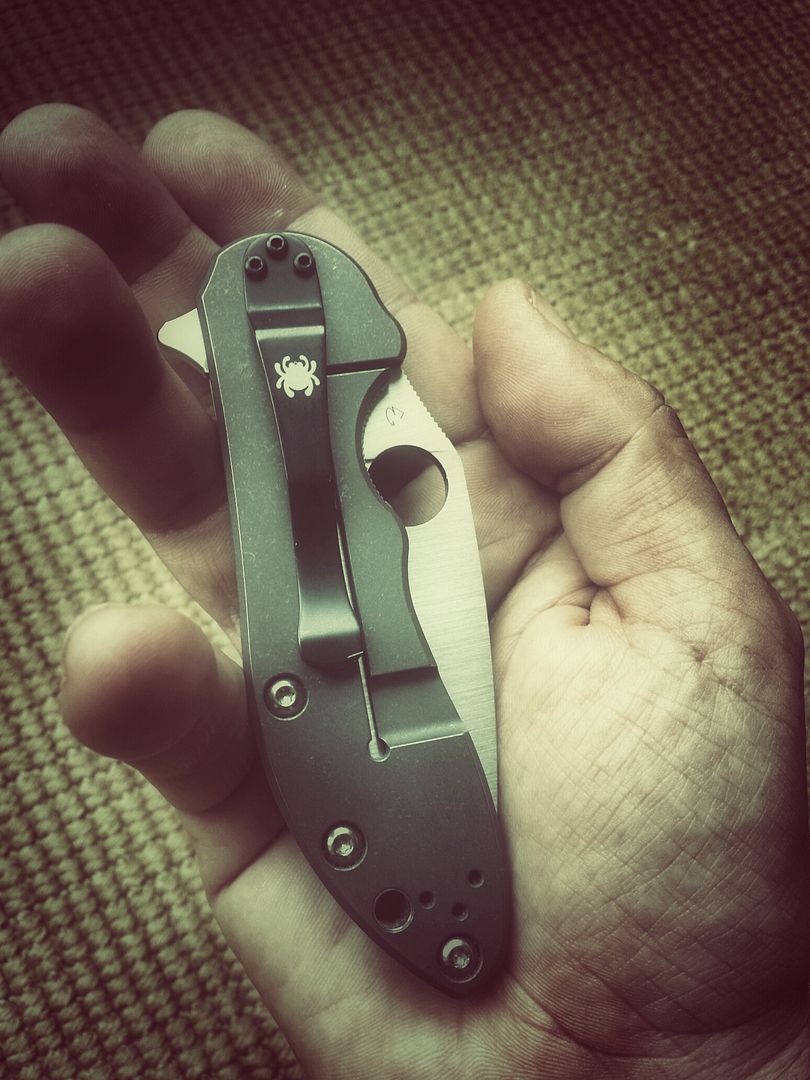 Now I got the chance to own the Domino. I have change my mind.
My new impressions were:
– The knife is compact.
– The action is smooth.
– The knife is perfect balanced.
– The blade is stock is thin pointy with a nice belly.
Immediately I have changed the clip into a tip down carry, giving me the possibility to easy spyder drop open the knife. It works great.
So, as my friend JD in the Great Kingdom of Holland got the same Domino, I have asked him to test it together and update that post with our different point of view.
So is the Domino the best EDC Golden can provide to us in 2013 ? Let's find it out.
__________________________________________________________________________________
JD
Alright, here we go! I did handle the Domino for the first time at the mini-meet and thought it was a nice modern folder but probably not for me. It is somewhat bigger than the knives I normally carry and use. Knives like the Spyderco Air and Pingo. Practically 6cm of edge is all I need in a pocket knife.
Since the meet I have become more interested in the modern, state-of-the-art, folders. Folders with bearings, titanium frame-locks, steel lockbar inserts, flippers and high-carbite steels. Watching Youtube video's from Elliot Williamson (http://www.youtube.com/channel/UCue1SJON3WBgfY0KGUNXImw) and John Grimsmo (http://www.youtube.com/channel/UC8SC-01ZKmzTIa2Usn6fexQ) certainly helped spark my interest in this folder genre.
During the summer the Domino came out and received positive reviews. So when I went to Paris to visit Nemo and go to the SICAC this was a knife I was hoping to reacquaint myself with. When I did I was impressed with the build quality and, importantly for me, the lean edge grind. The grind in not in Opinel territory, few modern style folders are, but it is one of the thinnest I have seen on any Spyderco or other modern folder. Good work Spyderco! So, besides all the fun modern bells and whistles, it has the potential to be a good cutting tool too. I decided to get one to give it a spin to see how it would work for me.
First impressions out of the box confirmed what I had seen in Paris. Great build quality! The only thing was that the clip was to strong to easily clip to my pocked. After a little careful bending it is now the way I like it. Time to carry it, use it, and report back…
30/09/2013 at 07:02 (Edit)
___________________________________________________________________________________________
nemosandman
The Domino's blade is wide but it's a leaf shape. One of Eric Glesser's favorite shape.
Here we got a nice belly and a very pointy tip.
It gives you very powerful cuts in wood as the belly works like a guillotine.
This is one of the feature which made the Dodo such a great wood cutter.
The very pointy tip creates almost a recurve edge. It's providing a great penetration power.
All in all, the blade design seems to have been shrunk to provide great power in a compact package.
More to come soon.
30/09/2013 at 07:11
___________________________________________________________________________________________
JD
Yes, this is a pure Spyderco design!
Some observations after a little carry and use:
– The factory edge will cut newsprint and receipt paper with just a few small hangs but has very little bite while slicing, so it would not cut the plastic packaging material a sample thee back came in for instance.
– I carry mine right side, tip up. When I draw the knife from the pocket I have to make sure my last three fingers are on the clip and not on the lock bar. If they rest on the lock bar the detent is pushed in to the blade to much for it to flip. If the lock bar is free drawing and flipping is fast and smooth.
– Still getting used to how much bigger and chunkier it is compared to what I used to carry.
– The flipper is addictive :-)
01/10/2013 at 07:10
___________________________________________________________________________________________
nemosandman
Oh, That nice belly is really powerful on pushcut in hard materials and the steel CTS XHP is really a great alloy. This is my second experience with it since my Techno.
I have fumbled with my Domino which has fallen on the tiles of my kitchen. I was certain that the tip wuldbe damaged. But no. Nothing. CTS XHP so far is a very forgiving and easy to get scary steel.
I have only used leather yet.
___________________________________________________________________________________________
JD
I have given my Domino its first sharpening. I started with the Norton Medium Crystolon to set the edge bevels. The bevels I put on are at a lower angle than the factory ones. I do not know the exact angle, the hump over the hole was about 5mm above the hone. During this first sharpening stage I noticed that the edge had been sharpened asymmetrical at the factory. The right (back) side took longer to sharpen and ended up with a bigger edge bevel than the left (face) side.
I refined the edge on the other side of the stone, which is a Norton Fine India. Before each sharpening I de-stressed the edge (cut into the stone with the weight of the blade) to make sure I was working on 'clean' steel. I noticed that the steel burred readily once the apex was reached and that those burrs took quite a number of high angle, light passes, alternating sides into the stone, to be removed. This might be from the steel being damaged during power sharpening at the factory. This is not unusual and usually goes away after more sharpening. I will keep you posted on developments…
The Norton India cut the steel well but was slow going. Diamond would have cut faster, but this is the only bench hone I have is this grit range. I have the impression that this steel is about as high a carbide steel as you would want to sharpen on this stone.
I finished sharpening on the diamond side of the Fallkniven DC4. I have more experience with using pocked hones so they give me the most control. After more burr hunting I ended up with a nice toothy edge that would whittle hair and easily cut newsprint and phonebook paper. Back in pocket she goes and time to see how this edge works out!
03/10/2013 at 07:26
JD
A few words on build quality: impressive! With the exception of the edge I can not find anything to fault, what should be straight is straight, what should be curved is curved. The blade is perfectly centered. There is no blade play and non of the screws have worked loose after over a week of flipping. The lock-up is at 40% and inspires confidence but is easy to disengage when it comes time to close the knife. The detent sucks the blade into the handle the way a good detent should! Oh, and did I mention she is smooth? Well done Spyderco-Taiwan!
05/10/2013 at 08:22
Reply
JD
Yesterday I sharpened the Domino for the second time. I only used the Norton Fine India stone and it took me 25 minutes to get a sharp edge. It shaved arm hair and easily cut phonebook paper. There were still a few stubborn burrs but at the end the edge formed cleanly. Pretty happy with the results. :-)
08/10/2013 at 06:49
---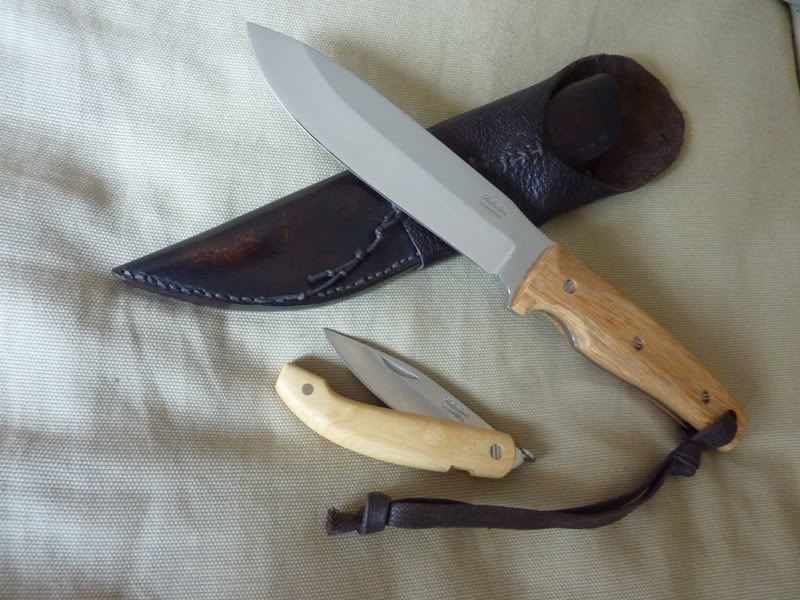 When Italian designer and gifted knifemaker Giacomo Cecchi from Saladini Cutlery in La Scaperia (The Italian Sheffield) gave me the opportunity to test his own conception of a Bushcraft Knife, perharps I could share with my friends in the UK.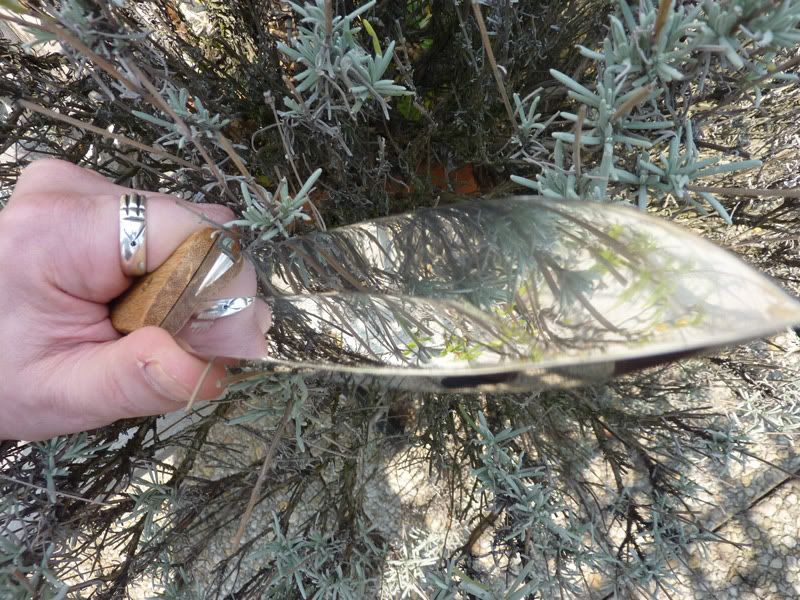 As you can notice, the steel, who is shining like stainless, is in fact 1070 partially tempered at 58HRC on the edge. SO it should be solid and easy to maintain in the field.
The edge is not orthodoxaly scandi but thin on a saber lightly hollow ground blade.
Blade Length: 140mm for a 5mm thickness !!!!
The balance is perfectly centered at the beginning of the bambu handle. So the knife is really "alive".
The handle in compressed Bambu got no hotspot and got little ergonomy enhancement for the humb to rest on the side and it suppose to be indestructible.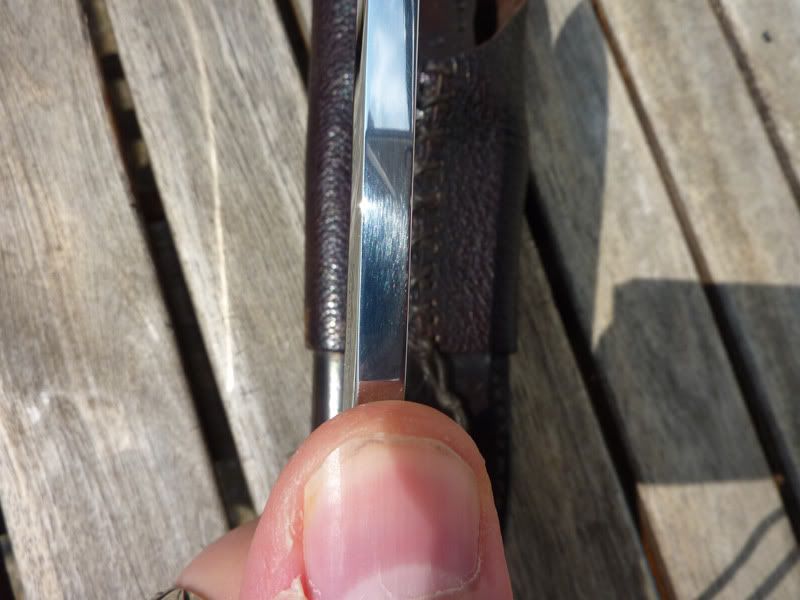 It looks beautiful but also feels hefty.
It reminds a little the grind and feel of a Fallkniven with carbon steel blade and with a very sensual handle.
Now the sheath is pure beauty made for vertical carry and I will come back on it later.
Now, I will test it in the woods and check its brutal strenght and versatility.
It's a short knife with anough weith for light chopping and heavy batonning.
So what do you Bushcrafters think about it this prototype baby from Italy ?
EDIT: The Bushcraft is now part of Saladini line of outdoors knives. There is also a version in D2 !
There site is: http://www.coltelleriasaladini.it/
cheers
nemo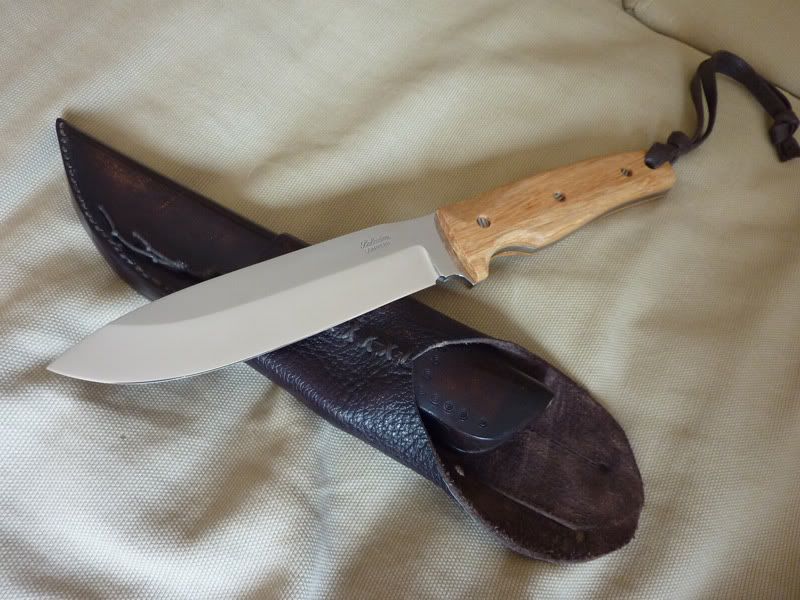 ---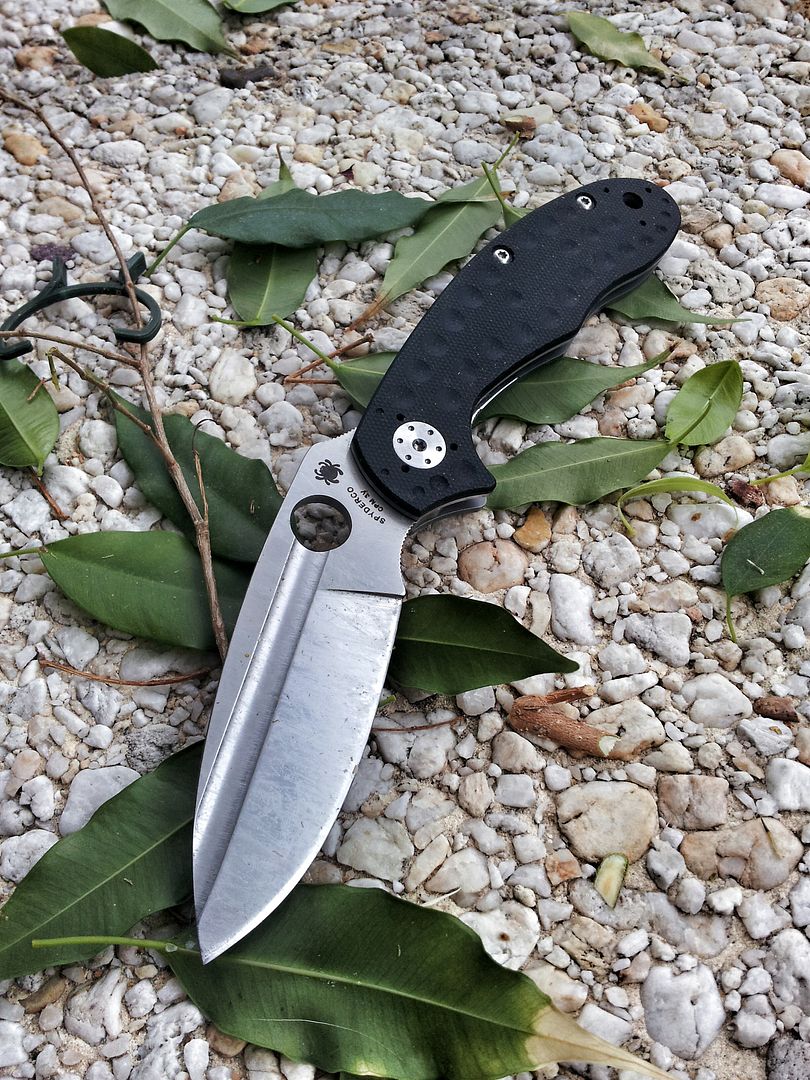 So I went to Italy with my Tuff (named "Varicelle" aka Chicken Pox because of her handle) in my pocket.
And no back up blade but my Paul Watson Victorinox Swisschamp. So Varicelle was on duty.
My idea was: with a blade like the Tuff who needs a fixed blade ?
What possibly would bring a fixed blade over Varicelle ? A better handle ? Yes. Even if the Tuff got great ergos, it's hard to compete with my Bushcrafter. But the Tuff is easier to carry around.
BTW in the ease of deployment department the Tuff is joining my Millie. The Spyderdrop is so easy: you grap the hole or the fuller or both…
I even started to believe the Tuff is the easiest knife to spyderdrop.
Better, I'm now able to open it with some inertia: a whipping movement from the forearm and the blade is open.
Thanks to what ? The weight of that CPM3V thick heavy blade.
So ZERO complaint about that. What a great folder for quick draws !
Now what are the advantage to have my Tuff with me instead of my Military C36 in M390 ?
Main avantage: quoting Bilbo the Hobbit: 'Take care ? I don't care!'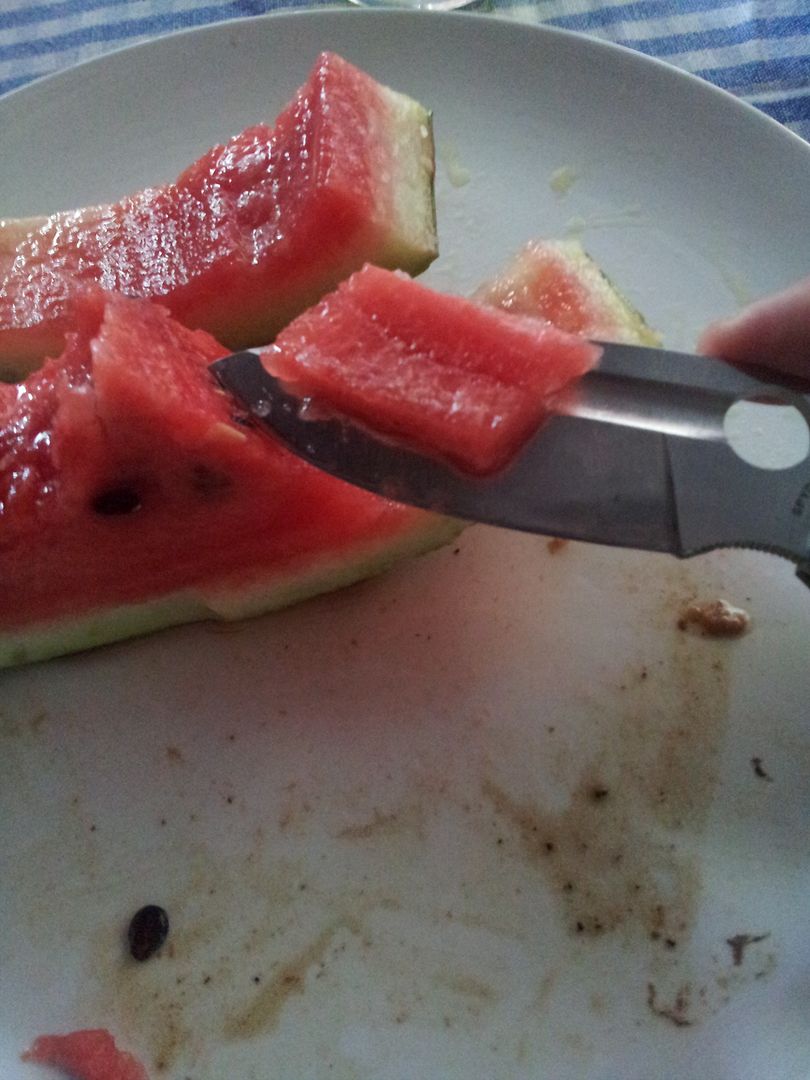 My Millie is slicer and Lamborghini which needs to be cared with love.
The Tuff is also a Lambo'. On the tractor side.
It is solid beyond records. The Tuff is care free. The edge and mechanism are forgiven.
This is an important factor. Sometimes "Orcs and Goblins" are using your "precious" cutting tools. I do not state my friends are orcs BUT I was able to see some blades ruined in a fistful of seconds by beloved ones. My father in law was able to destroy the finish of a blade in 5 seconds by just showing me how to resharp it on a flat stone !!! Go figure.
I don't mind that kind of abuse with Varicelle. This is such a relief…
I had convexed the grind for whittling. I knew how that wonderful CPM3V steel would behave.
Good and reliable. But please, use it, be my guest. I don't mind at all.
(I got a BRKT Bravo 1 in CPM3V. I love it BTW… That steel is tough and easy to maintain.)
So you want my knife to cut a thick pizza on a hard plate? Go ahead ! I will eventually realign the edge on ceramic later. It will cost me… 30 seconds of my time ? If the edge is really dulled. Because CPM3V is like that: forgiving and "gentle". Only leather stropping are enough for maintaining it. No tricks.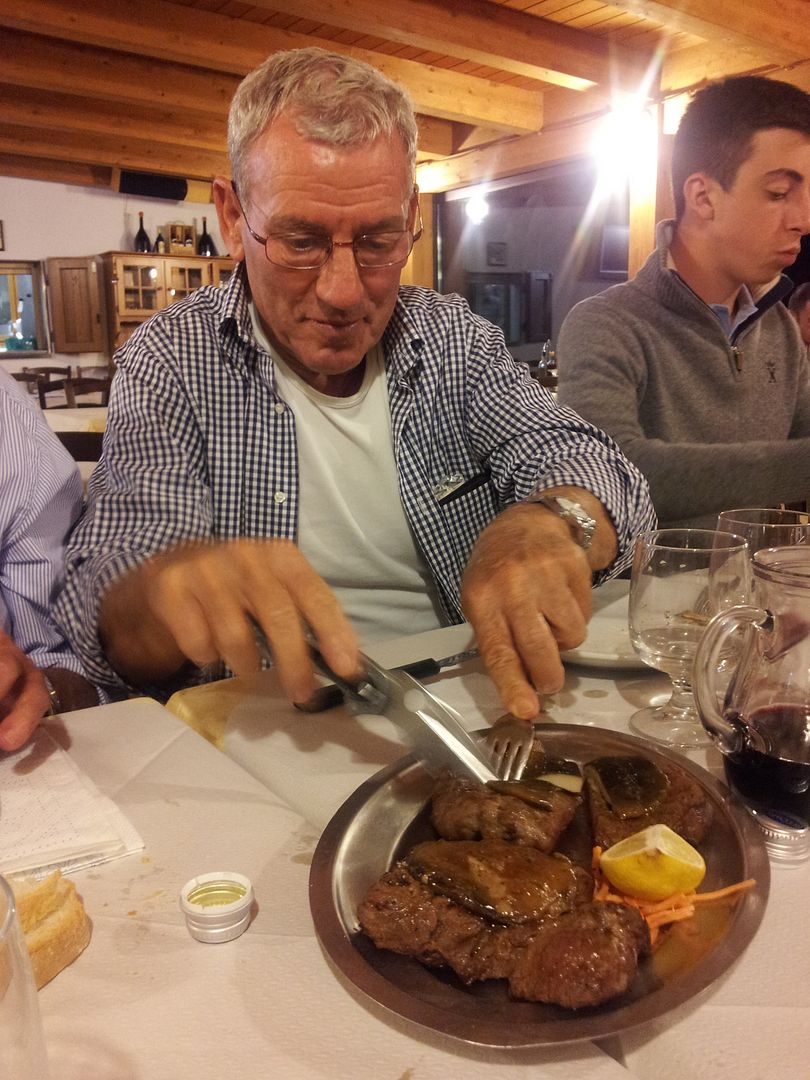 Now let's talk about THE LOCK.
The RIL (Chris Reeve's Lock) is not 100% genuine as there is a steel interface. That steel interface is an real improvement to prevent lock wear and sticking lock.
BUT.There is a 'but'.
That steel interface can transmit energy with no absorption. I mean soft titanium is sticky. Hard steel is more slippery.
A hard palm chock on my tuff's lock was able to disengage it!!!
Wait a second ? This is the hardest use folder ? How could that happen ??
It happen like on that video:
http://www.youtube.com/watch?v=aj8ZAFo8H6o
(I had not abused their lock. I had used Varicelle for light chopping though. And I do not test my knives by doing hard spine whacks on table. It's stupid. See the Stupid Video later…)
Now the "vicious part":
It's happen to me after some breaking in.
So new models should not have any problem. And it cannot be spot at quality controls.
But it can happen on a phase during 'breaking in'. It can.
NO BIG DEAL. As all the parts of that Spyderco are engineered for tough jobs. This is not a cheap knife. The axis is monstrous ! The stop pin is HUGE ! The lock bar is strong.
But keep in mind the strength of a lock bar is not linear. It's logarithmic ! The further the bar engages the less strenght ! The shortest the bar the thinner the range.
But this is only a part of what is happening. On a chock, forces are distributed on a different way than normal uses.
The design is not the culprit. The exact position, the angle, the surface materials combination at that very moment are the culprits.
So eventually how did I cured my Tuff ?
I have forced the lock to engage and disengage again and again. I have continued the breaking in. Until… Three minutes later (!!!) it was reliable again. Locks are working on fraction of fraction of millimeters. Since I did not have any problem anymore.
So, good news, if it ever happen to you: this is NOT a big deal. It's just a phase. Your Tuff is a hardchore tool. Use it hard and it will do the self adjustments by itself.
I'm not able to disengage the lock of Varicelle anymore with a tap on the back of the blade. And I even tried it on a wooden table many times. Going stupid and destructive for once !
But It is now behind it. Varicelle stays locked.
So what do you got with a Stuff ?
An elegant design. A reliable tool. A forgiving edge. A fast opening folder.
Mine is convexed and her edge can be back to razor with twenty strops on a leather belt. Yesterday I have cut and process a small tree with her. The heft of the blade is great for light chopping. The convexed edge is great of a choke up wood carving. It cuts deep and with ease.
As convenient as my Lionspy, the Tuff is more forgiving but also very sheeple friendly just by its original looks.
Mine has been used by sheeples with… pleasure. Beyond the "Why are carrying such an heavy knife" to "Please, give my your knife !"
Varicelle is not threatening. Exotic perhaps but not threatening.
I have witnessed kids whittling with her (that careless way kids got to cut wood and cut into mud afterwhile). And they were happy with their results! Asking me for my knife again and again. And me asking them to keep it close and not running with it open…
Abuses:
Varicelle has been thrown with shuriken on a wooden board and it sticks very well.
I have open a chianti wine wooden crate in a breeze.
I have chopped three inches diameter trees.


normal uses:
I have eaten with Varicelle in many restaurants.
It have been borrowed from me in restaurant !
I have let children disappeared from my sight and whittling with it. Ok.
I have let my mother in law cutting beef with it. Ouch !
Anyway, the Tuff is a special knife: carrying a folding light chopping tool in a solid package is a great experience.
And knowing it won't be damaged by clumsiness (mine or others) is a SUPER plus.
Next review teaser:
I won't let my Manix 2 in any hands.
---