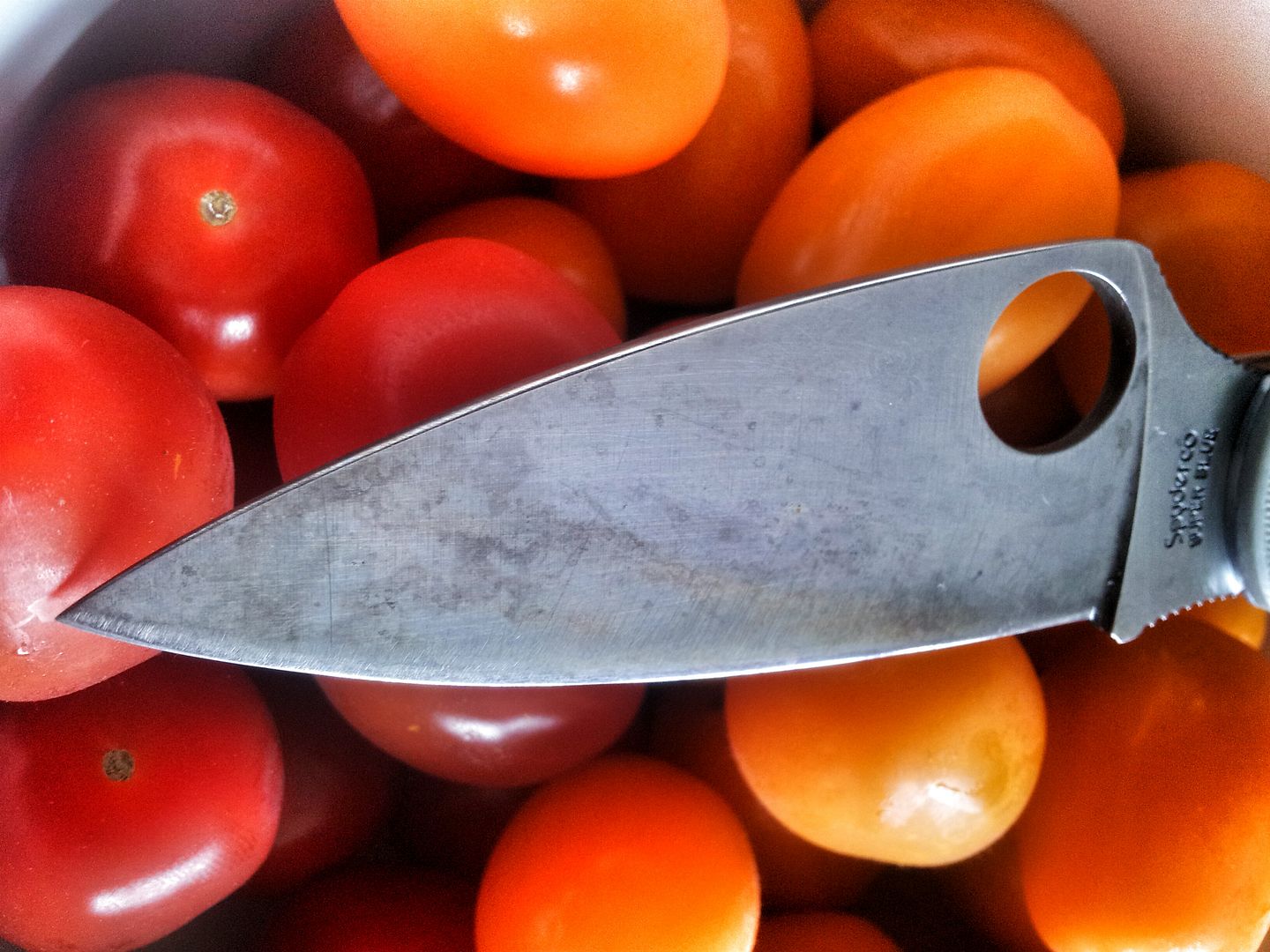 "Yasuki Hagane steel has been produced in their plant in Shimane prefecture in Japan where the high quality iron sand has been produced for making traditional Japanese swords since ancient times. These are three main premium grade high carbon steels (Shirogami, Aogami and Aogami Super) that have been used for making Japanese made field & kitchen knives. Hitachi metal is also known as the manufacture of high grade premium stainless steel, ATS-34 and ZDP-189.Blue Steel is made by adding chromium and tungsten to Shirogami (White Steel) that makes the material more durable and provides corrosion resistance and mostly used for making high-grade Hocho (kitchen knives) and outdoor knives.
Now Super Blue Steel is made by adding chromium and tungsten to Shirogami (White Steel) that makes the material more durable and provides corrosion resistance and mostly used for making high-grade Hocho (kitchen knives) and outdoor knives."
From http://japan-blades.com/how-to.
I've never been interested in the Calypso. Call me names but the lock was "old". Not the smoothest operating tool… as all lockbaks.
But the Calypso and all its offsprings got a common feature: ergonomy. A thin blade (not wide for a Spyderco after all) in a light and pointy package.
The years (decade) go by. The Caly 1.5 turns into a test platform for the Aogami Super with a first Sprint Run. I was very excited when Jur has shown me that absolutely beautiful folder. But alas to much vertical play for me and that, made me step back.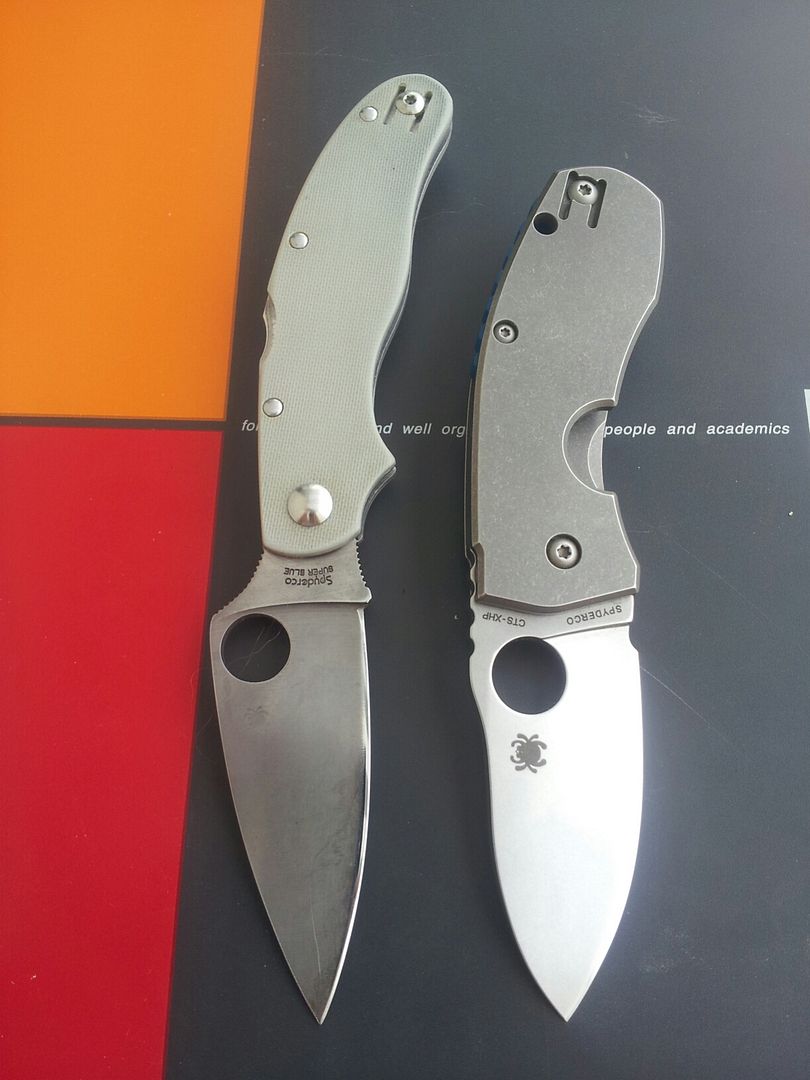 This is the problem with all back locks but with my Caracara chinese made G10 first generation. I remember falling in love with the first XL Cold Steel Clip Point Voyager… vertical Play. Massad Ayoob first Spyderco folder… vertical play. The Mighty Chinook , first and second generation ? Vertical play.
Oh you can live with that.
But I do not like a tool which got moving parts in the palm of my hand when I'm cutting something hard.
The Caly3 in Super Blue Steel got vertical play but much less than the Caly 3.5 I had tested.
Now the Cold Steel Triadlock is curing that "disease". That's why they are so pleasant to use and so reliable to chocks like Fred Perrin has shown us by throwing his mini Lawman repetitively (more than a 1000 throws!) without any failure or even any vertical play.
Vertical Play is a curse. I remember Michael Janich's "Street Steel" book explaining why to go away from any lateral or vertical play in a folder knife. And I believe every single words Mr Janich is writing. Common sense is more precious than adamantium nowadays.
Ok my Caly3 vertical play is minor. And on a short knife with ergos like a boot knife this is not a major problem. I mean if the lock should ever fail (and that vertical play on locks has been noticed on very very strong backlocks) my precious fingers would be protected by the quillons on the blade: when you are holding a Spyderco folding knife, you are holding it mostly by the blade. Giving all strength and all structure stress directly to the blade not "through" a fragile channel: the pivoting handle. The C36 Military was the first to offer that "boot knife" feature. Holding the knife by the blade is something as ancient as the Roman folding knives you can find in archaeological fields. In the ancient times, the handle was considered merely as a sheath not something to hold your tool… So folding knives were used as hand razor: by holding the blade.
So about the Caly3, this means that I don't "feel" any important play when I cut on a board for example. This is mandatory for me to trust a folding knife and sticking to short fixed blade for EDC (as you perharps know I love short fixed blade, Ian Grenier' FIne Urban Cancelled Knife, Fred Perrin's Lagriffe, my Izulas, My Newt Livesay NRG, my wonderful Fred Perrin / Spyderco Streetbeat and my great BRKT Bravo1… (chich is not that small after all).
Ok, the Caly is sheeple friendly. It got a thin, short, not threatening blade and this Sprint Run got also a grey G10 handle and a stainless steel back spacer. It doesn't scream "TACTICAL KNIFE!!!" like the mighty Cold Steel Recon 1 XL CLip Point… So I can use it in the plate in a restaurant. nobody notice it and it makes the difference as a matter separator.
The Caly3 clip is the wire clip and this is the masterpiece in the clipping design industry. I got the same of my Sages, my Techno, my Slipits, my Pingo, my Dodo, my Chaparral and they are simply the best. Nothing can get close to it. It may look cheap. But they are the best in low profile, and ease of pocketing. (Let me hammer that the clip of the Southard being the worth of all Spyderco's clip ever made IMHO.)
The Sprint Run of C113 got a non stainless steel blade. This is something to experiment. I love my 1075 and 1095 and my M2 blades to get stain. A patina is a must IMHO. It gives character and low profile to a bad reputation tool. I first enjoy patina on my 1095 Schrade Sharpfinger almost 20 years ago… The blade feels "natural" to react to oxygen and acids… It gives "beautility" to a very personnal tool.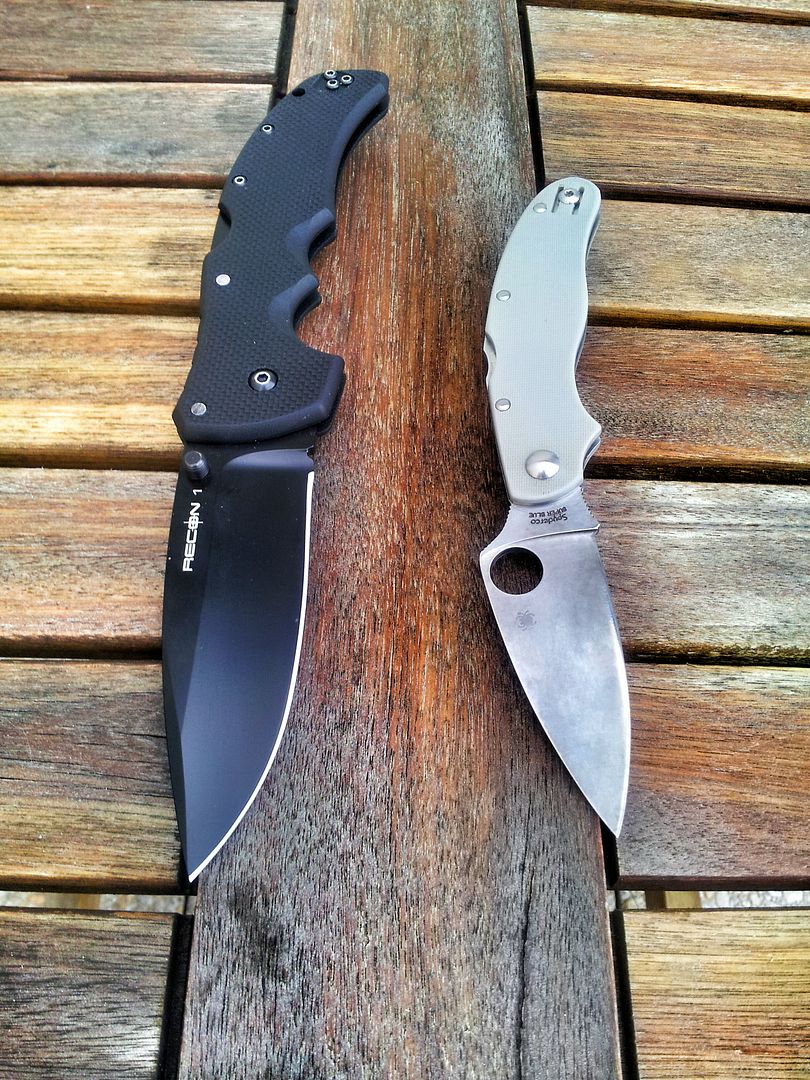 Now the Grey G10 gives also some kind of beautility to the Caly 3. Mine is dirty and I love it that way.I got Fifty shades of grey… (and with the Games of Thrones fans I should score…)
So what to not love in the Caly3 ?
Even closed that folder featuring Sal signature is radiating honesty and confidence. I remember reading an article about a man saving his baby boy from a mountain lion attack with a Spyderco Caly 1.5 knife. This means confidence in your tool.
My Caly3 is reliable. I can trust it when I need it to cut deep and fast. And I can trust it to get stains in warp speed too. No surprise there. Like an Opinel in carbon steel you know how to clean and oil it to keep it far from rust.
The Caly is pointy. Much more than a Techno. It got almost more edge length than a Native.
Ho, there is something I love: the bulging pivot screw on this sprint run. The pivot screws is falling perfectly under your thumb when cutting horizontally. About ergos the knife is held in full grip like a much bigger knife. On the handle, there is place for four fingers even without involving the choil.
The Caly3 is not a all screw construction and …. I don't mind. I got no plan to dismount it. I have cleaned it by rinsing it under hot water tap.
It so far so good.


Now about Super Blue. I have re-profiled the blade as I was expecting much better sharpness. no the edge is thin and convexed but still… I got a much better sharpness feeling with my AUS8A blades (Cold Steel Voyagers, Recon1 and Code4) or the CPMS3V on my BRKT Bravo 1…. I need more mileage on Super Blue Steel to crown it. So far it could be 1075, I don't feel the difference.
So guess what ?
To be continued…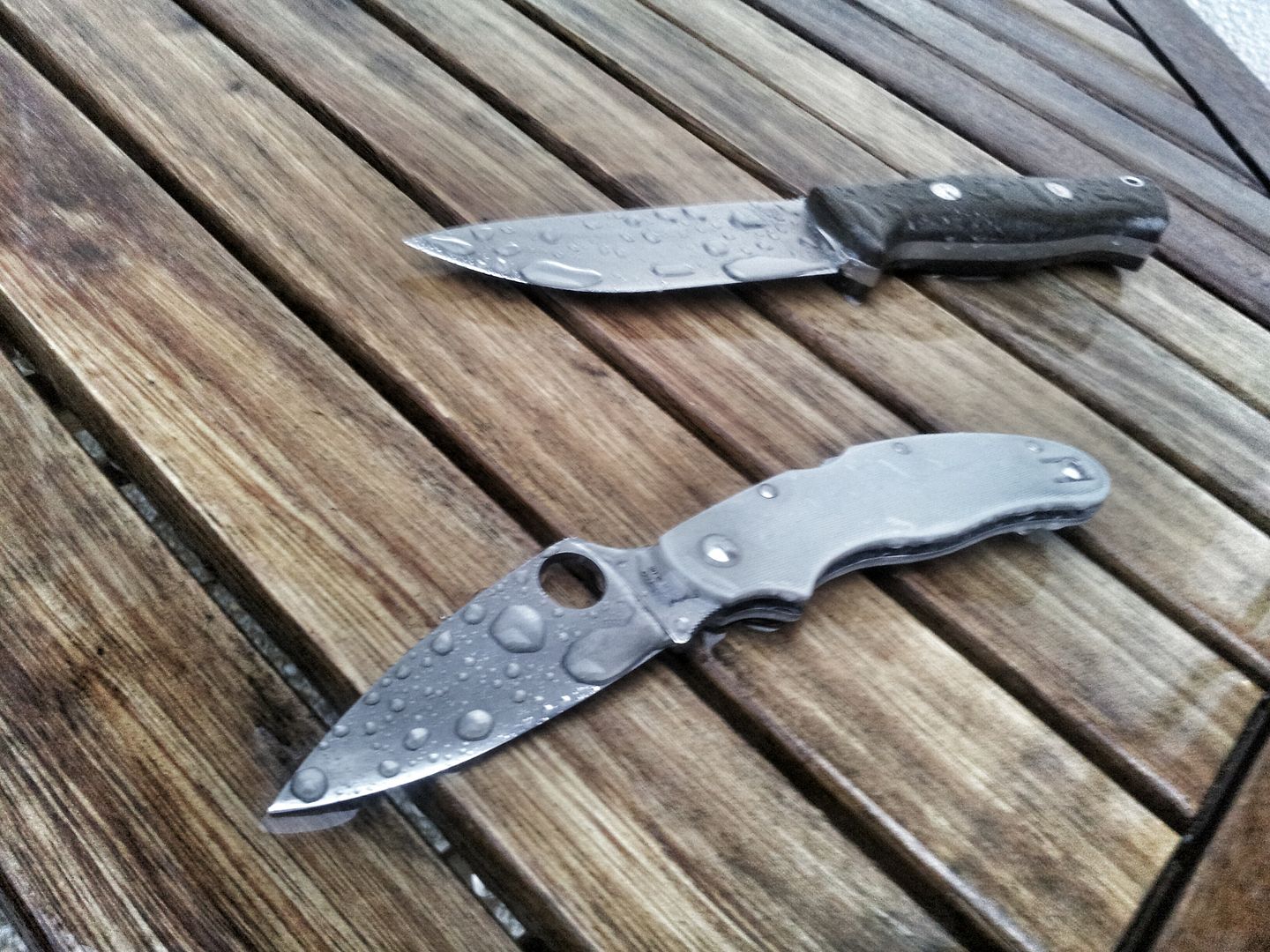 ---
I was already in love with Cold Steel Recon 1 Tanto. The the Spear Point came. Same greatness in construction, perfectly balanced, mega solid triadlocklock, amazing ergos and razor sharp thin hollow ground blade. This is a beast of a knife !!!
But this time I wanted to have it less "Recon" and more "Workhorse". So good bye black paint… Same treatment as on my old Izula:
http://www.bladeforums.com/forums/showthread.php/752692-Stripping-my-Naked-Black-Izula-in-30-minutes
got a lot of knives since the 80's. I have tested a lot of knives since 1995.
You mileage may vary but like everyone I got my favorite regarding pure cutting power, ease of resharping, ergos…
For example the SPyderco Bushcrafter is one of my joy to use in the wood. My 1990's ATS 34 Sebenza has proven many time to be reliable in the worst situations.
I'm amazed by my Paramilitary S90V edge holding capabilities.
For push cutting in wood, my Blue Dodo has always a phenemonal performer, the S shap thin edge is getting deep.
Then the thin Michael Walker and the Gayle Bradley have been demonstrating all their power on hard plastic and delicate works.
And after stropping the Cold Steel Recon 1 blade to a dangerous whittling hair level, this big folder is breaking my own records. I was able to cut through the thick butt of plastic bottle twice in parallel cuts with ease. The handle is so confortable, I can apply a lot of strenght and the hollow ground powerful blade separate material like in butter.
I'm really realy impressed and will continue my testing.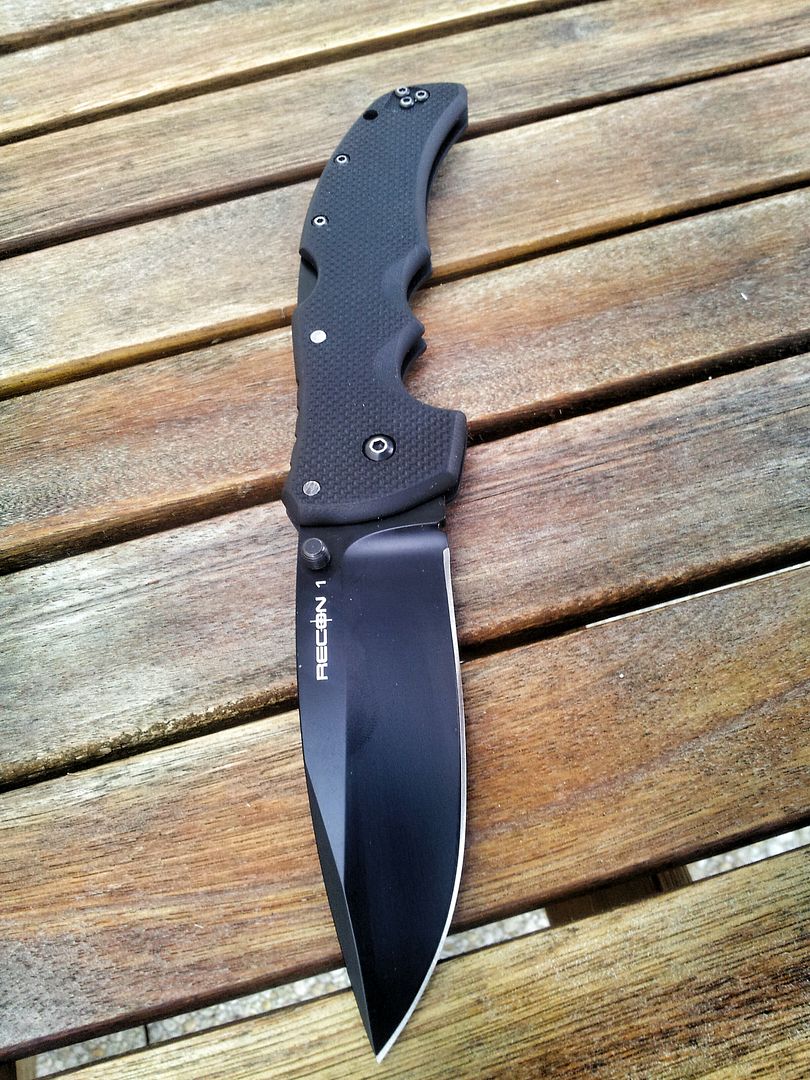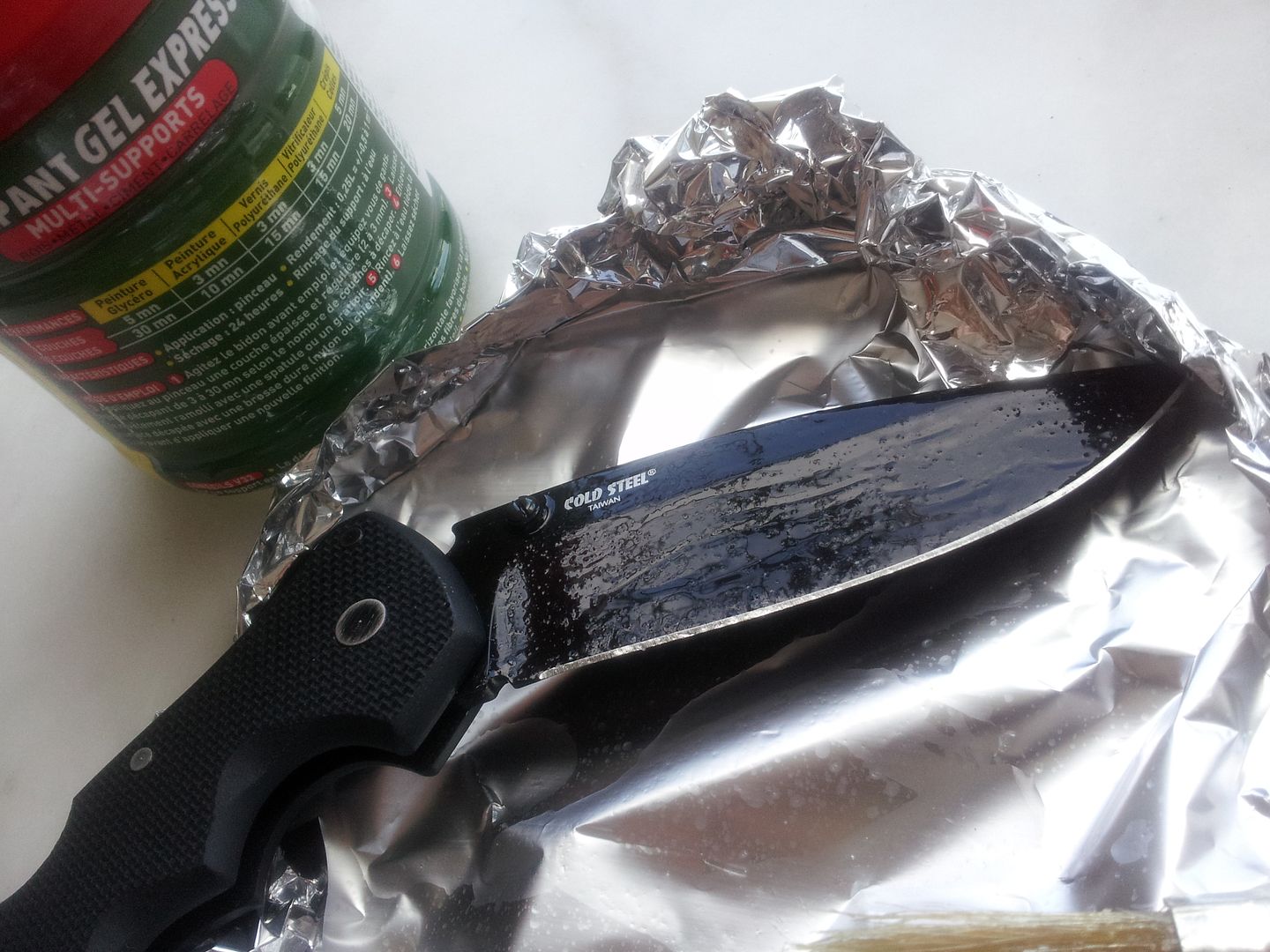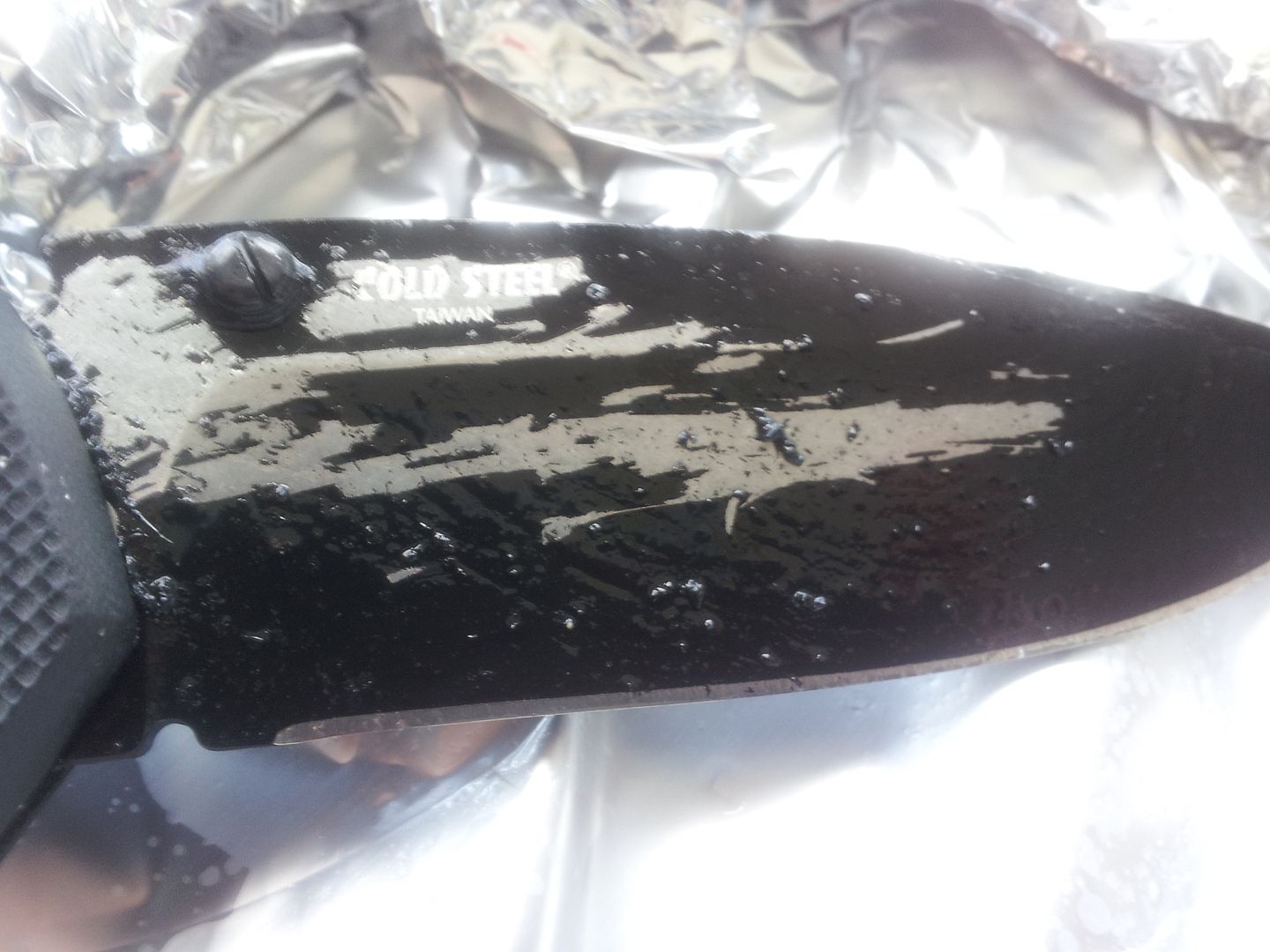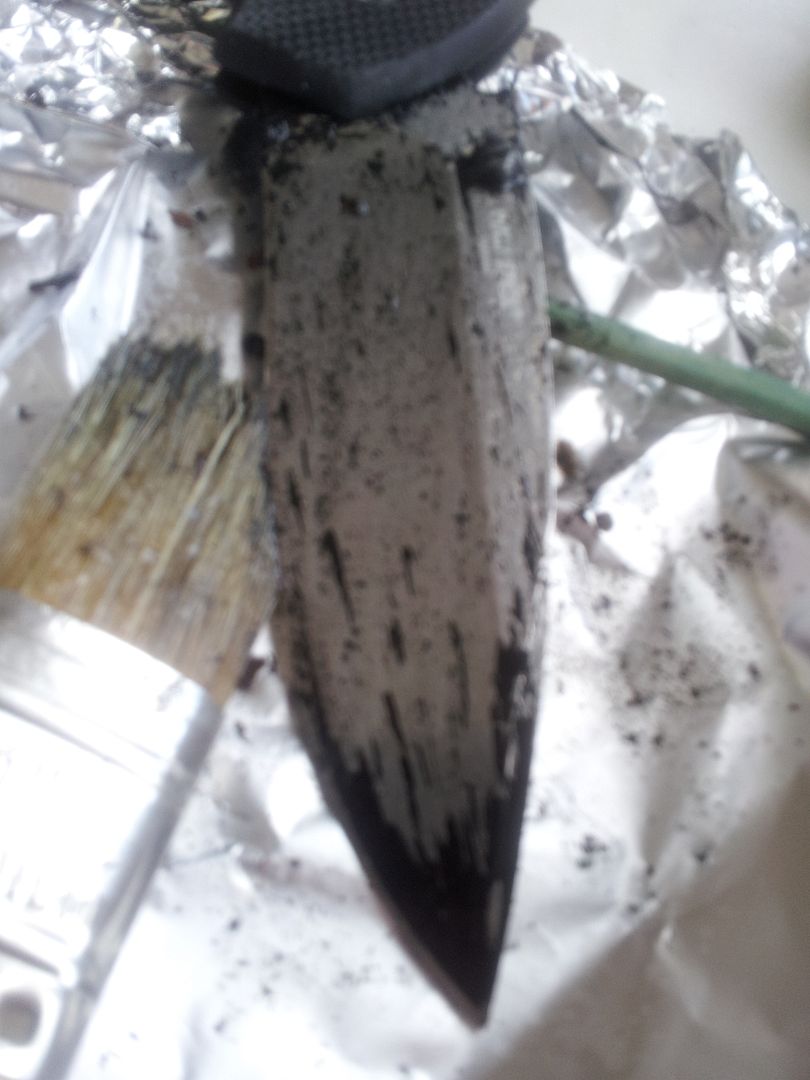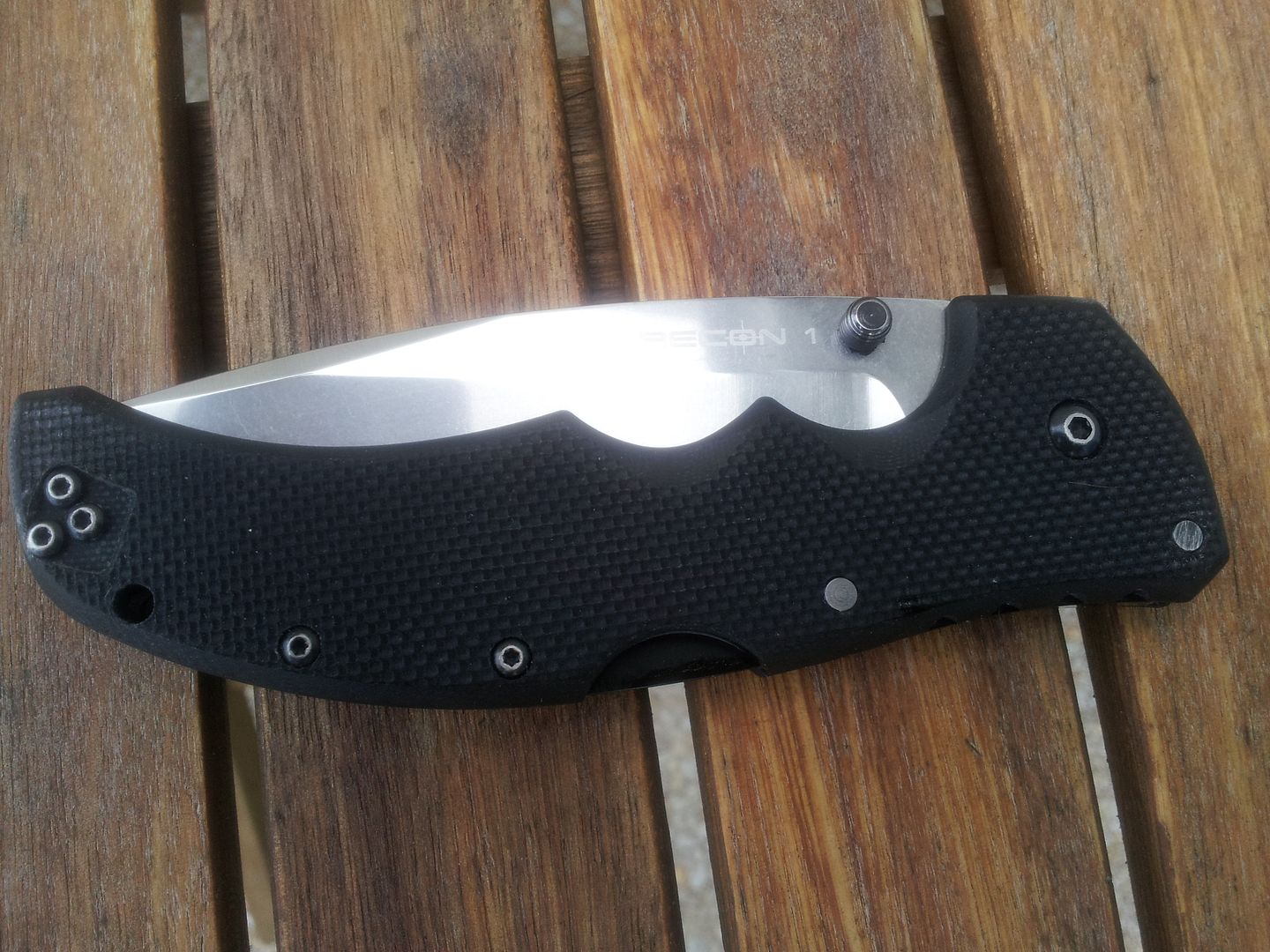 ---
I have received this knife for my B Day from The Knife Connection. (Excellent service as always.)
This is the version without the "Hump" and I have chosen a weatherproof leather sheath. "…a genuine Bark River Sheath features heavy, top grain cow hide leather and Bark River Knives' waterproofing treatment called Extreme Environment Protection. The EEP treatment features include: Water Resistant, Mold Resistant, Mildew Resistant, High Temperature Resistant, Will Not Dry Out. Unlike other treatments, EEP goes completely through the thickness of the leather leaving no room for water to damage your sheath. The finish can be maintained indefinitely with Obanuf's Heavy Duty Leather Preservative. The treatment is guaranteed for 1 year, but should last for years."
Beautiful convex grind. Excellent balance.
This knife is screaming to be used.
"The Bravo 1 Field Version takes the Bravo 1 to a new level of versatility for those looking for a superb outdoor knife. Whether you are field dressing large game, battoning wood or building a shelter, the Bravo 1 Field Knife will handle your chores with ease & beg for more! As a direct descendant of the Bravo 1, the Bravo 1 Field Knife builds on the sterling reputation of the Bravo 1 by providing a tough, great handling field knife that is sure to please the most descriminating outdoorsman/woman!"
Now this is a serious contender to me beloved Spyderco Bushcrafter as it has more momentum due to its weight behind the edge.
More later but enjoy the pics: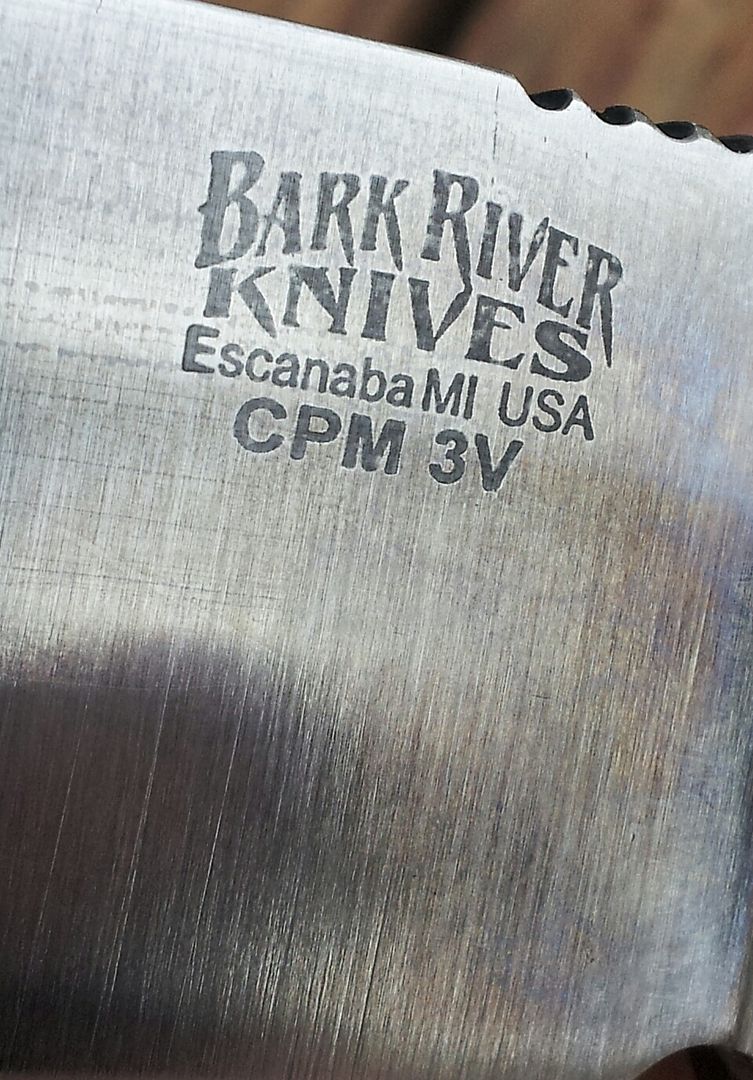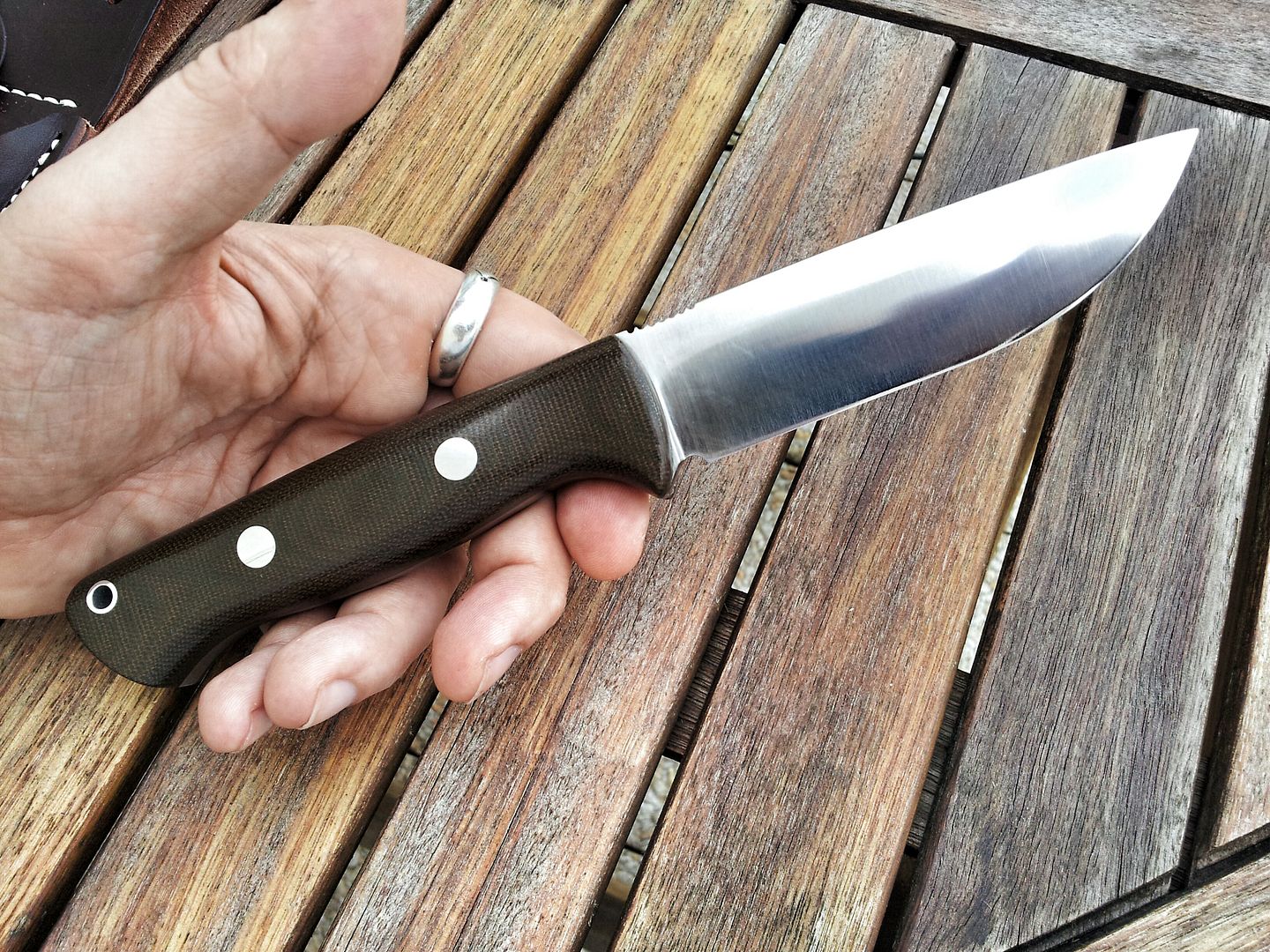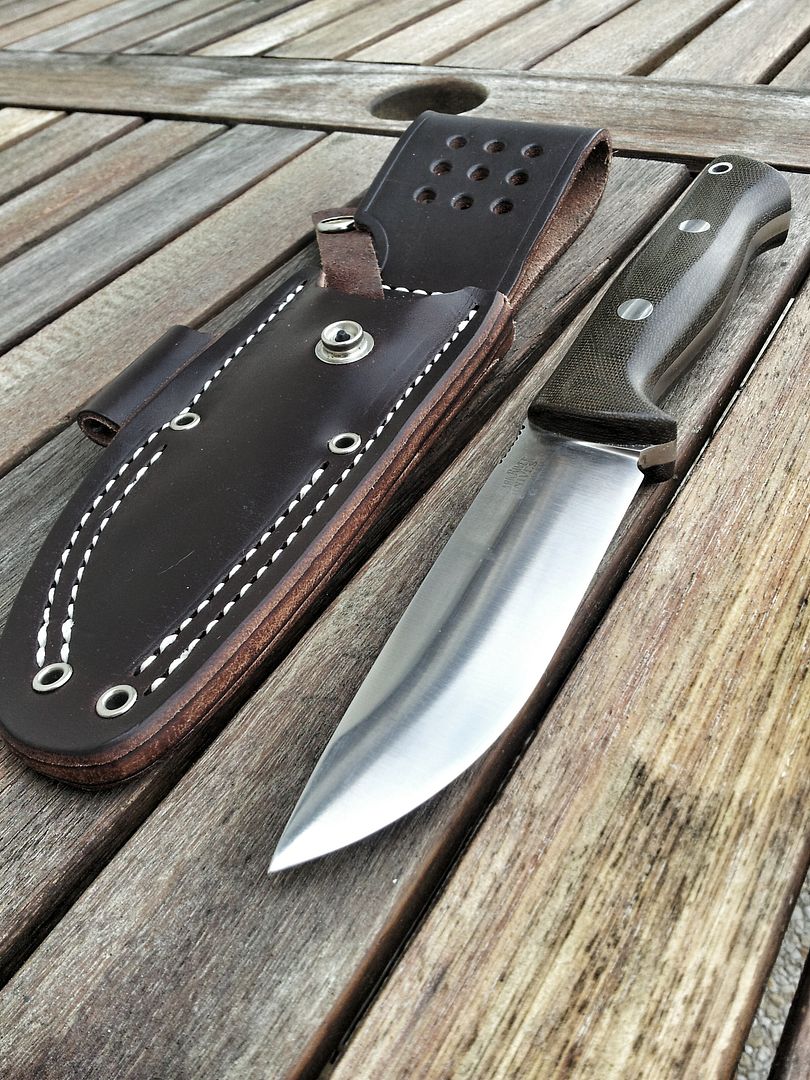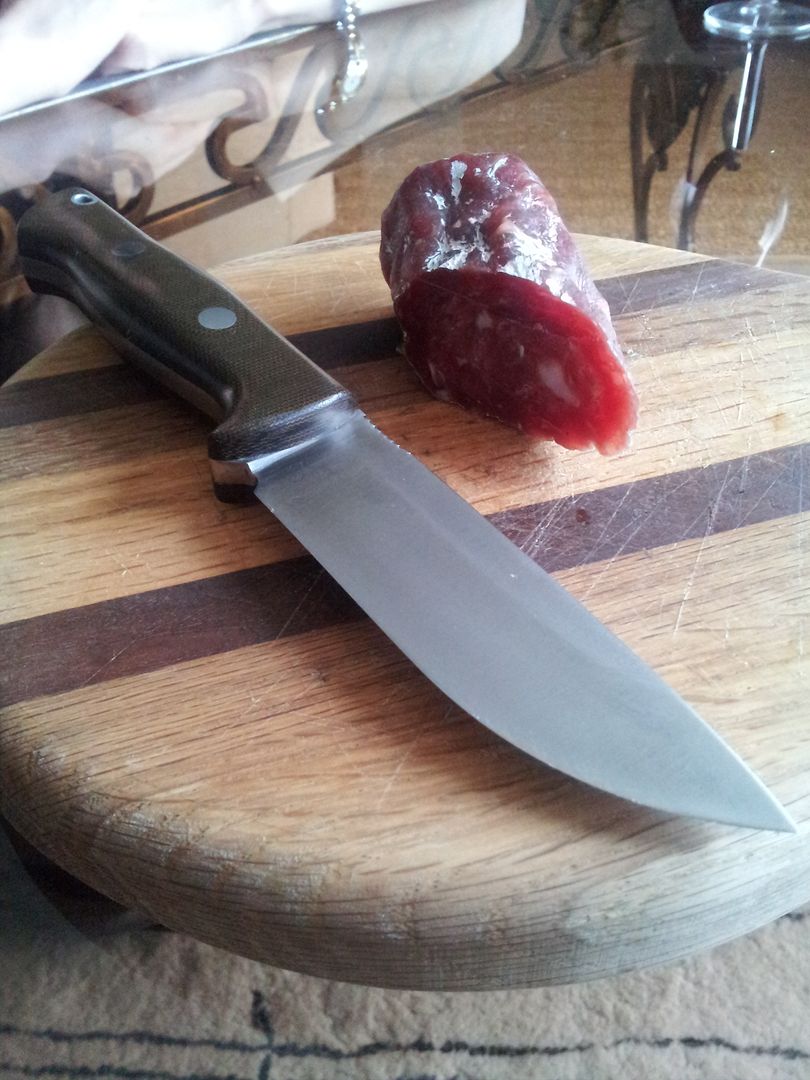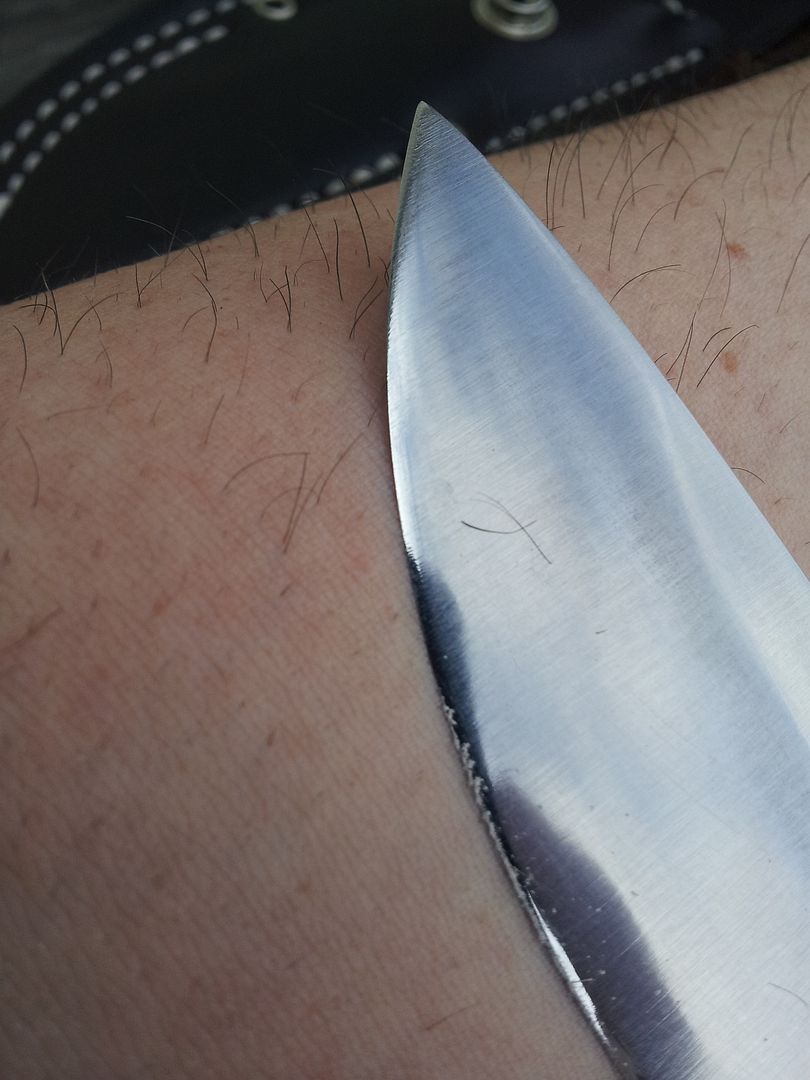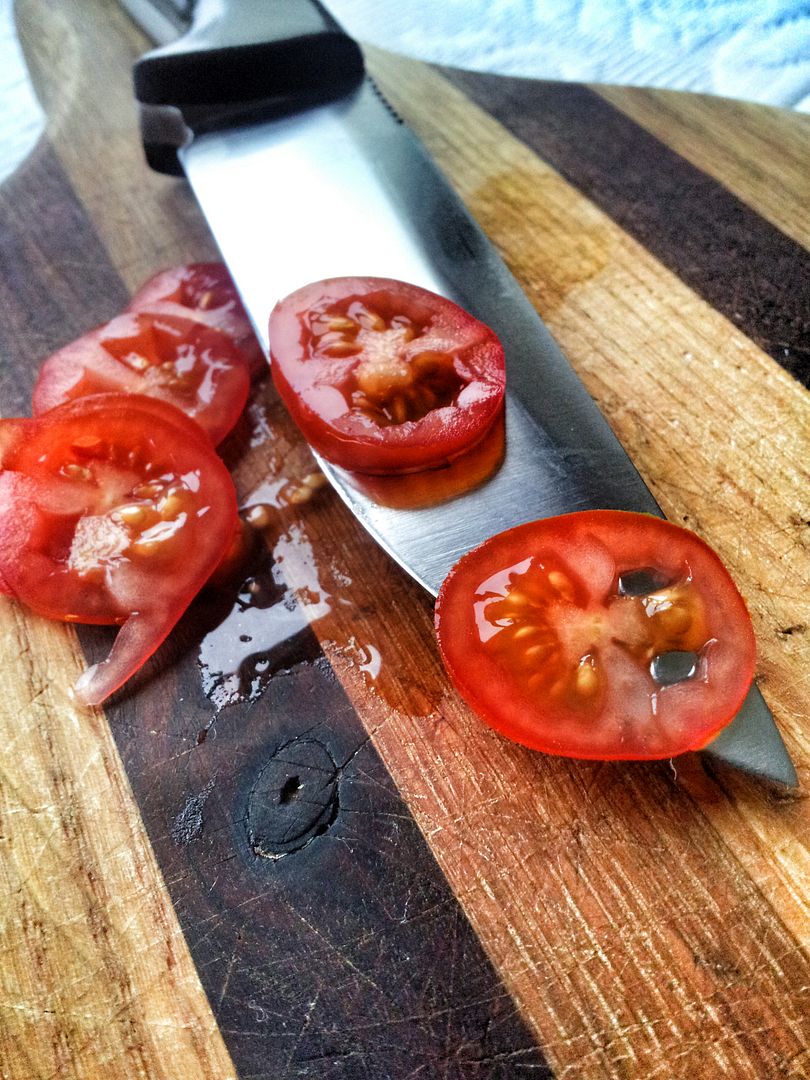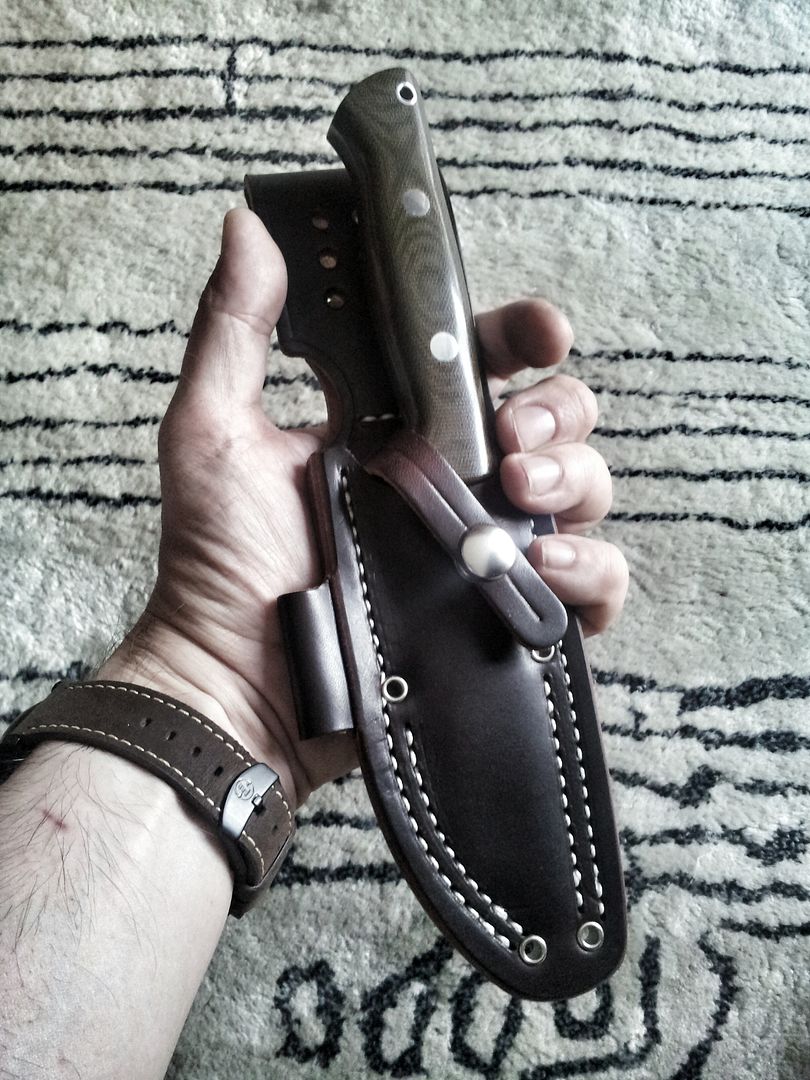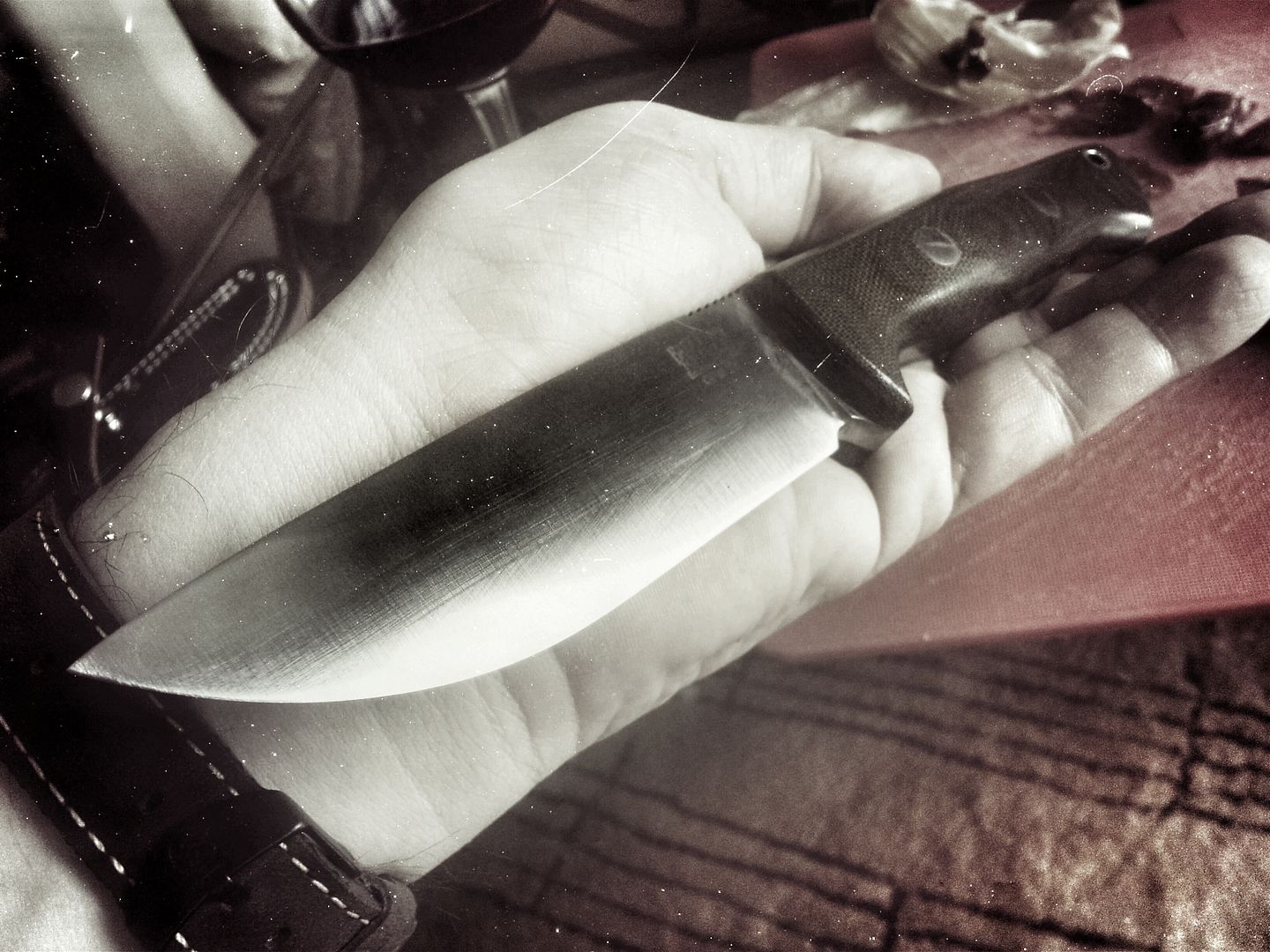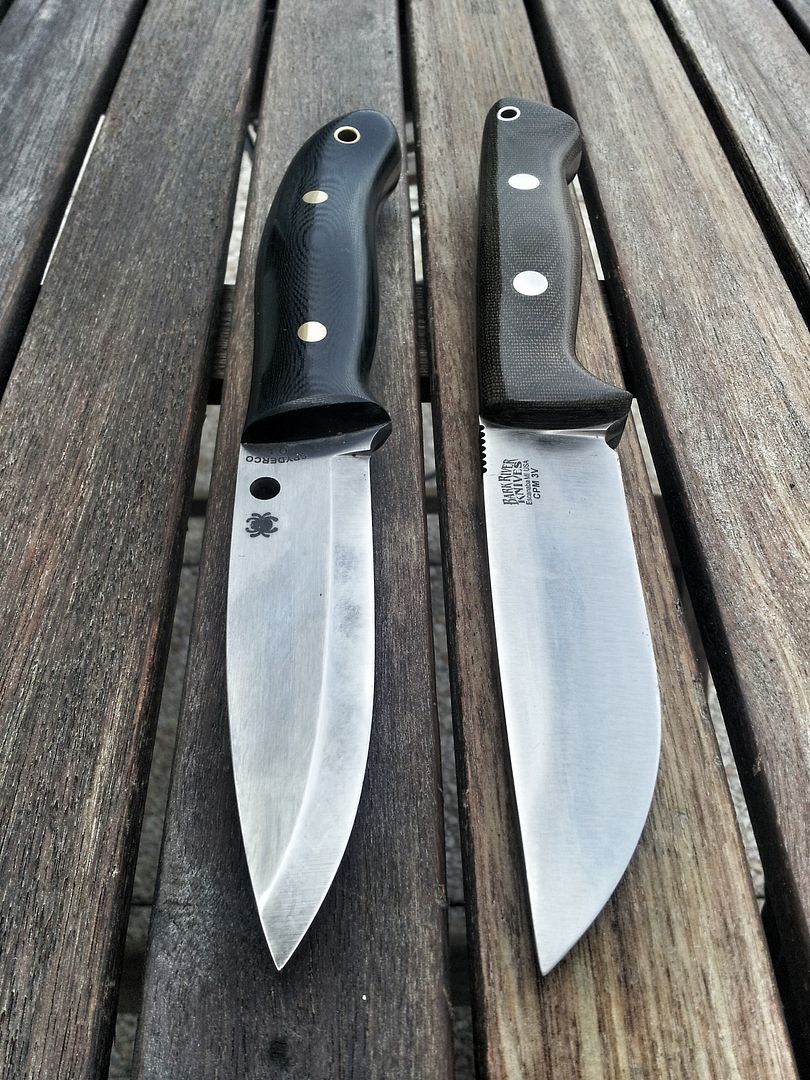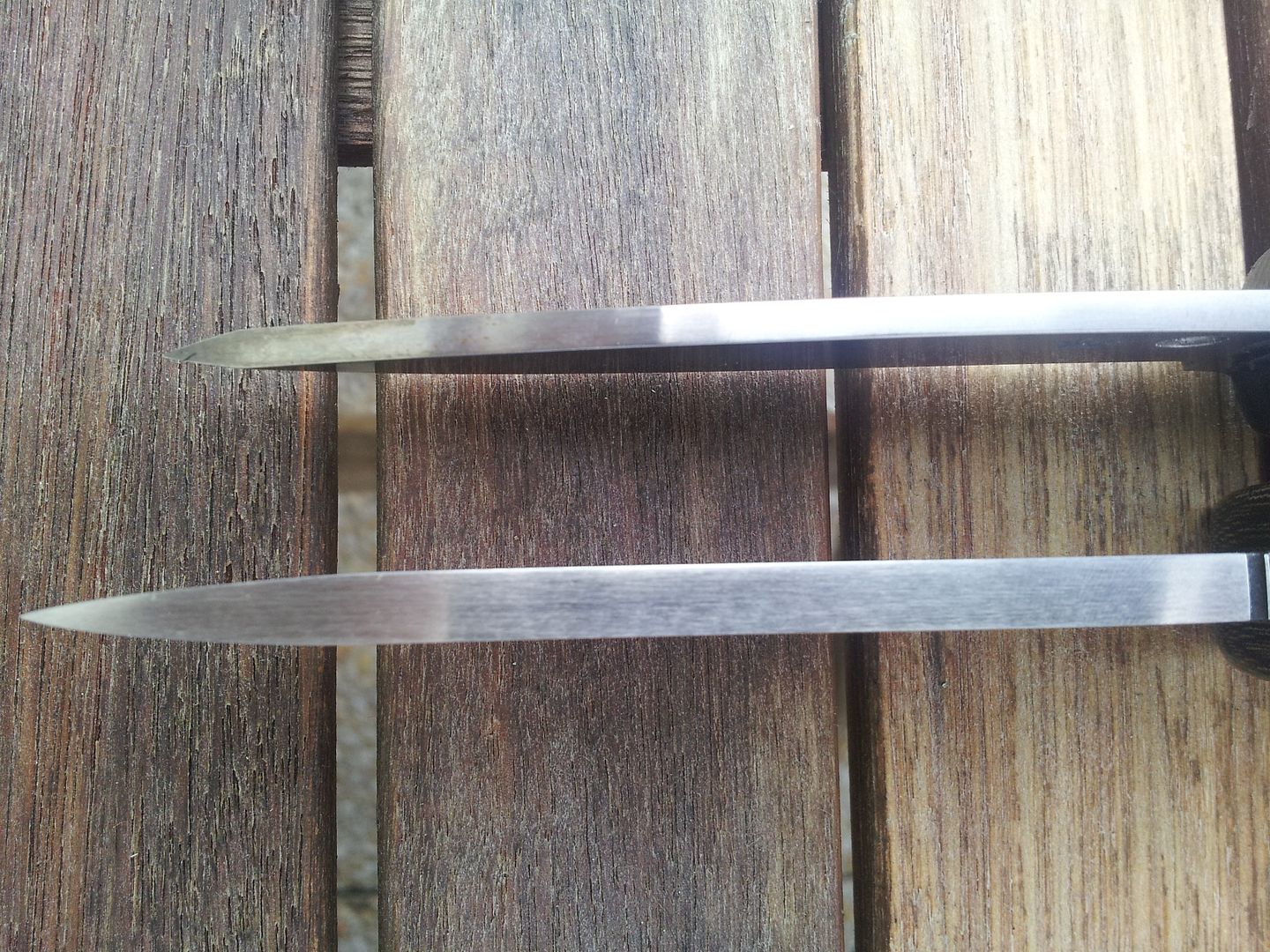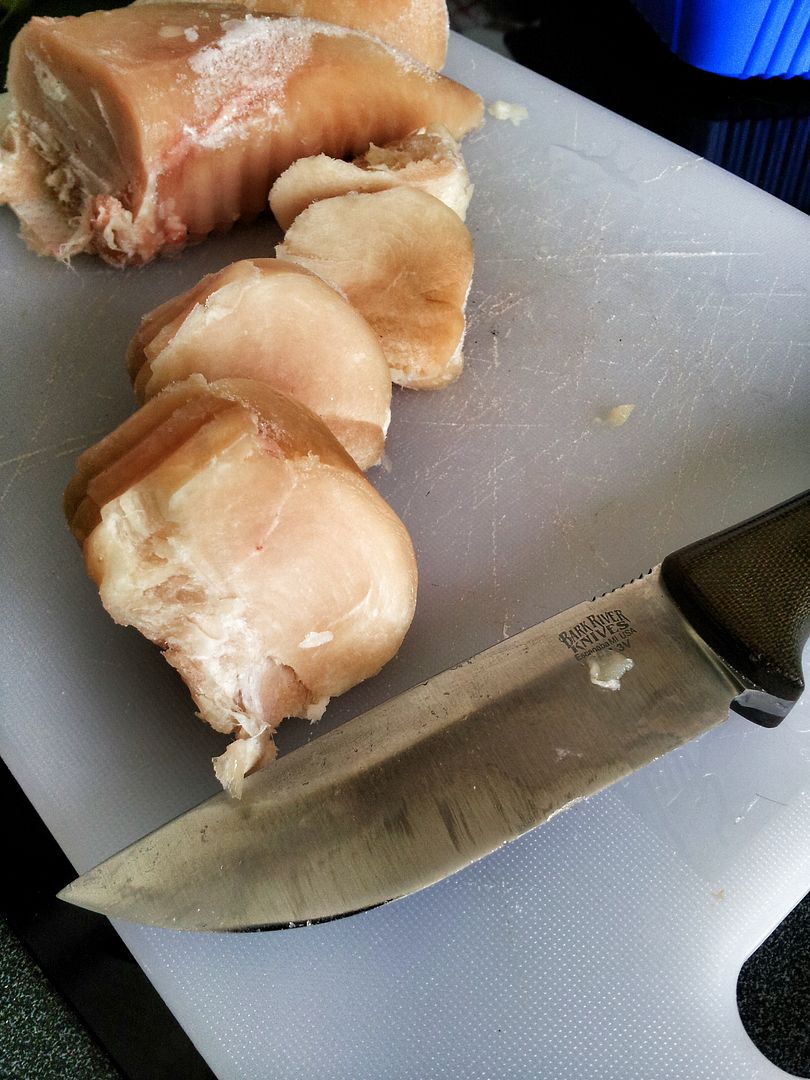 Cutting frozen chicken breast like butter.
---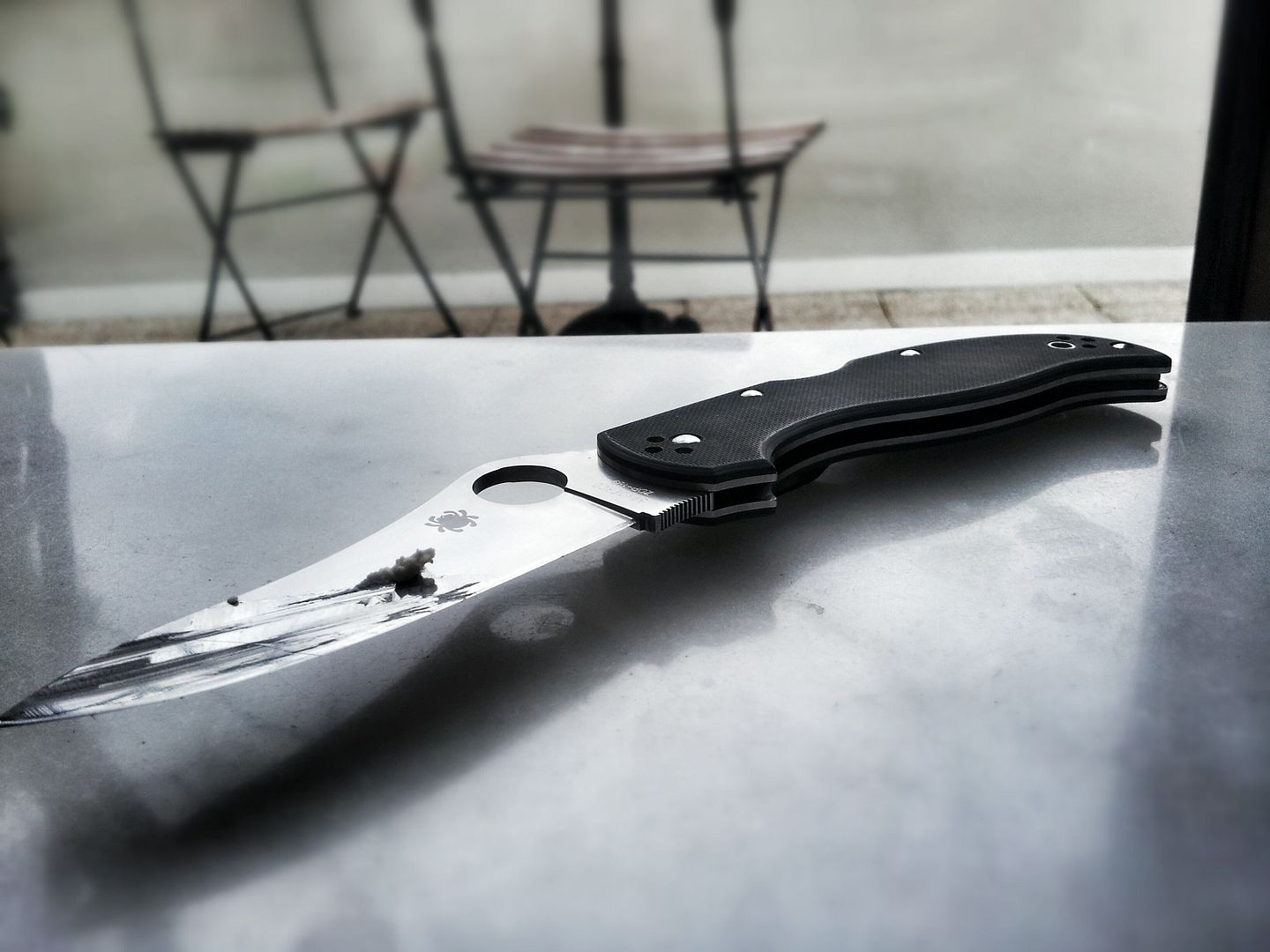 So after the initial impressions and the convexed edge enhancement how the C90CF is performing on a daily basis ?
The first thing wich stands out in this folder is how flat and confortable it is to pocket. This is the kind of knives you totally forget once clipped.
The second thing is how easy it is to put in action. The oversize hole and the relatively heavy butt handle and the smooth action make it a great spyder drop opener if your carry it (like myself) with the clip mounted near the pivot. The grap the hole between the thumb end the index and in a fluid motion the knife is open in your hand, ready for any chore.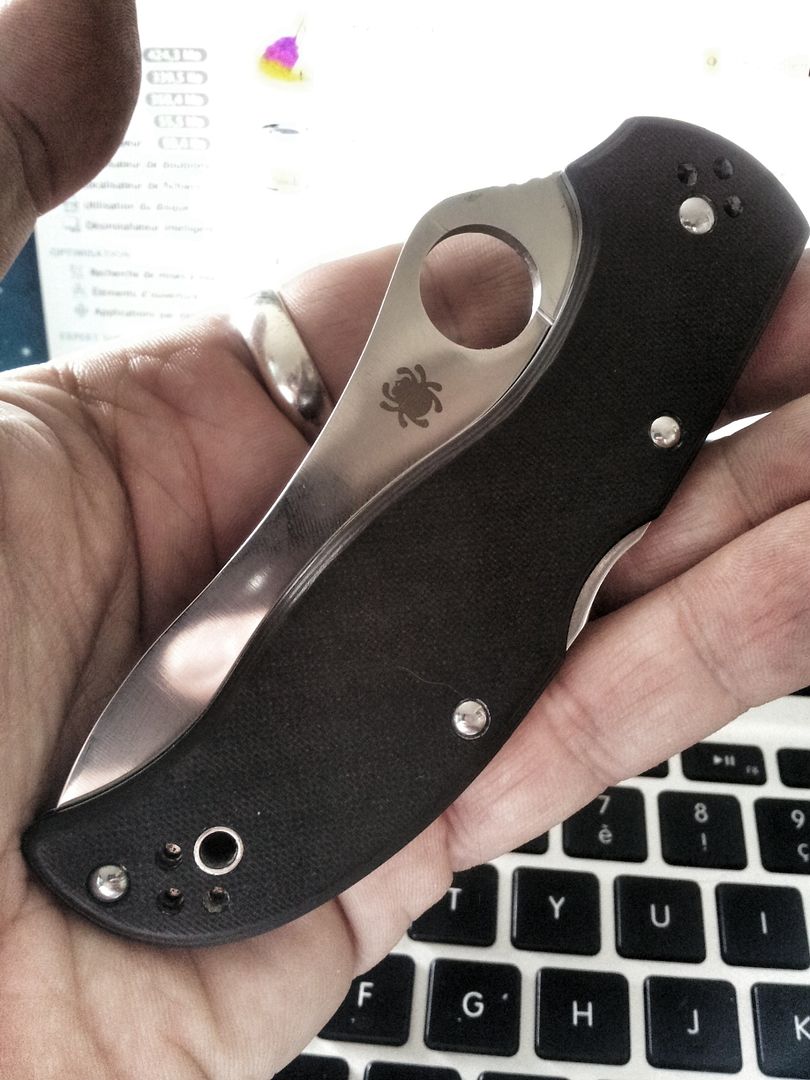 Now the thin blade is a laser. Again the thin cuts through all materials submitted to it with ease and, good news, the little vertical play of the backlock seems to have disappeared with the breaking in and the constant use. Now the knife feels rock solid. Also the thin edge on the thin blade doesn't need a lot of force to cut deep.
The ZDP 189 edge seems to lose its hair popping sharp sharpness fast but the working edge seems to last forever. Another good news, leather bely and compound is enough to bring back the hair popping edge in a matter of seconds. So far I was not able to ruin the edge: no chipping, no bending, no excessive dulling. My edge is polished and convexed and it cuts, cuts, cuts:
Some very hard cardboard tube is no match for the Stretch thin blade.
Also I got no discoloration or pitting on a ZDP189 blade which has been used a lot in the kitchen. It has been cleaned by rinsing under water and wipe just after.
All in all the Stretch is an incredible high performer. It's relatively long blade makes it really useful for a wide specter of chore and his polyvalence will be hard to match. This is really great folder to EDC.
---
Since I had received my Bushcrafter for 2010 Xmas, the knife has been always in use.
I really enjoy small fixed blades and this particular one has turned to be another little big knife.
In the 90's I have been reviewing with Fred (Perrin) another little big blade: the Fallkniven F1 in its first solid VG10 incarnation. This is the kind of small tool with some heft in your hand, giving a sense of security and reliability. The Fallkniven F1 is now a legend in travelling knives. Well, the BushcraftUK feels that way in my hand but better than this it is also offering some uncanny cutting performance: the zero scandi grind cuts like a laser and it is very very addictive.
But fragile. I was able to micro chip its factory edge just by being me: clumsy… Bones, stones, sand… are not thin edge friendly. But the good thing is that I was able to gently convex my edge to keep it luch more stable. Removing a chip on a zero ground edge means time consuming before to see some result, unless you don't want to "respect" the zero grind. Also sharpening the edge on ceramic can be frustrating as you scratch the mirror polishing badly. Good thing, with some elbow grease it's back to mirror again. O1 is not stainless. But I did not let a patina to develop but on the handle where the hand leave natural moisture and the steel is now grey.
As I was not planning to use the back of the blade to produce sparks, I have gently rounded the edges and this heresy to the Bushcraft Gods gives me a lot of thumb's confort when I'm pushcutting into hard materials.
Really the BushcraftUK is the king of my woods.
Why ?
Because it's compact enough to be pocketed in my coat. So I got it on me. I never had it attached to my belt. I love the leather sheath I never got any issue with it. Mine is still like new as I have been using the brown sheath from my second for a while. Perharps I will try to find a kydex sheath for it as I do transport the knife in my bag more than on myself. Now for the knives works in the wood, the size of the Bushcraft suits me. I'm able to use it for light chopping and batonning without any care. Hence the chipping…. But again, the Bushcrafter has never let me down. Better it's my favorite in his category.
Since I had ever seen Ray Mears on television back in the 90's I felt I was not the only one to enjoy little fixed blade for their reliability in the wood. One of my first "bushcraft" was a Glock knife back in the 80's. Broke the handle. Glue a compass in it…
Things I did not with the Bushcraftuk is: throwing it, cutting concrete intentionally and open oysters… but I have removed nails from wood, batonned through hard plastic, use it in the rain, in the snow, on the sea shore… With a little care I was not able to have rust pits on O1.
The weight and the high sharpness do wonder in the woods. Every chores are quick jobs. And this is exactly what that blade is for: energy's economy and confort in use.
Back home I usually check the edge and do some leather stropping to have it back to mirror polish. No oil have been used to protect the blade. I use it everyday outside or in the kitchen so I keep it sharp and clean.
I got many kitchen knives. The Bushcraft will not replace them but the scandi grind is great on hard cheese, bread and meat. I rinse it after and dry it immediately. No more no less.
Even if I enjoy the flatness of my Stretch or the squareness of my Southard, on that hard used small fixed blade the rounded ergonomic handle is simply my favorite since I have had made a bokote handle on my Cold Steel Trailmaster. The black G10 after two years of constant use looks and feels like new. G10 is an incredible tough material. But the Bushcrafter is my first "blister proof" knife. Even my beloved H.E.S.T. required the use of gloves but not the Bushcrafter. I have removed the lanyard as I was not able to find something which suited me yet. Especially when I used the knife in the mud, blood… Again lanyard are great on pictures but I don't like them in use. I don't like to feel moisture trapped in it.
What would I change ? Sorry Sal but I do not like the hole in the blade. For one reason: I need to clean it and oil it or it's unhygienic and a rust magnet. I would had prefer some kind of circle, even as big as a folder hole than that. I understand it's a signature but…I would had preferred something easier to clean.
For two years the BushcraftUK has proven to be unique in my collection. Incredibly confortable in the hand and sharp and tough and strong in the field. It's all business. The amazing South Fork has not yet been able to kick it out of my bag. I plan to use it with the Stretch and my good old Tramontana Machette as combo. I'm not a lumberjack after all, am I ?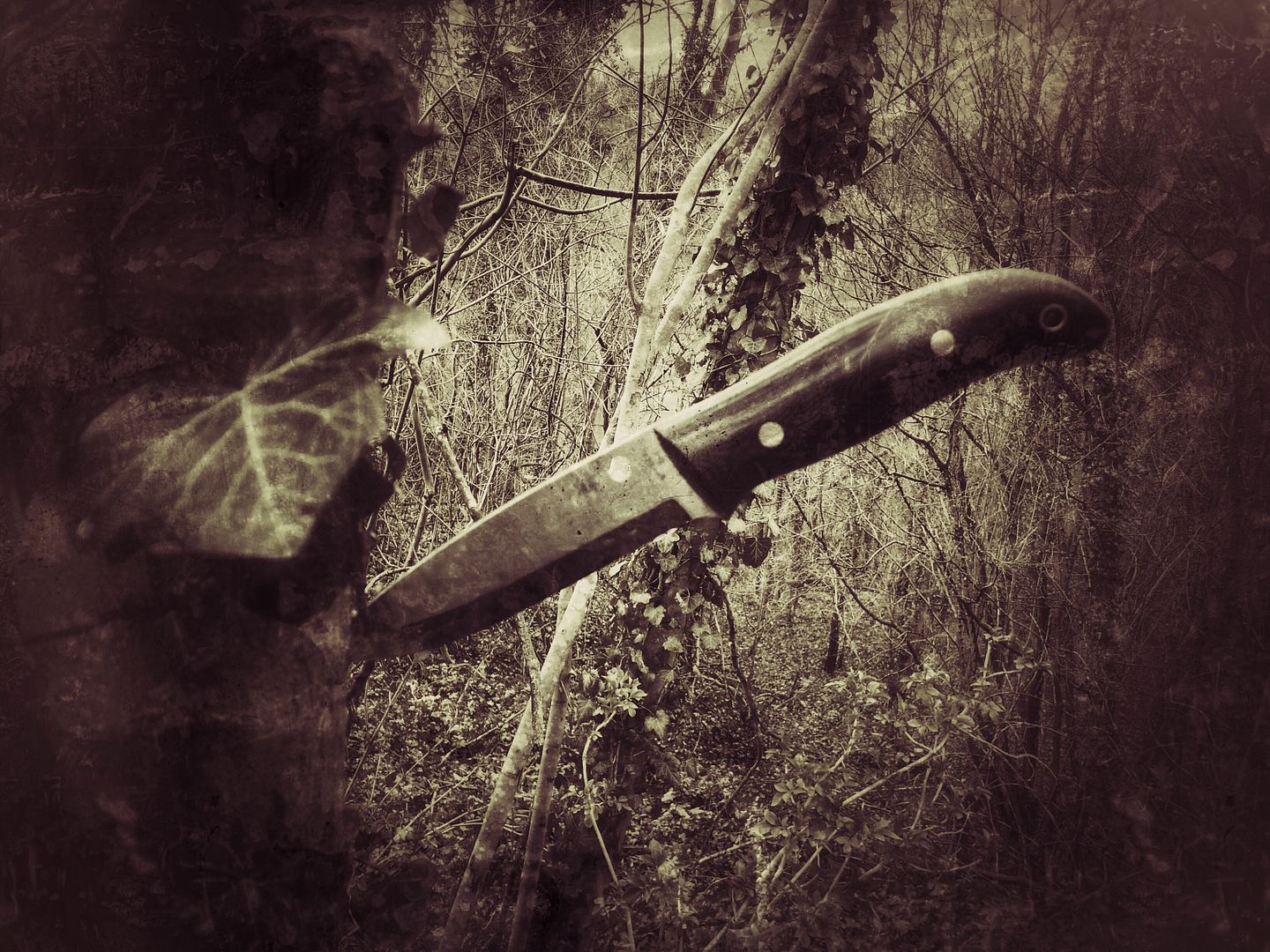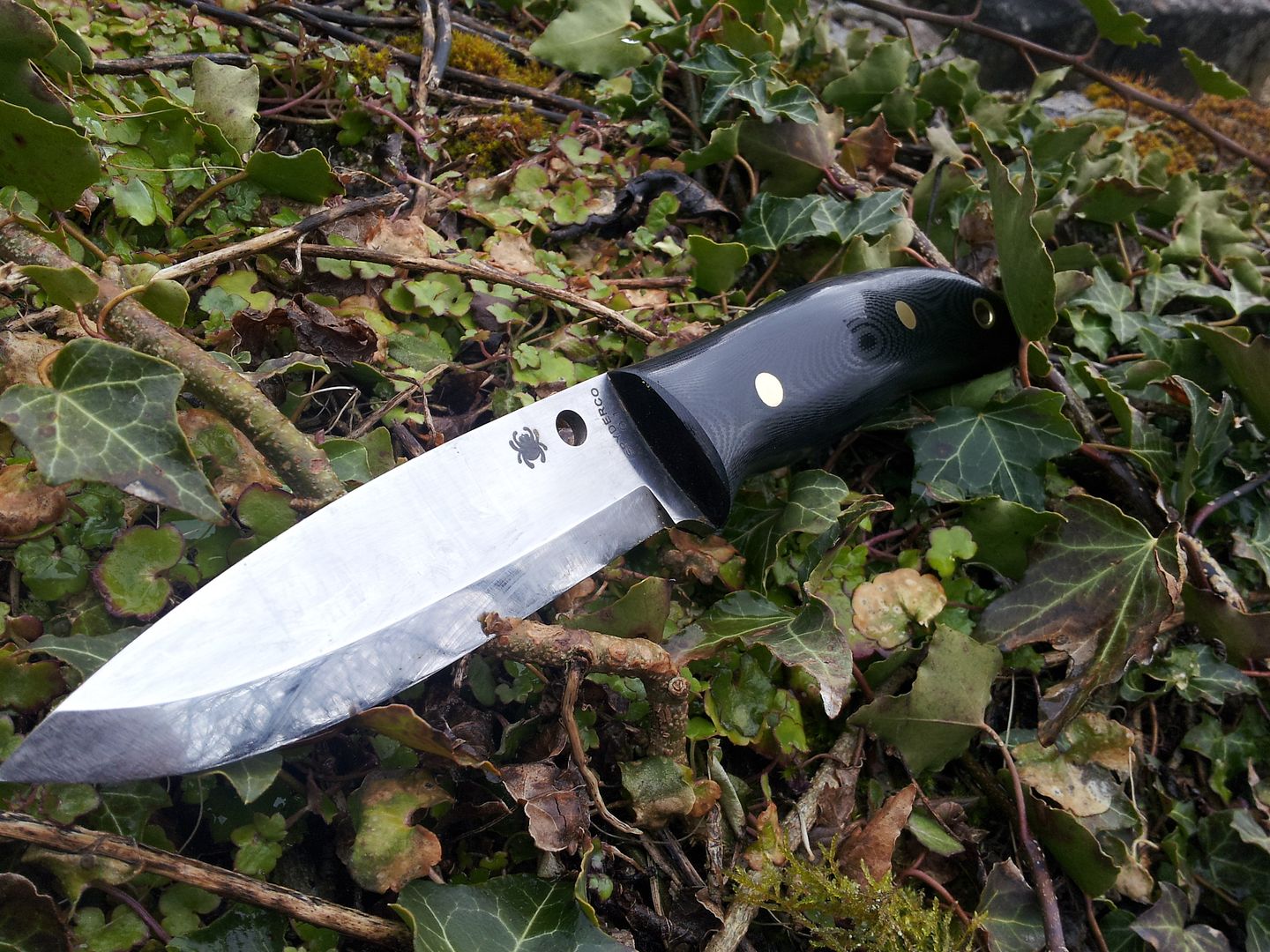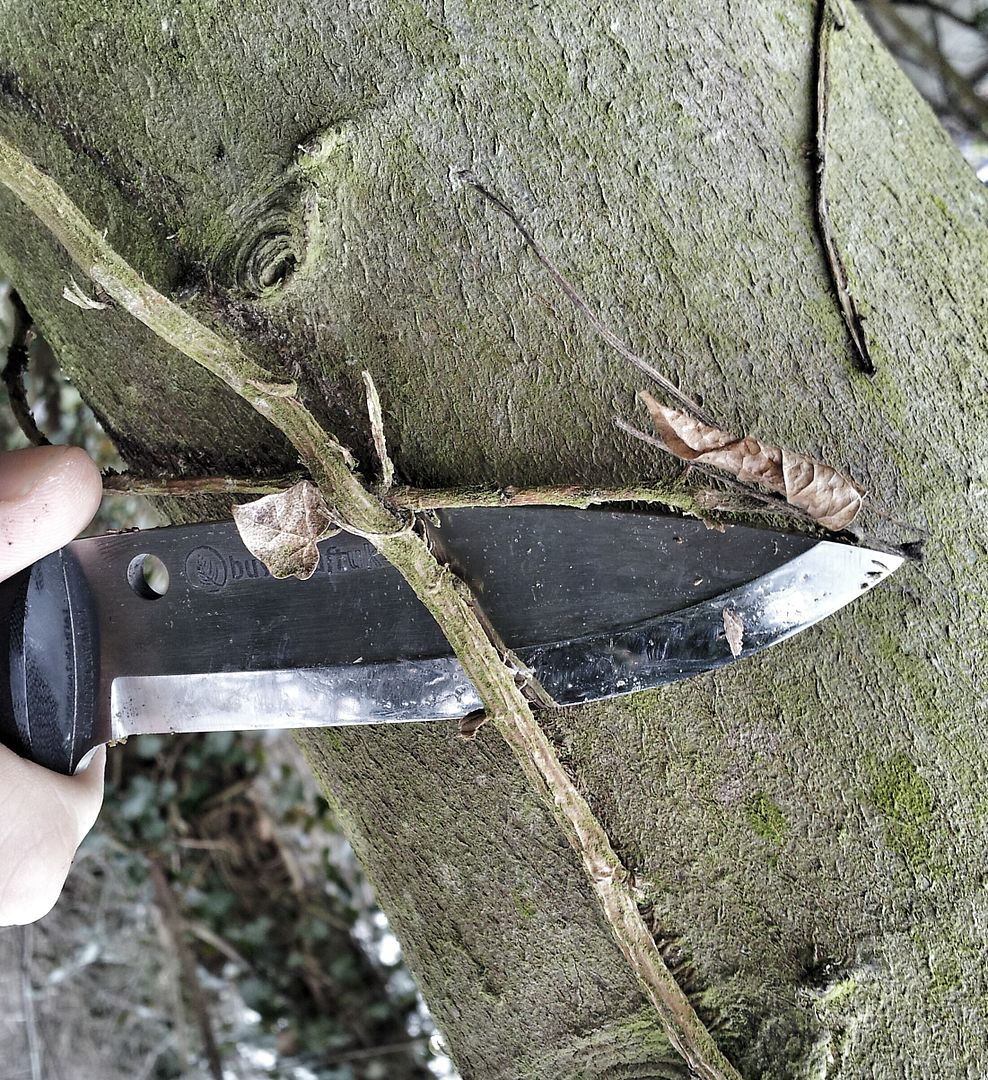 ---
I was testing my Stretch when I got the urge to compare it to the Daddy of all my Spydies: my M390 Millie.
My M390 got a very thin factory edge and I was able to maintain mainly by stropping on leather. it cuts like a laser.
Compared to my new Stretch the difference was hug. The C90 with a thinner blade got a thick edge. I was not able to measure it but it's a good 40°…
So I have decided to convex the edge of that thin full flat ground blade, even if ZDP 189 is a bear to sharp.
My first step has been with Lansky diamond pads for eliminating the shoulder of the thick edge. I was able to do it with out scratch the flat of the blade.
Then I have stropped the blade on leather with white compound until I got a mirror finish.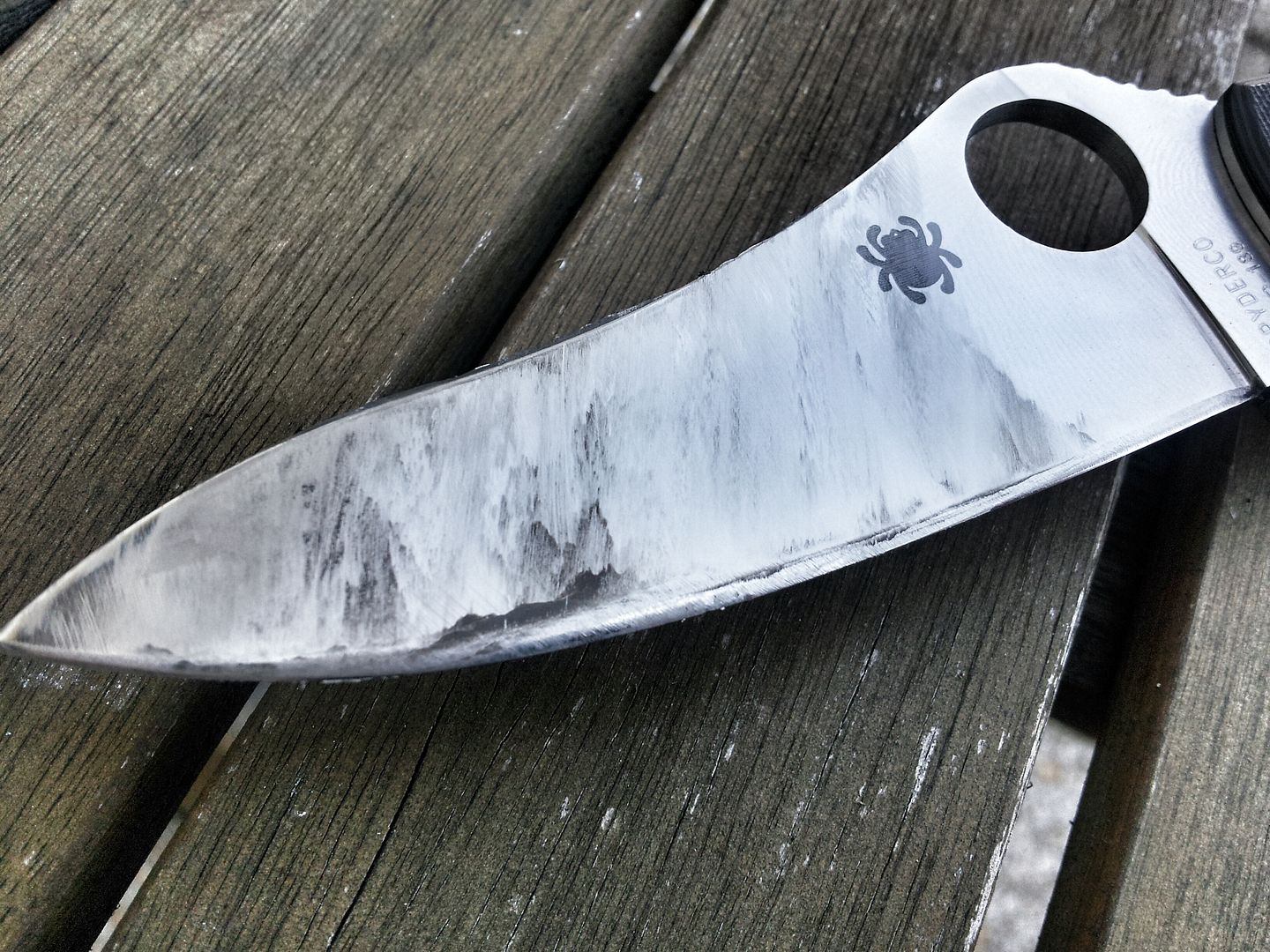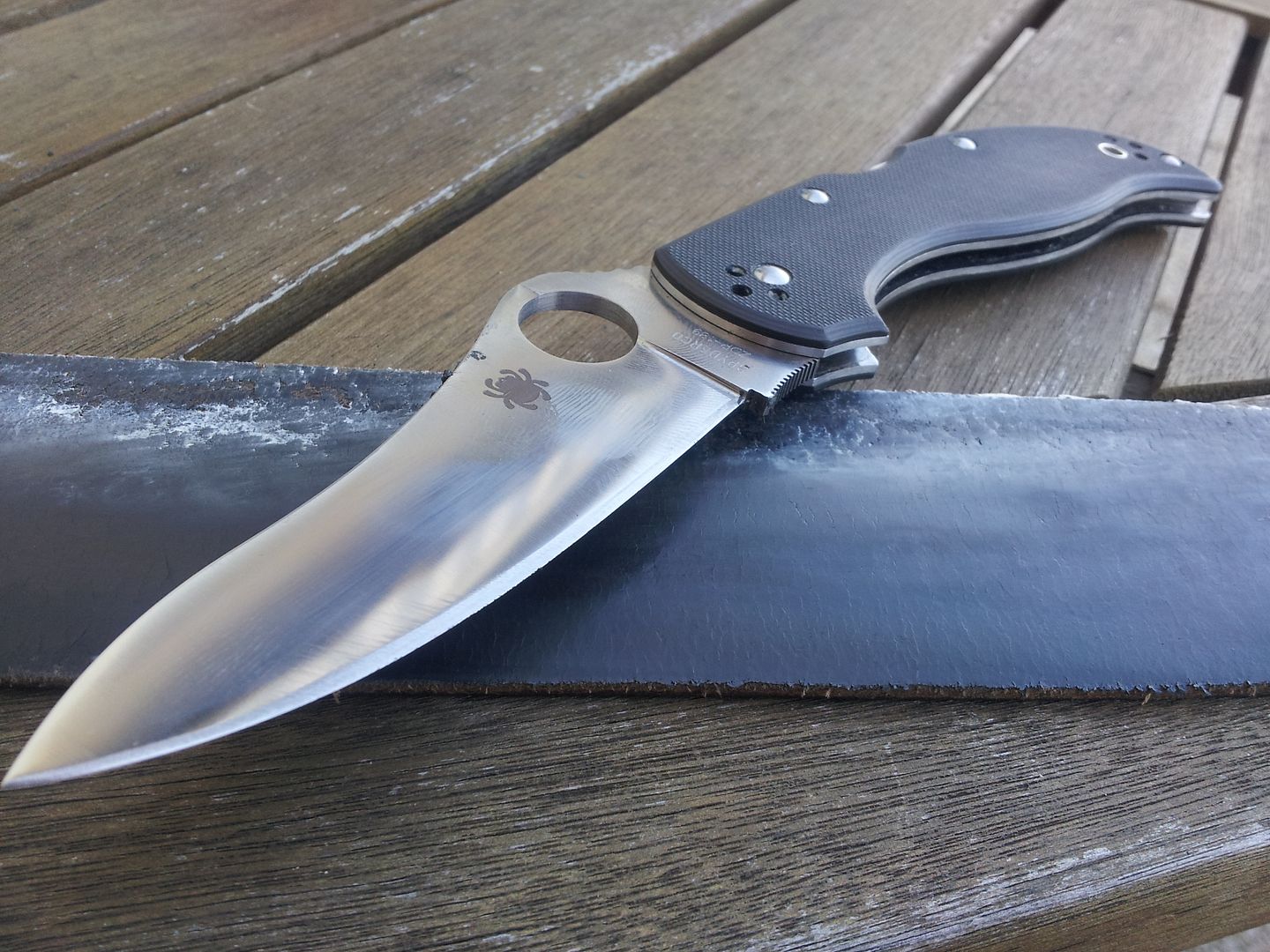 The performance is night and day. I will check now how the ZDP189 convexed edge will behave, but I had applied the same treatment with a Michael Walker which is now used every week end as a skinning knife. Anyway, I have been able to cut through a plastic bottle's butt is one pushcut. My C90CF is now laser sharp. As sharp as my Gayle Bradley but certainly not as strong. We will check that later.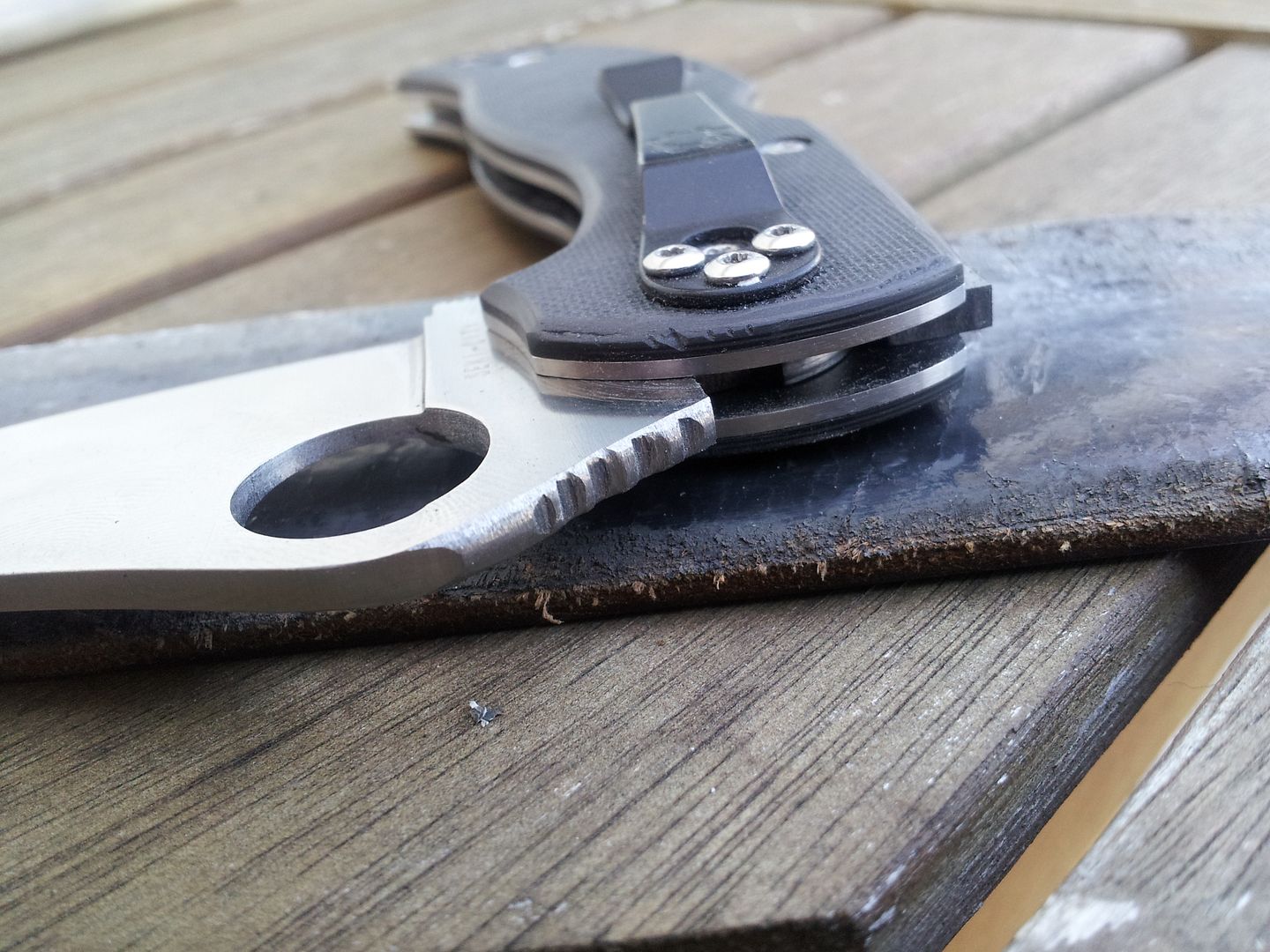 Talking about sharpness. The jimping is really sharp and hurting the hand. Again diamonds has given me the possibility to eliminate those teeths. The new version of the Stretch got better jimping, the same as those applied on the choil.
So now, my Stretch is ready for more tests, tonight it will tomatoes slicing time.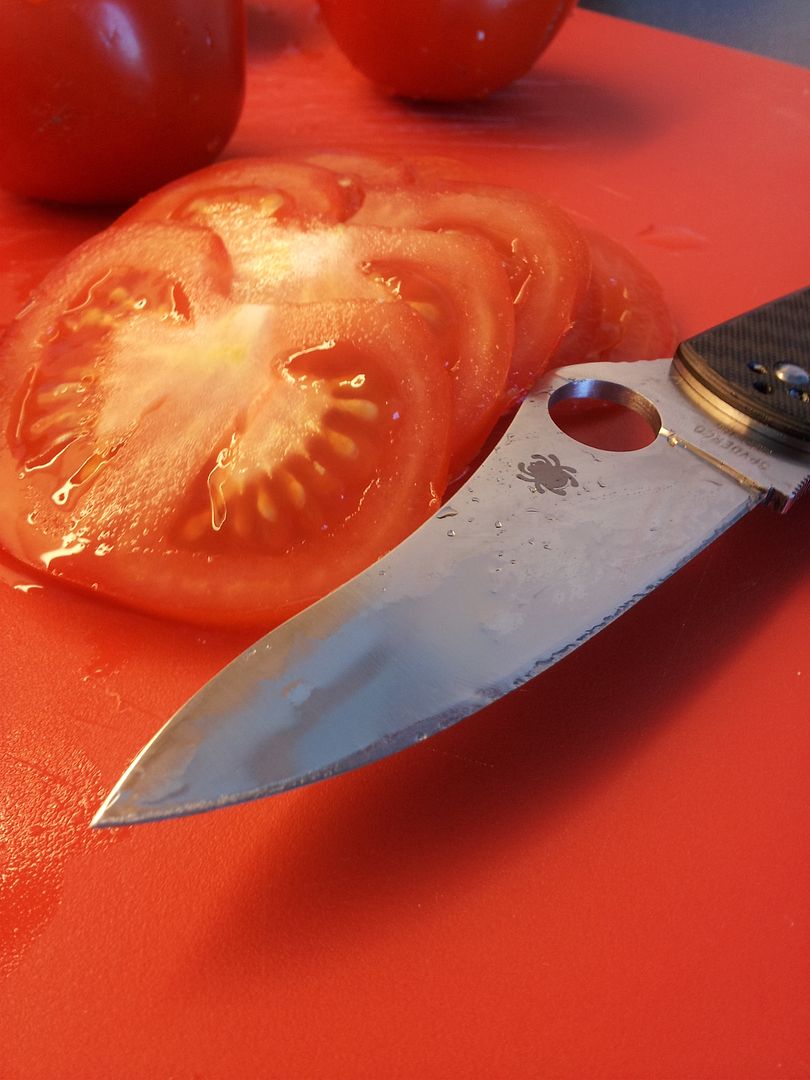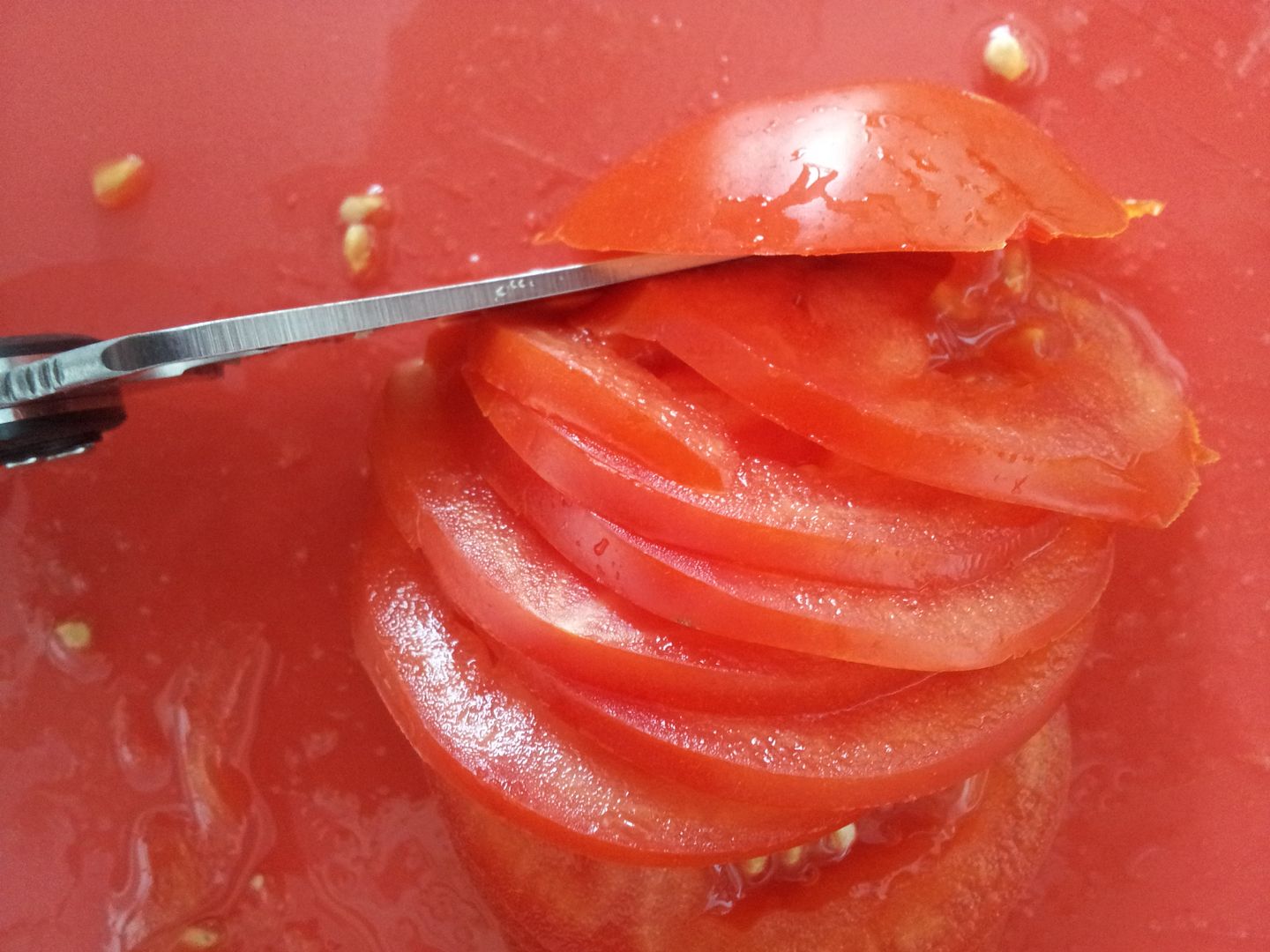 Oh yes it cuts…
---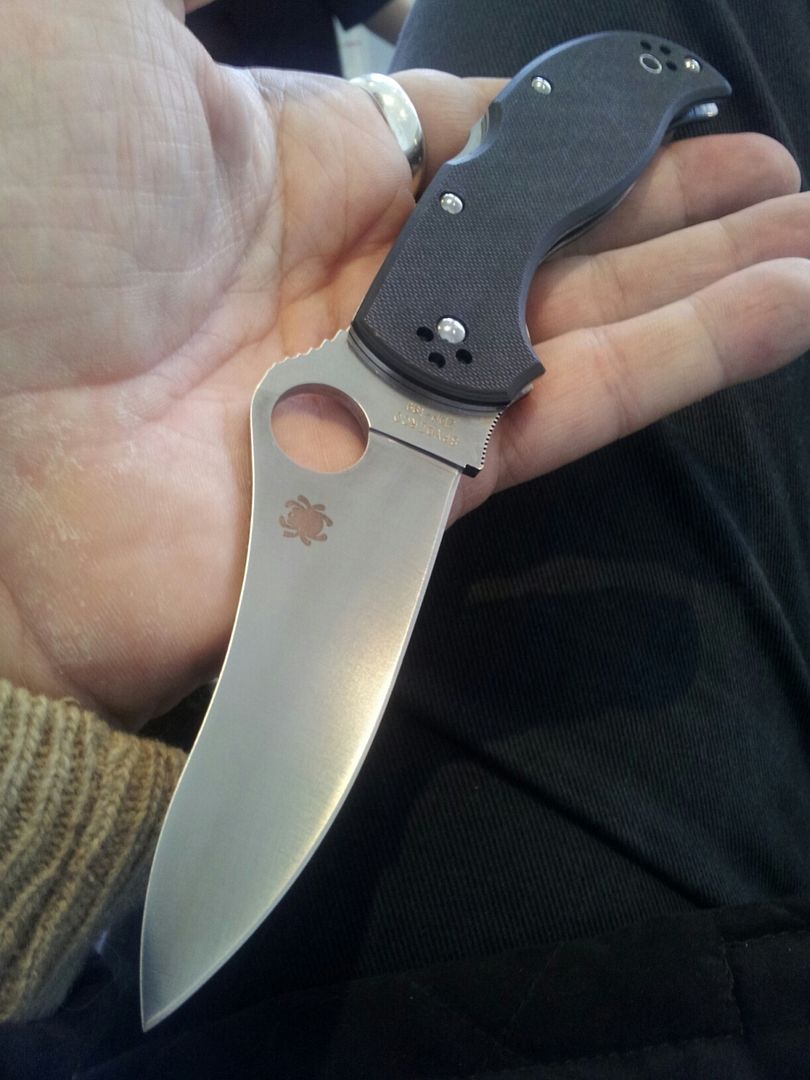 For twice these last months, I was considering myself being able to announce my best "EDC ever". After the Sage 2 Sebenza inheritance, the "hard to get razor" rare Spyderco Paramillie in S90V, the megasharp little Michael Walker, the solid and forgiving Gayle Bradley, the wonderfully engineered Native, the minimalist friendly Pointu, the chopping solid Lionspy, the Techno which is a pure flawless stout companion and lately the Spyderco Southard which is such a great flipping friend served by a crapped clip. I love all of them and I considered myself spoiled. My case is closed.
Now what would be Sal Glesser favorite EDC ?
I knew the Stretch was a special project developped by Sal "in house" for his own needs and I was able to notice how the Stretch was continuing to continued into a Spyderco classic, providing one of the best high tech steel into a lightweight package: the discontinuated C90 and C90BL and the new Green Arrow: C90PGRE.
"The C90 Stretch started as a pet-project lockback knife design. Spyderco's owner and chief designer made it for his personal use, incorporating features he wanted. He wanted high performance blade steel with edge retention super-powers for outdoor cutting: things like wood, rope and anything encountered in the wild. It had to work equally well indoors on cardboard, mail and fingernails. He sized it so it wouldn't scare non'knife people and made it look slick on the off chance he'd someday have to wear a suit."
Isn't it exiting ? The Spyderpapa has invented a knife for his own needs and no one else. Remember, the famous C36 Military has been design for his son Eric for example… But this very C90 has been designed for no one else but Sal. "The Stretch has been a 25 year work-in-progress and we'd like to continue to make it better. The ZDP FRN version finds a lot of my pocket time."
So I got now the great opportunity to pocket a Stretch. This one is the one with the handle in peel-ply carbon fiber, with a four-way clip, left/right-hand and tip-up/tip-down and a full flat ground blade of solid ZDP-189.
Quoting my friend Wouter: "Stretch II is IMO a perfect knife for the connoisseur. Its looks might be plain, the blade might seem too thin, but for the knowledgeable knife enthusiast it's a very impressive folder."
Ah, ZDP 189 ! I like it on my Rockstead Higo but I love it on my C22CF. On both knife I have been able to cure its chipping with ease and to convex gently their edge. Here we got a 3mm thick blade on a very thin handle: pocket easy. Despite his hourglass clip the Stretch could be the father of my Chaparral. A gentleman folder with an outdoors purpose. The Stretch is incredibly thin and oozing quality. No blade play. Smooth opening. Extraflat design. The Stretch got a James Bond's appeal.
Mine, after twenty strops on my leather belt is now sharp as my Bushcrafter. So time to test it and to fall in love again.
But quoting Spoonrobot: "Writing about a specific hobby always brings some inherent problems, there are only so many ways to praise a folding knife. I recently made the mistake of declaring a knife "the sharpest out of the box I've ever seen." Only to have the next two knives prove to be even sharper. This makes it quite hard to be taken seriously, so in light of this I've decided to make slightly less grandiose claims when describing my newest slicey thing."
Part II: improving the Stretch's edge.
---