This review will be update on regular basis as we are also dependent from Spydercollector pictures.
Nemo: Again we have been 80 lucky people to attend the 10th Anniversary Spyderco Meet in Amsterdam.
Some were there since the beginning like my friend JD and this post will be both impressions.
Here the list of knives and our impression.
For the model pictures you can visit Spydercollector excellent blog here as he got the exclusivity:
http://spydercollector.wordpress.com/page/2/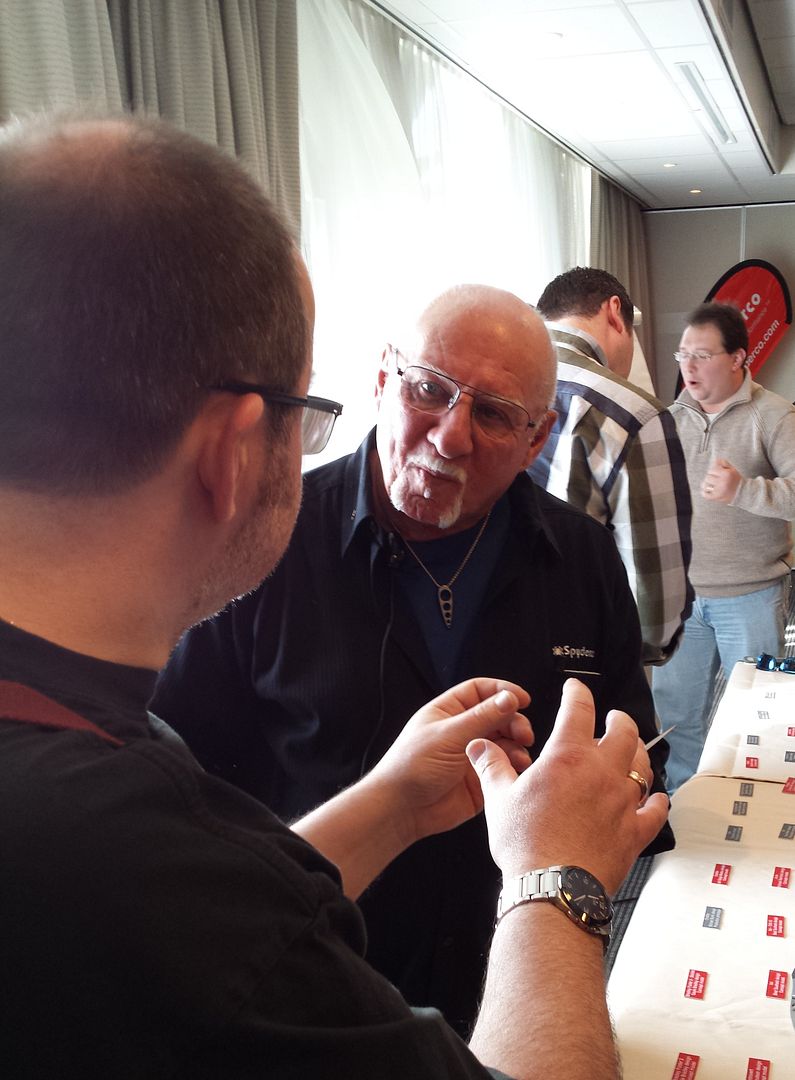 29 concepts and prototype are a lot in a single session. They are a lot and a lot of ideas in non locking knives, bushcrafting, SD tools, long forgotten designs and performances researches but… without showing any pics it's a little pointless to talk about them here.
Eric and Sal have harvested our impressions, sucking up feedbacks from 80 feverish minds.
For example JD gives the important hint that Walter Brent trademark was mirror finish blade on his Mamba Concept Model.
JD: Polished deep hollows, thats Walter Brend!
Nemo: And Eric will now see what would be the best steel for respecting that particular signature.
This is where the Minimeet shows how important exchanges are ! Eric and Sal are here to listen to the "hot" feedbacks and they take very good notes of each of them. It's quite obvious after to notice the changes in a final product. (We got some very passionate exchanges three years ago with Sal about a huge folder featuring an "über" strong lock which could be used as a tough folding camping tool for example…)
Also the Minimeet is the chance now to see designers and knifemakers coming in Amsterdam to present their prototypes.
Like Ulrich "Uli" Hennicke:

or
Filip De Leeuw:

So let's browse the memory of some models we liked:
Slisz Bowie Marcin Slysz Prototype
JD: Impressive! Ergonomic, solid, slicy.
Nemo: This one is my favorite so far in this 10th Anniversary. A sexy shape, a ergonomic titanium handle. This could be a Sebenza Killer with a bowie blade and full flat ground blade. It should be release for mid 2014. So we will have to review it in september.
(I will like pictures from Wouter site as soon as he will have them on line.)
His 'father' could be the K2 by Farid Mehr.
JD: Pocked machete!
Nemo: but again if it's going to be produced in CPM10V this huge Sebenza / Bowie like knife is going to be a must have.
Farid is known for his Heavy Metal knives. He was making RIL locks in stainless steel on thick blades !! The K2 has been refined by Eric and Sal a lot before to born. Now it's a big folder but with a slick appearance. It's big but it's a very useful shape. You can easily see how to cut a whole chicken or a pinapple with it. This knife is also very easy to clean.
Fortunatly we got a link to the pictures here:
http://spydercollector.wordpress.com/2014/03/04/spyderco-2014-production-prototype-farid-mehr-k2/
The Native 5 Lightweight production sample
JD: Favorite Native so far !
Yes it's light and it's solid a s a rock. Sal loves it. This is a knife destined to be a classic.
It's a Native 5 with FRN handle but the feel in your hand is balanced. A great tool to clip. The plastic handle is square and smooth. I really liked it.
ARK Sam Owens design production prototype
Nemo: This little FB is destined to be a self defense tool to prevent rapes under the shower in the Army… Go figure how people are crazy nowadays. What can I say ? Of course it will be rust resistant as it will made in H1. I would have preferred a Fred Perrin La Griffe as even with soap in my hands I would not have lost my grip. Anyway, fighting naked with a blade in the shower seems like a nightmare…
They should invest in video camera instead. The blade shape is like a Sharpfinger which is a very nice utility and skinning edge. For SD I would have prefer a serrated edge for a maximum of pain without to inflict lethal wounds. Anyway a razor sharp neck knife for shower does not seem like a good idea to me anyway. I'm much more for the use of psionic blasts…
picture and description here
Battlestation Alex Diaconescu production sample.
JD: Much of the jimping has been removed after feedback. Nice handle but this is not a thin slicer.
Nemo: Th grip once open is very secure. It's a very solid feel. again it looks like a weapon oriented project. Would look great in a movie. It's a "dramatic" design for Snake Plissken to escape from a battle station.
Picture and description here:
http://spydercollector.wordpress.com/2014/03/03/spyderco-2014-production-sample-alex-diaconescu-battlestation/
Bradley Folder 2 Gayle Bradley design Concept model.
We had the chance to tot two BG folders. One with a bolster and the other one without it.
JD: Both very nice, but the bolstered one is nicest. Most comfortable in the hand and prettiest!
Nemo: Yes, but the bolster does not leave any access to the pivot screw… Beautiful knives. No finger choil, very sexy lines. Like a stretched and lighter Gayle Bradley previous hardcore folder.
Chubby Michael Burch design Production Prototype
A lot of belly and a false edge for nice looking little big knife. But I did not get any vibes from this one… I did not like the clip at all as it is ready to scratch the car's paint.
Pictures are here:
http://spydercollector.wordpress.com/2014/03/03/spyderco-2014-production-prototype-michael-burch-chubby/
Condor Jot Singh Khalsa design CM
JD: Interesting look, awkward and uncomfortable in the hand.
Nemo: Yes, there is pig tail to the handle for the pinky to rest. But like you I was not convinced. They are a lot of curves in this knife but I was not able to find it confortable to hold too.
Dice Eric Glesser Design PP
JD: The Dice is Nice. Fits me even better than the Domino.
Nemo: The opposite to me. I miss the blade of the Domino which is the minimal length for me.
Pictures:
http://spydercollector.wordpress.com/2014/03/03/spyderco-2014-production-prototype-dice/
Dog Tag Folder Serge Pancheko PP
Nemo: this one going to be a success as it is so cute. It could be a anti rape self defense tool too as this small folder can be a latch ditch weapon for naked fights.
Pictures:
http://spydercollector.wordpress.com/2014/03/03/spyderco-2014-production-prototype-serge-panchenko-dog-tag-folder/
*******Edition of the 10th of marc 2014. Further reading will be even more chaotic than the previous one. :-)
Foundry Spyderco design PS
JD: Comfortable and useful design. Bit heavy.
Nemo: and it will be rare as the Carpenter workers will have it in priority. Eric told us it took him one year to design it as he wanted to design a simple knife for blue collars. This is a knife which can be used for eating, the kitchen and for hunting. This is the kind of knife my grandfather would have love.
Frontier Ed Schemp design PP
JD: Nice thin grind!
Nemo: I usually a big fan of Ed Schempp design but here the S guard is getting in my thumb's way. I like to give pressure on the back of the blade with my thumb (that's why I do not like vertical play also).
Mini Nilakka Pekka Tuominen design CM
JD: Interesting. Clip needs to move to the back of the handle.
Nemo: The clip was not as clever as the Nilakka folder. A very impressive little knife.
Grievous Dave Gagne design CM
JD: Do not understand what it is for.
Introvert Chris Knutson CM
JD: Interesting look, fun to flip, rings get in the way of use.
Nemo: another folding Lagriffe. Good thing is that Spyderco is always giving credits to the original designer.
Ion Brad Southard design
JD: Pretty and smooth. Liked the inlayed lock the best. Gentac knives.
Joule Michael Reinhold design
JD: Functional design if the handle is rounded. It has to many shar points now.
Kingyo Liong Mah design
Kiwi 4 G10 Prototype
Lady Finger Ed Schempp design
Lil' LionSpy Gianni Pauletta design Proto
JD: Nice but thick.
Liong Mah Liong Mah design CM
JD: Nicest and most practical of the two Liong Mah designs.
Manix 2 LTWT 110V
Mike Draper design PS
JD: Big but comfortable and useful design.
Myrtle Filip De Leeuw design CM
Native 5 Fluted CF Proto
One-Eyed Jack A.T. Barr design
Opus 14 Ulrich Hennicke design CM
JD: Anonimus, would like to de a DE/UK legal design from him.
Ouroboros Paul Alexander design
JD: strange ergonomics.
Para Military 2 Composite – Sprint Sample
Para Military 2 Fluted CF – CM
JD: Most comfortable PM2 ever!
Parata Paul Alexander design
JD: strange ergonomics.
PIP Jamie Bailey design CM
JD: End of handle too pointy, fun little knife
PITS Mike Read design Proto
JD: Comfortable, practical & elegant. Most upscale UK legal production folder.
Retract Ed Schempp design CM
Roadie Spyderco design
JD: Cute! Sharpen flat on the stone to make a pocket scalpel
ROC Serge Panchenko design proto
Rockhopper Michael Reinhold design CM
Spydi hole hard to reach.
Roto Wedge Spyderco design CM
Rubicon Peter Carey design Proto
JD: Pretty! But clip is digging uncomfortable in the hand.
Shaman Spyderco design CM
Six Blade Tool CM
JD: Pointy holes.
Southard Folder (all black)
Spin Blue Nishijin
Splitter. Spyderco design CM
JD: Solid, ATR 2.0
SpydieChef Marcin Slysz design CM
JD: Impressive! Beautiful and practical.
Spy-DK Prod sample
JD: Nice thin edge! I could open it with one hand, but not easily.
Stop Lock CM
Swede Michael Henningson CM
JD: Nice look, lanyard hole very sharp and pointy.
Szabo Higo Laci Szabo dsign CM
JD: Needs to be found thinner, more like the knife it is based on. Other than that nice modernization of and classic.
Three Blade rescue CM
JD: Small holes have pointy tops.
Texture tech CM
ULU CM
Ulize M Ulrich Hennicke design
JD: Very Spyderco jet different. More carriable size.
Valloton Sub-Hilt 3.5 Butch Vallotton design CM
Victory Jot Singh Khalsa design
JD: Interesting look, awkward and uncomfortable in the hand.
Worker G-10
JD: Comfortable handle. Will probably be sold out very quickly.
Genzow Hatchet Martin Genzow design CM
Lum tanto Sprint
Ronin 2 Michael Janich Proto
Packer Gayle Bradley design
JD: Excellence!
Nemo: I was very impressed by the balance and the heft of that "Tomahaxe" ;-)
Beautiful lines and great handling. I would love to test it as soon as it is released. I think this gorgeous hatchet has made a great impression !
The Dutchman tom Zoomer design CM
B & T Phil Wilson design CM
JD: Slicey
Nemo: But the "cobrahood" guard wich will go in the way when power cutting and batonning.
Whale Blade H1 w/handle Spyderco design.
JD: For the GI's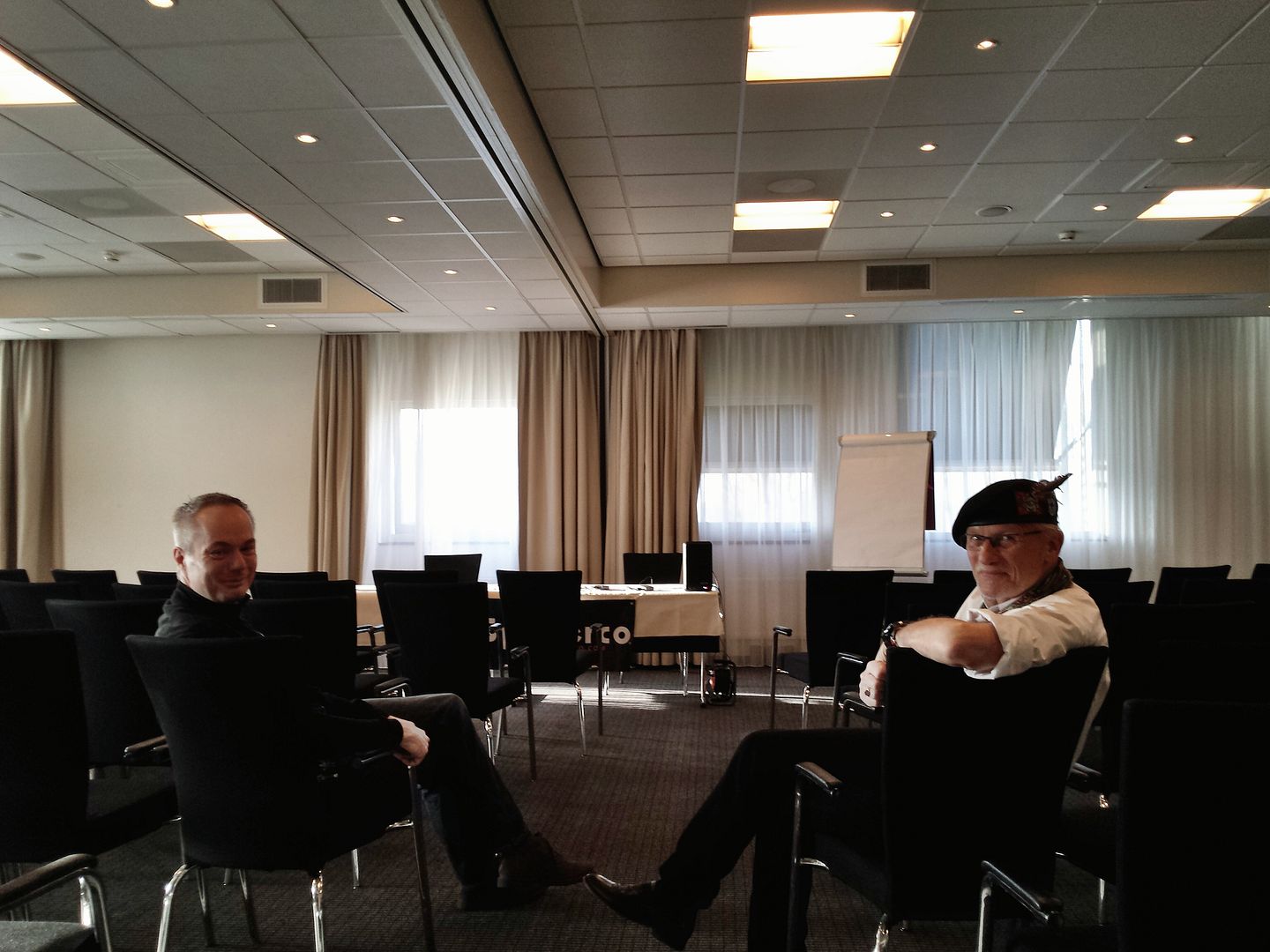 ---
A smooth G10 handle after some sanding.
Back in 1996 I was handling my first Military. It was a CPM440V (S60V) blade with a black G10. Here the link to our old review Fred Perrin and I back in the Geocities'times.
Since, well, the constant refinement have made it ever more reliable.
Anyway, when I heard a Sprint run will be made with a CPM Cru-Wear blade, I knew this was going to be a excellent update.
What is CPM Cru-Wear ? My old friend Cliff Stamp was able to give the link:
http://www.nsm-ny.com/files/CPM%20CRUWEAR.pdf
It's the powder version of the ingot Cru-Wear an American cold work tool steel. A Mule MT12 has been made with the ingot version of Cruwear and their users were wishing out loud for a folder with that steel. Ingot Cru-Wear is tough and with a toothy edge which is really wear resistant.
Quoting Spyderco Mule Sheath: "Upstate New York's Crucible Steel manufacturers Cru-Wear which is very similar to Vascowear, a steel used by Gerber Legendary Blades in many of their past production knives.
Cru-Wear is a high-performance "V" tool steel that is difficult to process making it challenging for knife manufacturers to work with. It follows the same high-alloy, metallurgical tool-steel recipe used to produce D2, but with greater levels of vanadium, tungsten and molybdenum. It is air-hardened and worked in a cold state. Cru-Wear exhibits exceptional toughness, impact resistance and hardness for exceptional edge retention and is the first tool steel offering in Spyderco's Mule Team Series."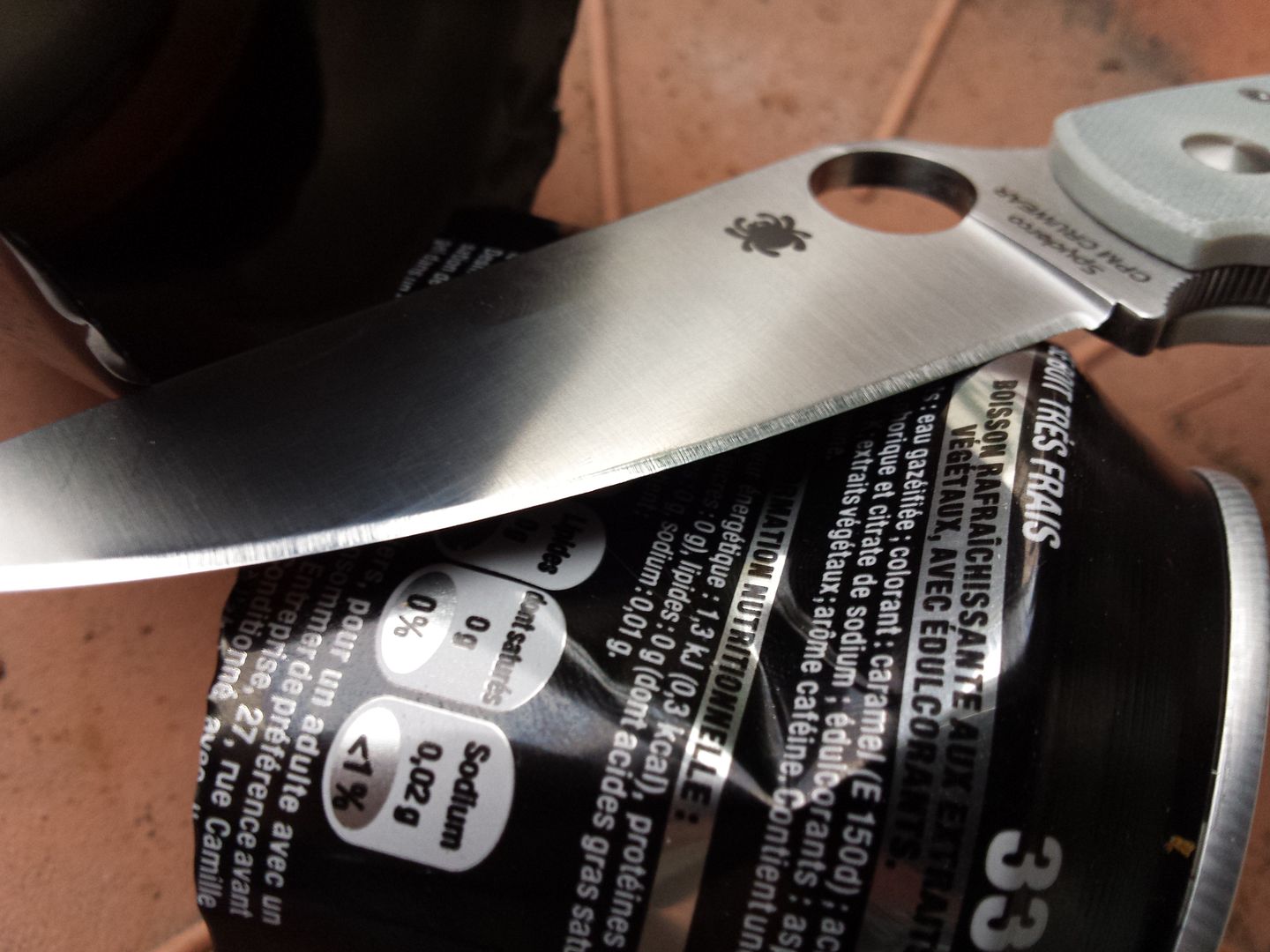 Cutting aluminium is easy and do not damage the edge.
Here is also a link to a great discussion on Bladeforums: MT12-Cru-Wear-real-world-feedback/a>
Now "CPM" Cru-Wear should be even better.
OK now, why I'm so excited? CPM Cru-Wear is destined to be tough. Not as tough as CPM 3V but more wear resistant. It supposes to be tougher than CPM M4 but less wear resistant.
The fantastic blade of the C36 can only get better with a tougher steel especially the needle point. Though, I have never had any issue with it, knowing the steel is tougher is always a plus.
Also I got a excellent user experience with CPM3V from Bark River Knives & Tools and Spyderco (Ed Schempp's Tuff!). So having a new steel in that range is a must for a great folder as the Millie.
Gandalf the Grey is socially accepted
I have sanded the beautiful grey G10 handle to suit me taste and spare my pants. Now they are smooth and… sexy. I like G10. But I love smooth G10. Being long, tall and grey, I have christened it: Gandalf. I have tuned the pivot for smoother operation. The knife is light is the pocket and is open in spyderdrop with authority. No play whatsoever. The blade is centered. Holding and using a Millie is pure Spyderco experience and performance.
Anyway. I do use my knives in the plate. I eat with them. Cook with them. Plates are very bad with the edge, unless you manage to never cut with the blade at 90°, which is not really easy. They were no bending or chipping of the edge after some clumsy "accidents" in the kitchen.
There is no stain. Cutting acidic ingredients or even been in contact with hot vinegar did not change the finish of the blade. No pitting, nothing. It's like a stainless steel so far.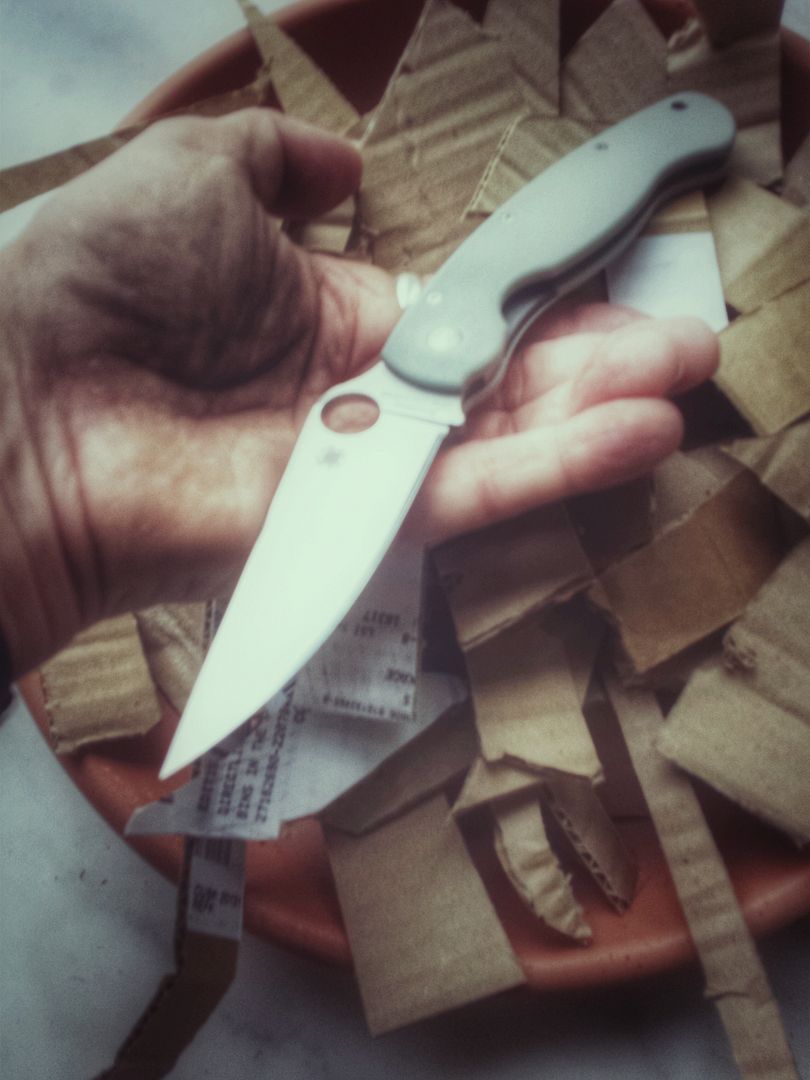 I was not able to dull that CPM Cru-Wear edge, like, for example, my Persistence or my Delica. I was always able to shave my arms'hairs. Brown cardboard cut and disposed on every day basis were not able to dull Gandalf yet.
Stropping CPM Cru' on leather is pure joy. Like CPM3V actually. I got some kind of mirror finish and a very agressive cutter. One of my favorite tests are tomatoes and bamboo. Both are no matches. The tricky tomatoes skins are cleanly cut and the hard bamboo do not roll or chip my edge (like I had experienced with ZDP189 at HRC66)
Also a Grey knife is not menacing like a tactically black camo counterpart: Gandalf is displayed in restaurant with stealth and elegance. Eating a good steack with a Millie is pure joy. They should have name it the "Meal-itary".
The four inches blade give great polyvalence with its pointy needly point and its strong heel. You can push cuts in oak wood and later do some eye surgery. Anyway, Millies are Millies great knives which get even better in those sprint runs involving CPM M4, CTS XHP, M390, CPM D2, BG42…
But it shines even brighter with a tougher steel like CPM Cru-Wear.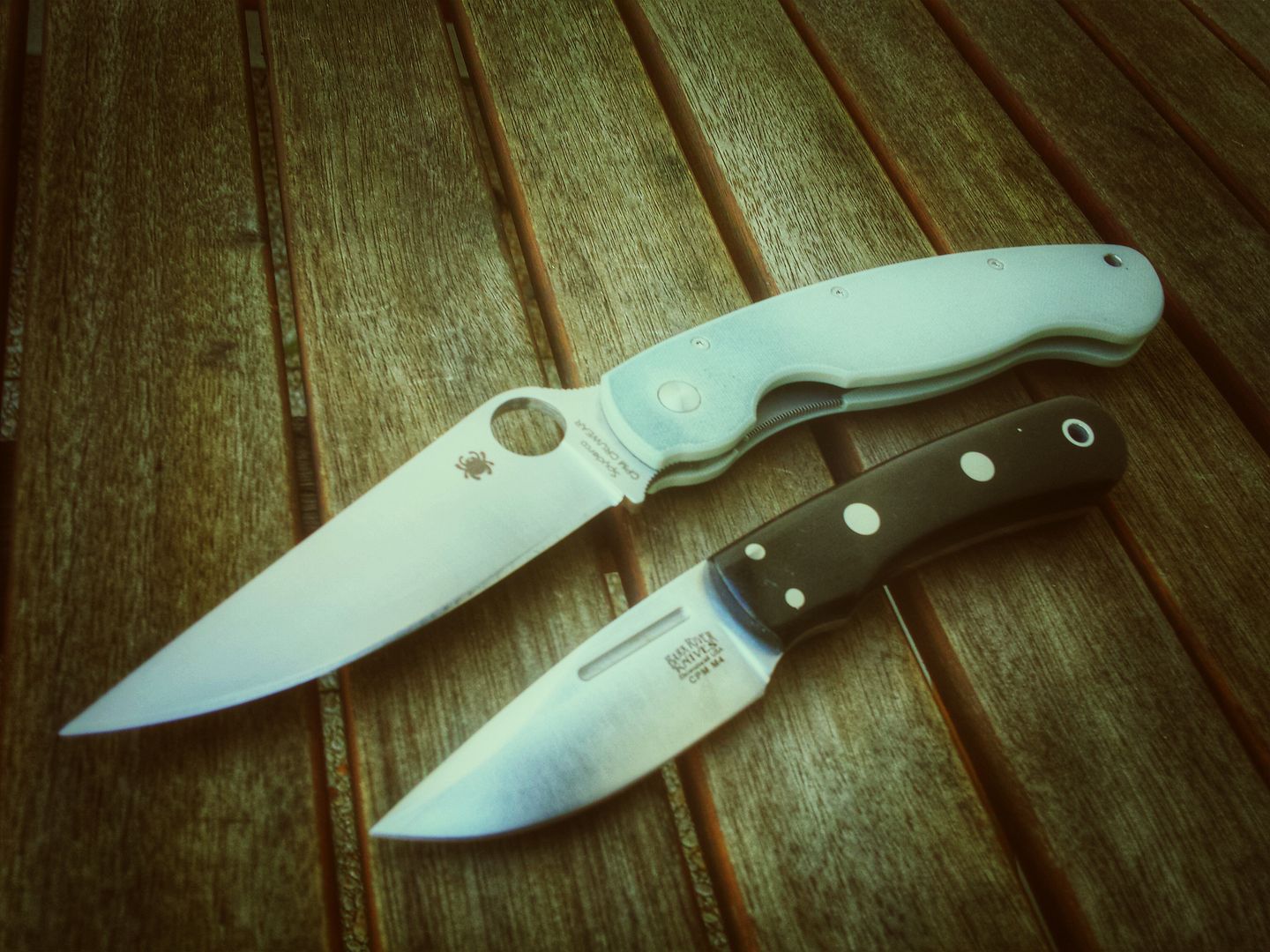 ---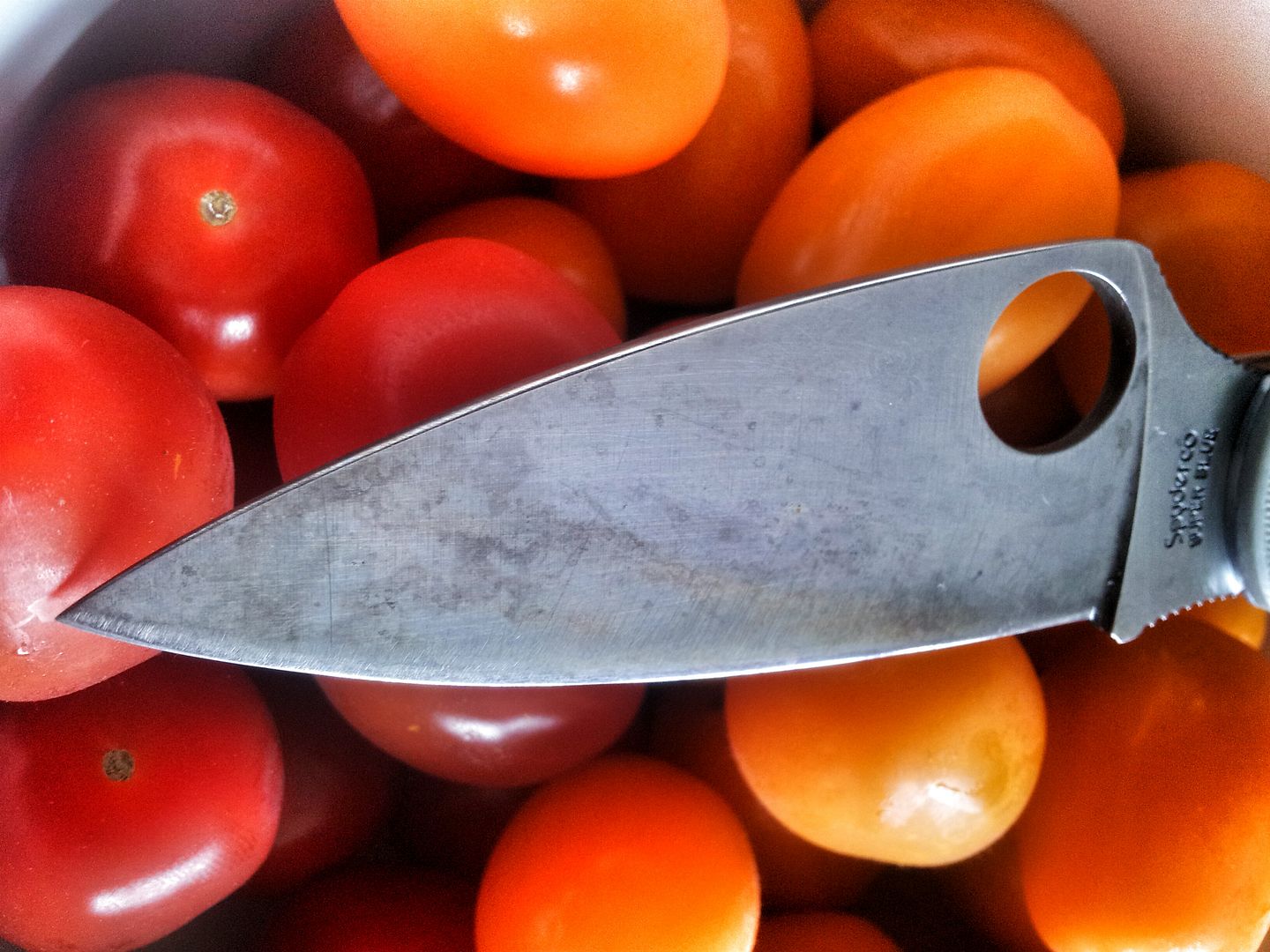 "Yasuki Hagane steel has been produced in their plant in Shimane prefecture in Japan where the high quality iron sand has been produced for making traditional Japanese swords since ancient times. These are three main premium grade high carbon steels (Shirogami, Aogami and Aogami Super) that have been used for making Japanese made field & kitchen knives. Hitachi metal is also known as the manufacture of high grade premium stainless steel, ATS-34 and ZDP-189.Blue Steel is made by adding chromium and tungsten to Shirogami (White Steel) that makes the material more durable and provides corrosion resistance and mostly used for making high-grade Hocho (kitchen knives) and outdoor knives.
Now Super Blue Steel is made by adding chromium and tungsten to Shirogami (White Steel) that makes the material more durable and provides corrosion resistance and mostly used for making high-grade Hocho (kitchen knives) and outdoor knives."
From http://japan-blades.com/how-to.
I've never been interested in the Calypso. Call me names but the lock was "old". Not the smoothest operating tool… as all lockbaks.
But the Calypso and all its offsprings got a common feature: ergonomy. A thin blade (not wide for a Spyderco after all) in a light and pointy package.
The years (decade) go by. The Caly 1.5 turns into a test platform for the Aogami Super with a first Sprint Run. I was very excited when Jur has shown me that absolutely beautiful folder. But alas to much vertical play for me and that, made me step back.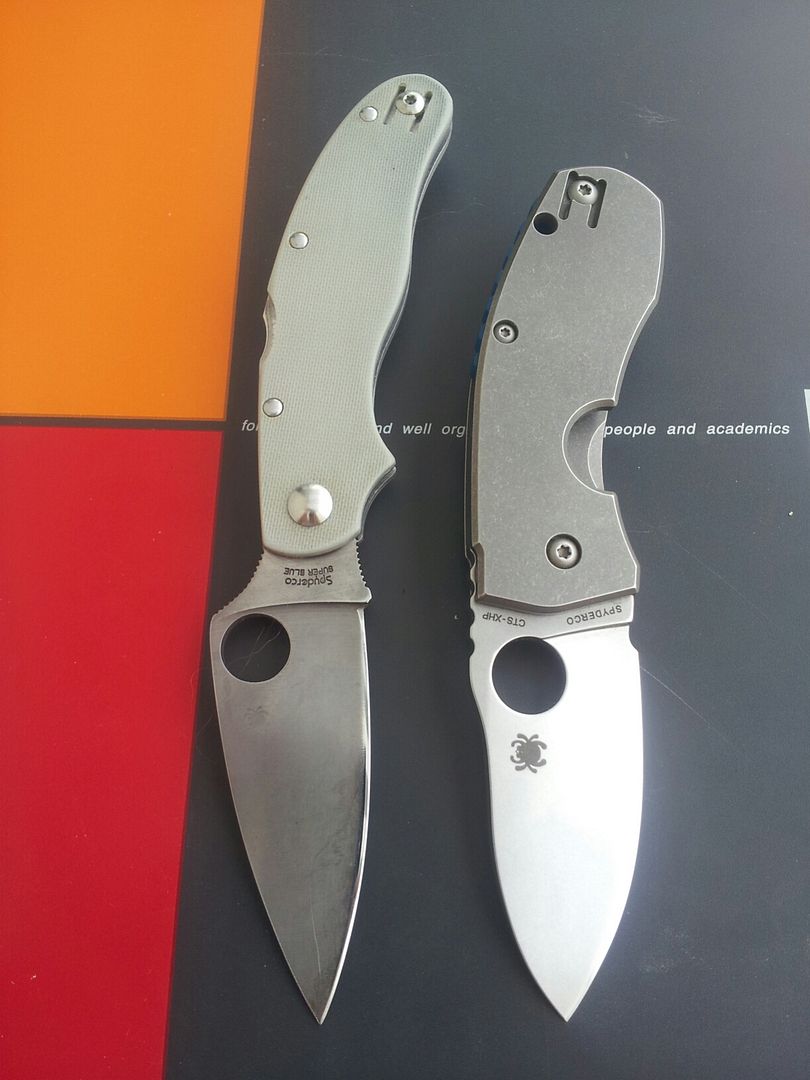 This is the problem with all back locks but with my Caracara chinese made G10 first generation. I remember falling in love with the first XL Cold Steel Clip Point Voyager… vertical Play. Massad Ayoob first Spyderco folder… vertical play. The Mighty Chinook , first and second generation ? Vertical play.
Oh you can live with that.
But I do not like a tool which got moving parts in the palm of my hand when I'm cutting something hard.
The Caly3 in Super Blue Steel got vertical play but much less than the Caly 3.5 I had tested.
Now the Cold Steel Triadlock is curing that "disease". That's why they are so pleasant to use and so reliable to chocks like Fred Perrin has shown us by throwing his mini Lawman repetitively (more than a 1000 throws!) without any failure or even any vertical play.
Vertical Play is a curse. I remember Michael Janich's "Street Steel" book explaining why to go away from any lateral or vertical play in a folder knife. And I believe every single words Mr Janich is writing. Common sense is more precious than adamantium nowadays.
Ok my Caly3 vertical play is minor. And on a short knife with ergos like a boot knife this is not a major problem. I mean if the lock should ever fail (and that vertical play on locks has been noticed on very very strong backlocks) my precious fingers would be protected by the quillons on the blade: when you are holding a Spyderco folding knife, you are holding it mostly by the blade. Giving all strength and all structure stress directly to the blade not "through" a fragile channel: the pivoting handle. The C36 Military was the first to offer that "boot knife" feature. Holding the knife by the blade is something as ancient as the Roman folding knives you can find in archaeological fields. In the ancient times, the handle was considered merely as a sheath not something to hold your tool… So folding knives were used as hand razor: by holding the blade.
So about the Caly3, this means that I don't "feel" any important play when I cut on a board for example. This is mandatory for me to trust a folding knife and sticking to short fixed blade for EDC (as you perharps know I love short fixed blade, Ian Grenier' FIne Urban Cancelled Knife, Fred Perrin's Lagriffe, my Izulas, My Newt Livesay NRG, my wonderful Fred Perrin / Spyderco Streetbeat and my great BRKT Bravo1… (chich is not that small after all).
Ok, the Caly is sheeple friendly. It got a thin, short, not threatening blade and this Sprint Run got also a grey G10 handle and a stainless steel back spacer. It doesn't scream "TACTICAL KNIFE!!!" like the mighty Cold Steel Recon 1 XL CLip Point… So I can use it in the plate in a restaurant. nobody notice it and it makes the difference as a matter separator.
The Caly3 clip is the wire clip and this is the masterpiece in the clipping design industry. I got the same of my Sages, my Techno, my Slipits, my Pingo, my Dodo, my Chaparral and they are simply the best. Nothing can get close to it. It may look cheap. But they are the best in low profile, and ease of pocketing. (Let me hammer that the clip of the Southard being the worth of all Spyderco's clip ever made IMHO.)
The Sprint Run of C113 got a non stainless steel blade. This is something to experiment. I love my 1075 and 1095 and my M2 blades to get stain. A patina is a must IMHO. It gives character and low profile to a bad reputation tool. I first enjoy patina on my 1095 Schrade Sharpfinger almost 20 years ago… The blade feels "natural" to react to oxygen and acids… It gives "beautility" to a very personnal tool.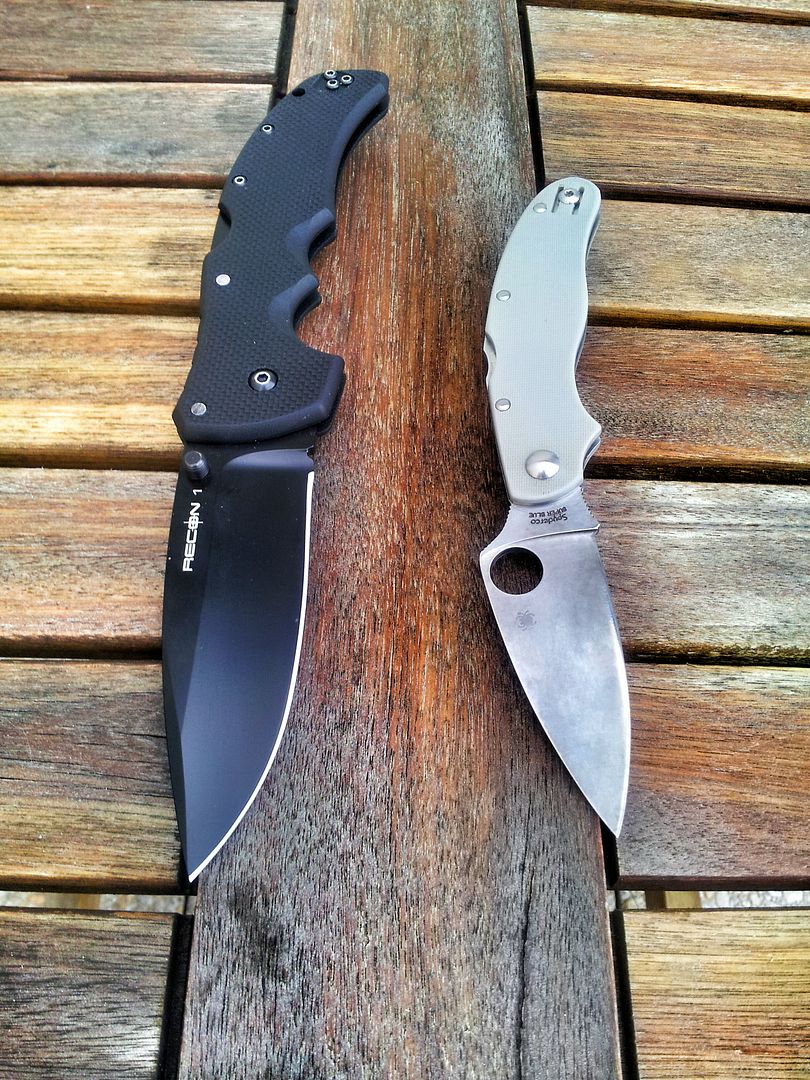 Now the Grey G10 gives also some kind of beautility to the Caly 3. Mine is dirty and I love it that way.I got Fifty shades of grey… (and with the Games of Thrones fans I should score…)
So what to not love in the Caly3 ?
Even closed that folder featuring Sal signature is radiating honesty and confidence. I remember reading an article about a man saving his baby boy from a mountain lion attack with a Spyderco Caly 1.5 knife. This means confidence in your tool.
My Caly3 is reliable. I can trust it when I need it to cut deep and fast. And I can trust it to get stains in warp speed too. No surprise there. Like an Opinel in carbon steel you know how to clean and oil it to keep it far from rust.
The Caly is pointy. Much more than a Techno. It got almost more edge length than a Native.
Ho, there is something I love: the bulging pivot screw on this sprint run. The pivot screws is falling perfectly under your thumb when cutting horizontally. About ergos the knife is held in full grip like a much bigger knife. On the handle, there is place for four fingers even without involving the choil.
The Caly3 is not a all screw construction and …. I don't mind. I got no plan to dismount it. I have cleaned it by rinsing it under hot water tap.
It so far so good.


Now about Super Blue. I have re-profiled the blade as I was expecting much better sharpness. no the edge is thin and convexed but still… I got a much better sharpness feeling with my AUS8A blades (Cold Steel Voyagers, Recon1 and Code4) or the CPMS3V on my BRKT Bravo 1…. I need more mileage on Super Blue Steel to crown it. So far it could be 1075, I don't feel the difference.
So guess what ?
To be continued…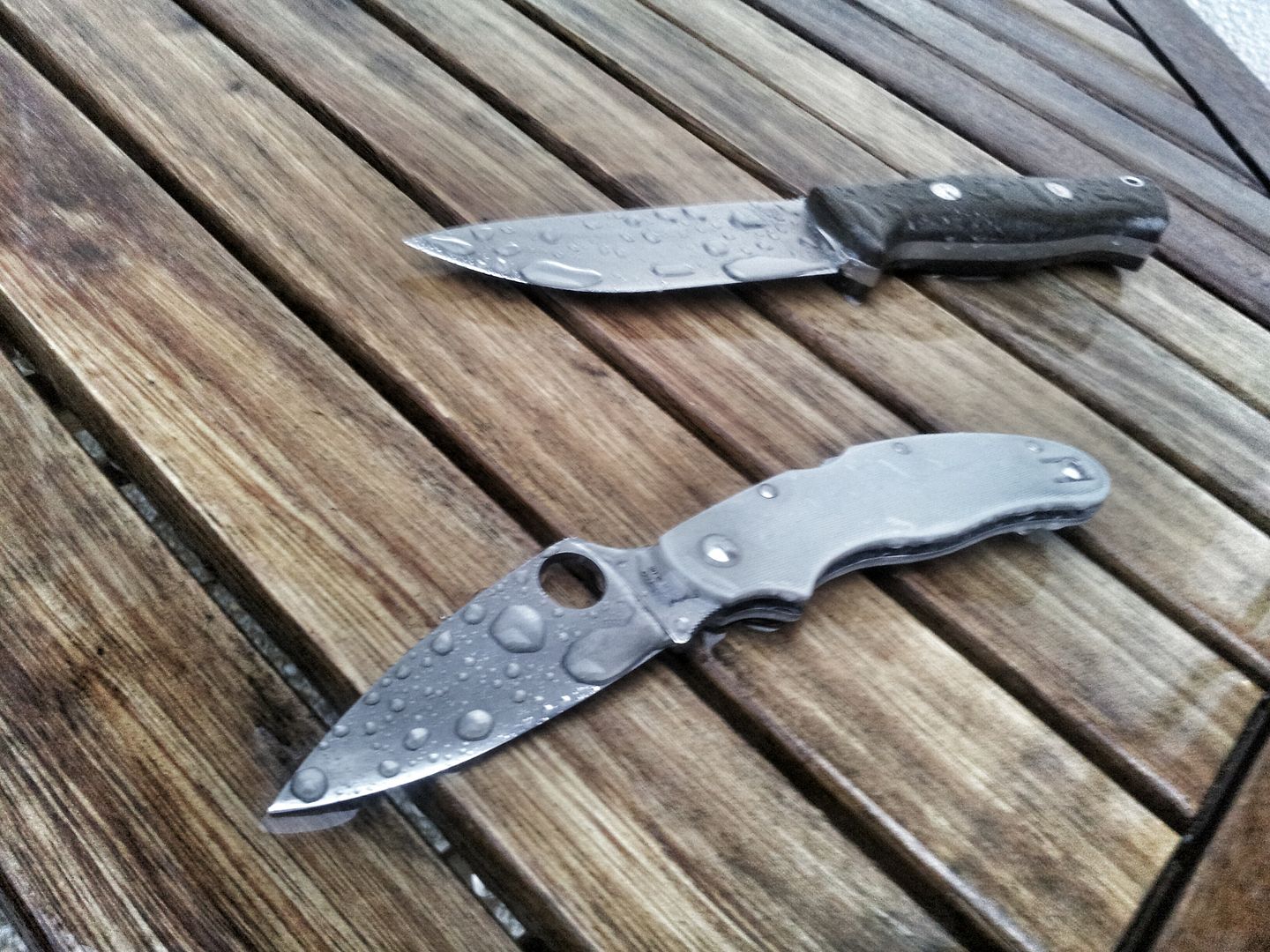 ---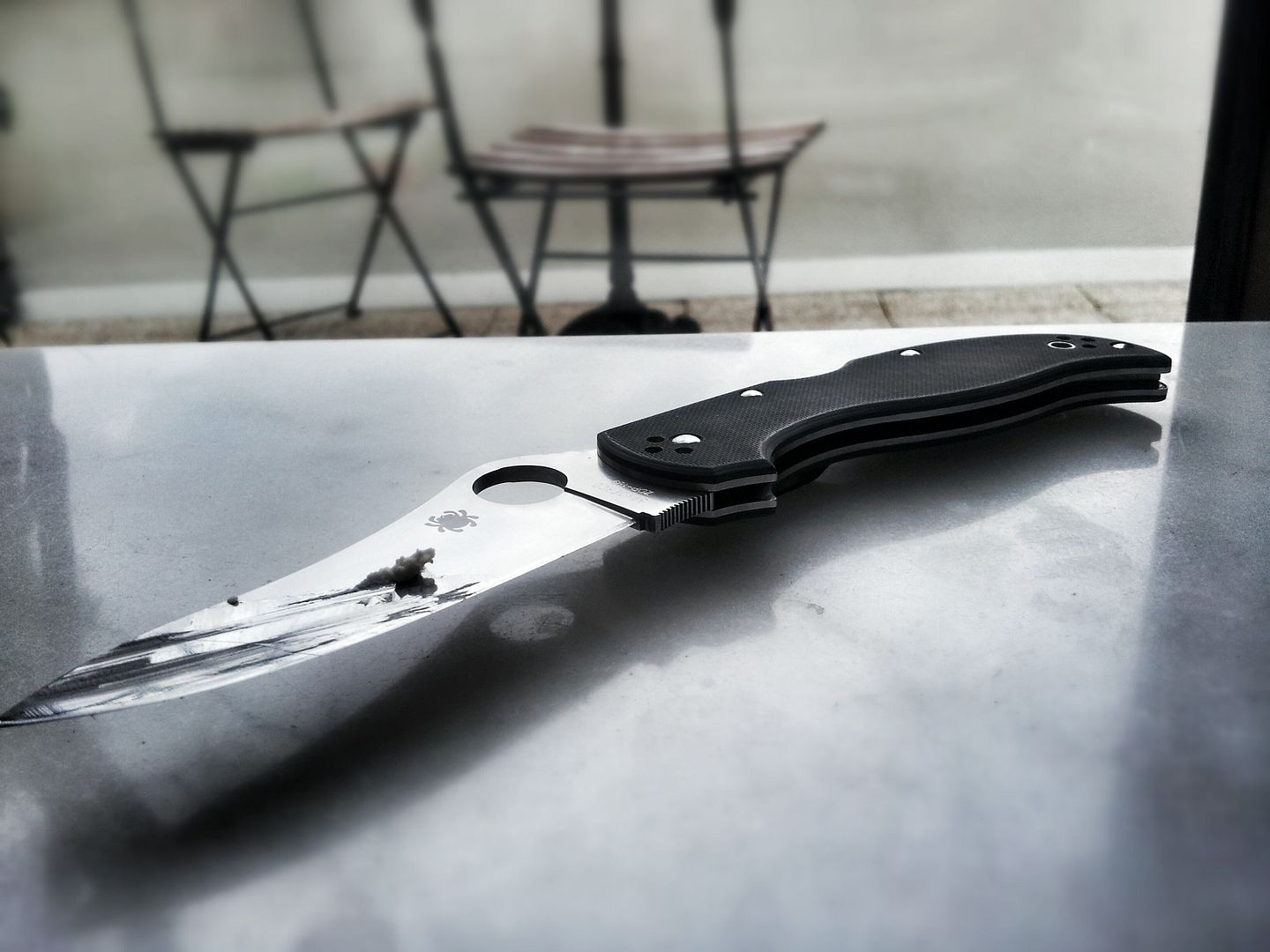 So after the initial impressions and the convexed edge enhancement how the C90CF is performing on a daily basis ?
The first thing wich stands out in this folder is how flat and confortable it is to pocket. This is the kind of knives you totally forget once clipped.
The second thing is how easy it is to put in action. The oversize hole and the relatively heavy butt handle and the smooth action make it a great spyder drop opener if your carry it (like myself) with the clip mounted near the pivot. The grap the hole between the thumb end the index and in a fluid motion the knife is open in your hand, ready for any chore.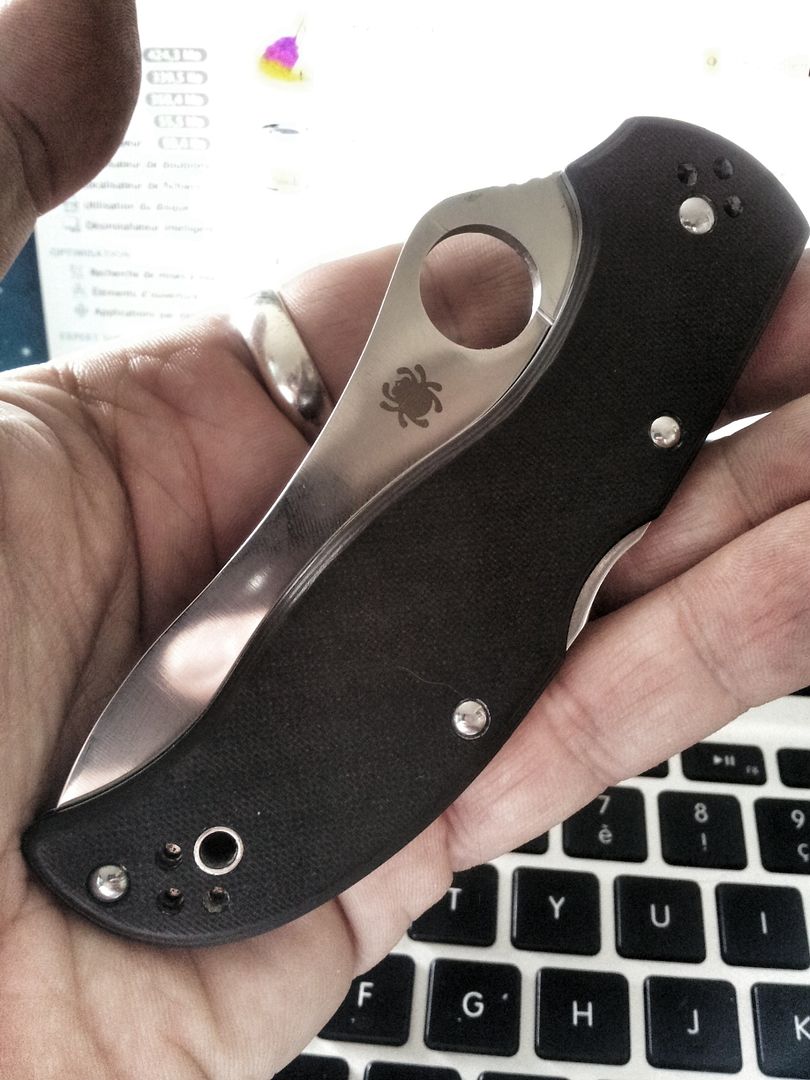 Now the thin blade is a laser. Again the thin cuts through all materials submitted to it with ease and, good news, the little vertical play of the backlock seems to have disappeared with the breaking in and the constant use. Now the knife feels rock solid. Also the thin edge on the thin blade doesn't need a lot of force to cut deep.
The ZDP 189 edge seems to lose its hair popping sharp sharpness fast but the working edge seems to last forever. Another good news, leather bely and compound is enough to bring back the hair popping edge in a matter of seconds. So far I was not able to ruin the edge: no chipping, no bending, no excessive dulling. My edge is polished and convexed and it cuts, cuts, cuts:
Some very hard cardboard tube is no match for the Stretch thin blade.
Also I got no discoloration or pitting on a ZDP189 blade which has been used a lot in the kitchen. It has been cleaned by rinsing under water and wipe just after.
All in all the Stretch is an incredible high performer. It's relatively long blade makes it really useful for a wide specter of chore and his polyvalence will be hard to match. This is really great folder to EDC.
---
Since I had received my Bushcrafter for 2010 Xmas, the knife has been always in use.
I really enjoy small fixed blades and this particular one has turned to be another little big knife.
In the 90's I have been reviewing with Fred (Perrin) another little big blade: the Fallkniven F1 in its first solid VG10 incarnation. This is the kind of small tool with some heft in your hand, giving a sense of security and reliability. The Fallkniven F1 is now a legend in travelling knives. Well, the BushcraftUK feels that way in my hand but better than this it is also offering some uncanny cutting performance: the zero scandi grind cuts like a laser and it is very very addictive.
But fragile. I was able to micro chip its factory edge just by being me: clumsy… Bones, stones, sand… are not thin edge friendly. But the good thing is that I was able to gently convex my edge to keep it luch more stable. Removing a chip on a zero ground edge means time consuming before to see some result, unless you don't want to "respect" the zero grind. Also sharpening the edge on ceramic can be frustrating as you scratch the mirror polishing badly. Good thing, with some elbow grease it's back to mirror again. O1 is not stainless. But I did not let a patina to develop but on the handle where the hand leave natural moisture and the steel is now grey.
As I was not planning to use the back of the blade to produce sparks, I have gently rounded the edges and this heresy to the Bushcraft Gods gives me a lot of thumb's confort when I'm pushcutting into hard materials.
Really the BushcraftUK is the king of my woods.
Why ?
Because it's compact enough to be pocketed in my coat. So I got it on me. I never had it attached to my belt. I love the leather sheath I never got any issue with it. Mine is still like new as I have been using the brown sheath from my second for a while. Perharps I will try to find a kydex sheath for it as I do transport the knife in my bag more than on myself. Now for the knives works in the wood, the size of the Bushcraft suits me. I'm able to use it for light chopping and batonning without any care. Hence the chipping…. But again, the Bushcrafter has never let me down. Better it's my favorite in his category.
Since I had ever seen Ray Mears on television back in the 90's I felt I was not the only one to enjoy little fixed blade for their reliability in the wood. One of my first "bushcraft" was a Glock knife back in the 80's. Broke the handle. Glue a compass in it…
Things I did not with the Bushcraftuk is: throwing it, cutting concrete intentionally and open oysters… but I have removed nails from wood, batonned through hard plastic, use it in the rain, in the snow, on the sea shore… With a little care I was not able to have rust pits on O1.
The weight and the high sharpness do wonder in the woods. Every chores are quick jobs. And this is exactly what that blade is for: energy's economy and confort in use.
Back home I usually check the edge and do some leather stropping to have it back to mirror polish. No oil have been used to protect the blade. I use it everyday outside or in the kitchen so I keep it sharp and clean.
I got many kitchen knives. The Bushcraft will not replace them but the scandi grind is great on hard cheese, bread and meat. I rinse it after and dry it immediately. No more no less.
Even if I enjoy the flatness of my Stretch or the squareness of my Southard, on that hard used small fixed blade the rounded ergonomic handle is simply my favorite since I have had made a bokote handle on my Cold Steel Trailmaster. The black G10 after two years of constant use looks and feels like new. G10 is an incredible tough material. But the Bushcrafter is my first "blister proof" knife. Even my beloved H.E.S.T. required the use of gloves but not the Bushcrafter. I have removed the lanyard as I was not able to find something which suited me yet. Especially when I used the knife in the mud, blood… Again lanyard are great on pictures but I don't like them in use. I don't like to feel moisture trapped in it.
What would I change ? Sorry Sal but I do not like the hole in the blade. For one reason: I need to clean it and oil it or it's unhygienic and a rust magnet. I would had prefer some kind of circle, even as big as a folder hole than that. I understand it's a signature but…I would had preferred something easier to clean.
For two years the BushcraftUK has proven to be unique in my collection. Incredibly confortable in the hand and sharp and tough and strong in the field. It's all business. The amazing South Fork has not yet been able to kick it out of my bag. I plan to use it with the Stretch and my good old Tramontana Machette as combo. I'm not a lumberjack after all, am I ?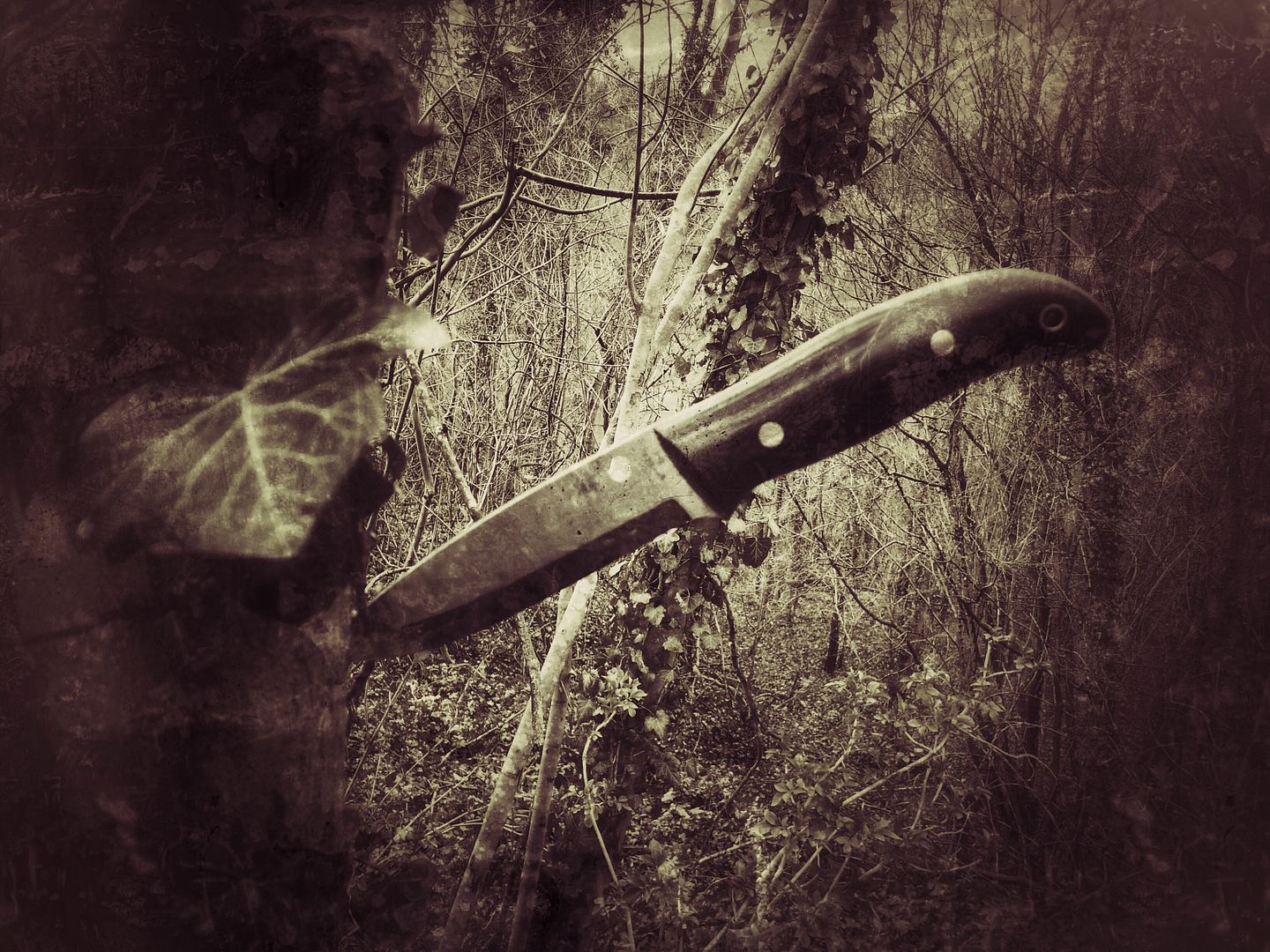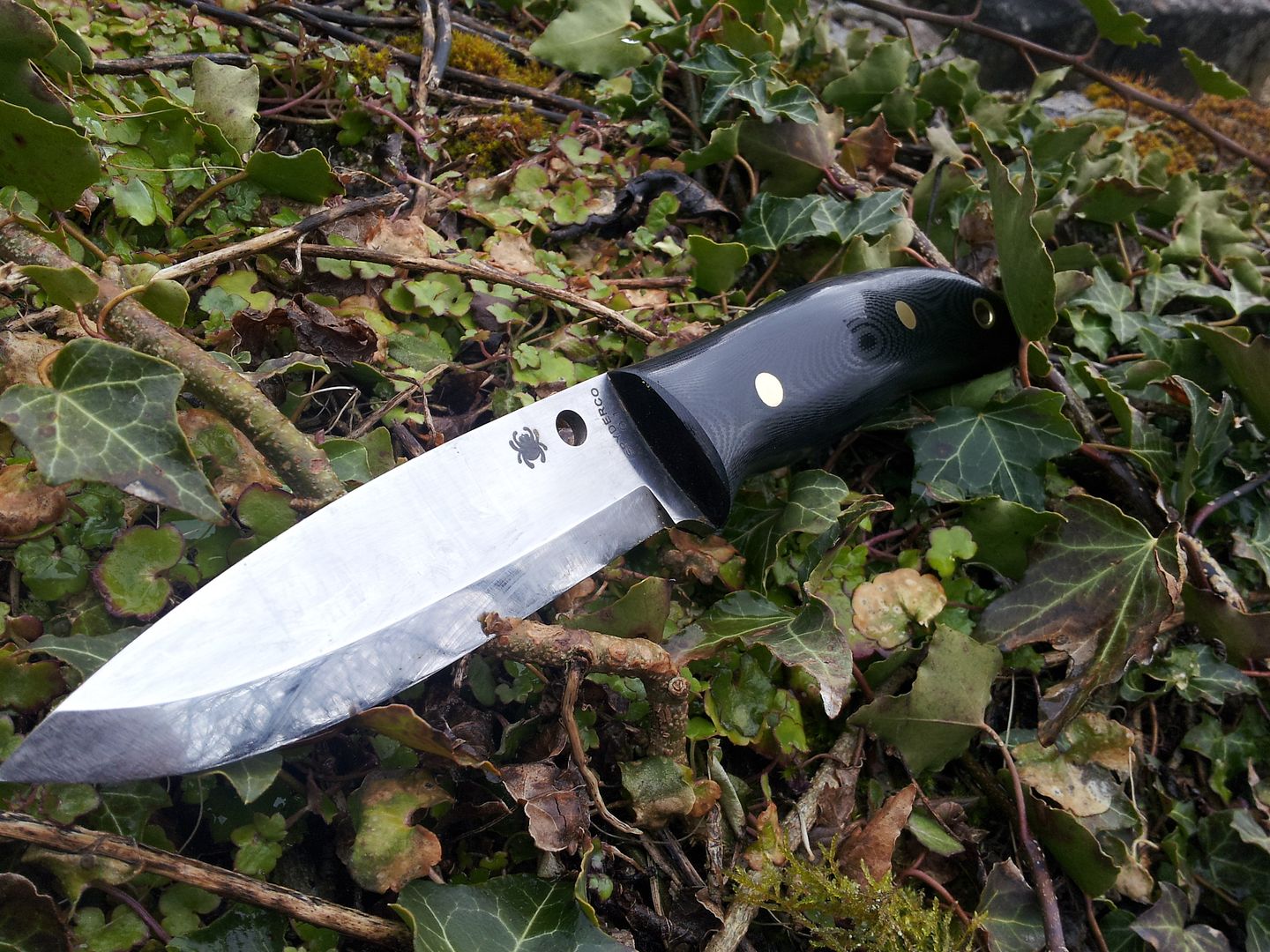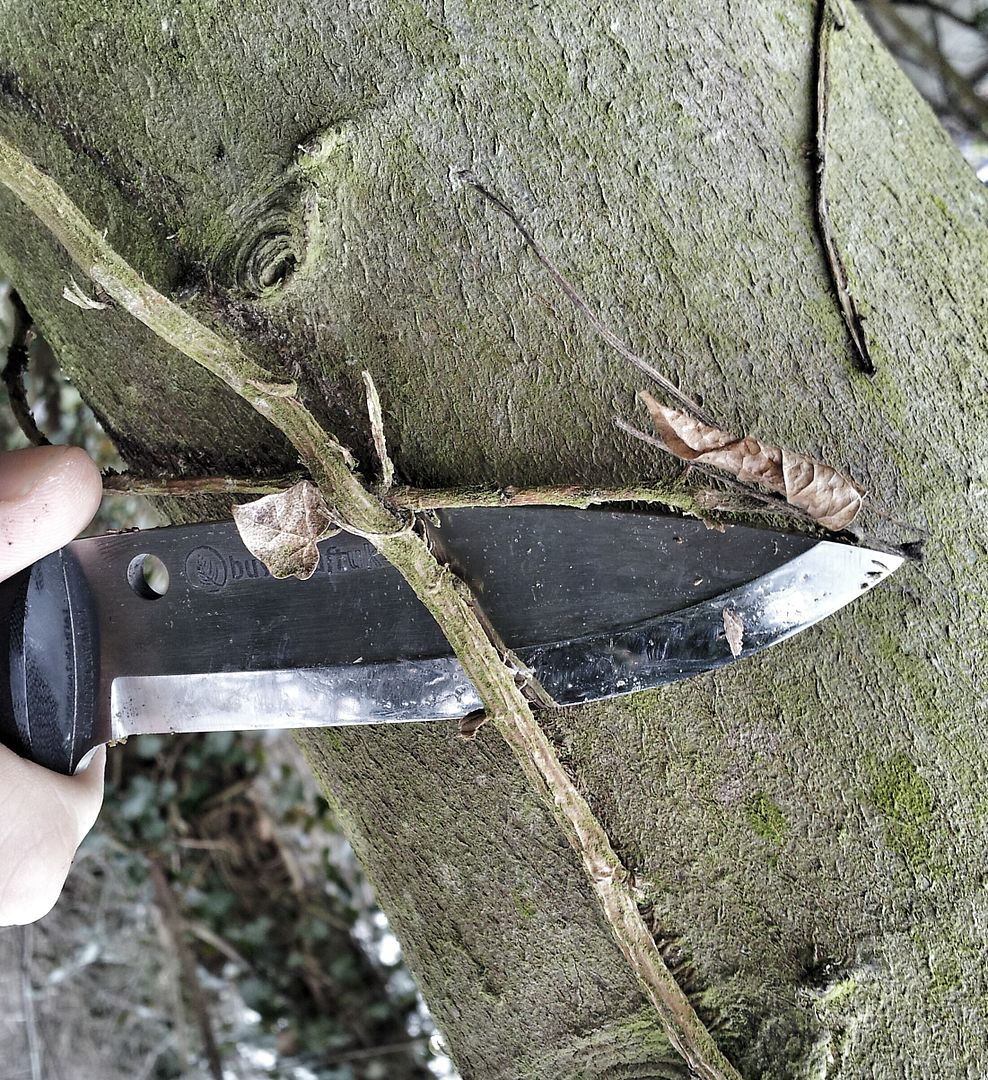 ---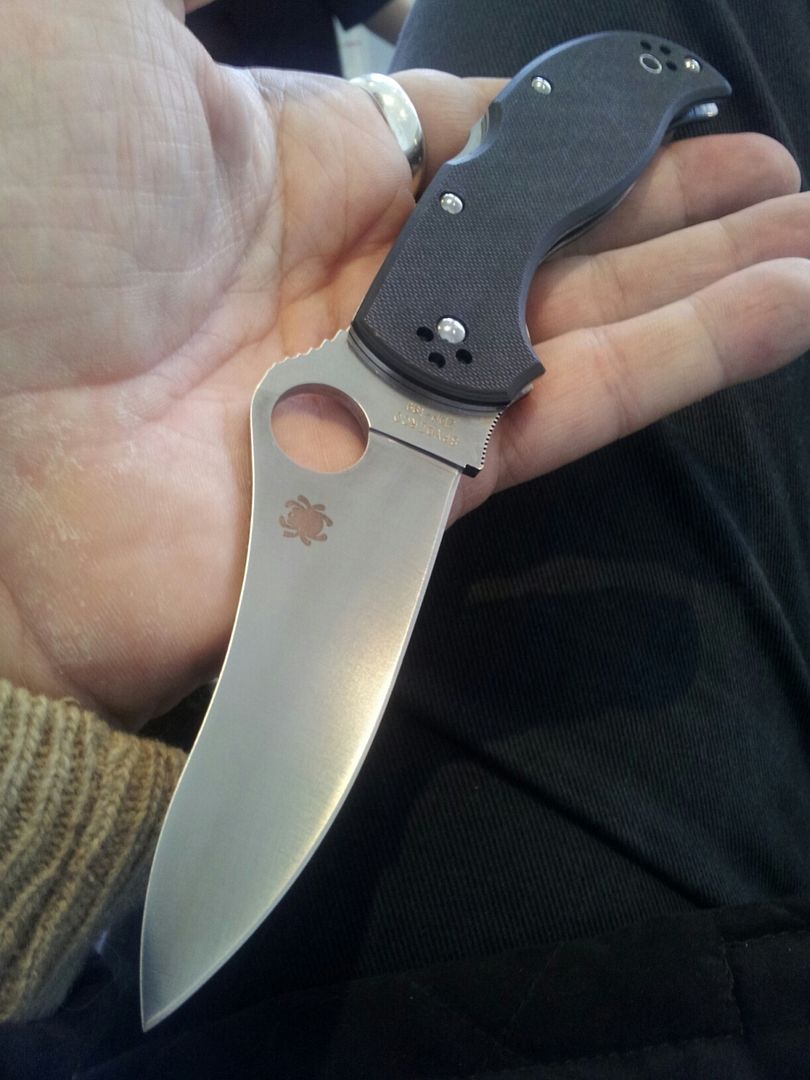 For twice these last months, I was considering myself being able to announce my best "EDC ever". After the Sage 2 Sebenza inheritance, the "hard to get razor" rare Spyderco Paramillie in S90V, the megasharp little Michael Walker, the solid and forgiving Gayle Bradley, the wonderfully engineered Native, the minimalist friendly Pointu, the chopping solid Lionspy, the Techno which is a pure flawless stout companion and lately the Spyderco Southard which is such a great flipping friend served by a crapped clip. I love all of them and I considered myself spoiled. My case is closed.
Now what would be Sal Glesser favorite EDC ?
I knew the Stretch was a special project developped by Sal "in house" for his own needs and I was able to notice how the Stretch was continuing to continued into a Spyderco classic, providing one of the best high tech steel into a lightweight package: the discontinuated C90 and C90BL and the new Green Arrow: C90PGRE.
"The C90 Stretch started as a pet-project lockback knife design. Spyderco's owner and chief designer made it for his personal use, incorporating features he wanted. He wanted high performance blade steel with edge retention super-powers for outdoor cutting: things like wood, rope and anything encountered in the wild. It had to work equally well indoors on cardboard, mail and fingernails. He sized it so it wouldn't scare non'knife people and made it look slick on the off chance he'd someday have to wear a suit."
Isn't it exiting ? The Spyderpapa has invented a knife for his own needs and no one else. Remember, the famous C36 Military has been design for his son Eric for example… But this very C90 has been designed for no one else but Sal. "The Stretch has been a 25 year work-in-progress and we'd like to continue to make it better. The ZDP FRN version finds a lot of my pocket time."
So I got now the great opportunity to pocket a Stretch. This one is the one with the handle in peel-ply carbon fiber, with a four-way clip, left/right-hand and tip-up/tip-down and a full flat ground blade of solid ZDP-189.
Quoting my friend Wouter: "Stretch II is IMO a perfect knife for the connoisseur. Its looks might be plain, the blade might seem too thin, but for the knowledgeable knife enthusiast it's a very impressive folder."
Ah, ZDP 189 ! I like it on my Rockstead Higo but I love it on my C22CF. On both knife I have been able to cure its chipping with ease and to convex gently their edge. Here we got a 3mm thick blade on a very thin handle: pocket easy. Despite his hourglass clip the Stretch could be the father of my Chaparral. A gentleman folder with an outdoors purpose. The Stretch is incredibly thin and oozing quality. No blade play. Smooth opening. Extraflat design. The Stretch got a James Bond's appeal.
Mine, after twenty strops on my leather belt is now sharp as my Bushcrafter. So time to test it and to fall in love again.
But quoting Spoonrobot: "Writing about a specific hobby always brings some inherent problems, there are only so many ways to praise a folding knife. I recently made the mistake of declaring a knife "the sharpest out of the box I've ever seen." Only to have the next two knives prove to be even sharper. This makes it quite hard to be taken seriously, so in light of this I've decided to make slightly less grandiose claims when describing my newest slicey thing."
Part II: improving the Stretch's edge.
---
Imagine a C36 Military with Carbon Fiber handle instead of G10, dual liners when my old Millie in CPM440V got only one and a black aluminium back spacer… now Imagine the chance to test the best steel in the Sprint Runs manufactured in Golden…
Ah, the C36 is available for little time in a limited edition with M390 steel and peel ply carbon fiber… the Cheetah of military folding knives is back with a vengeance.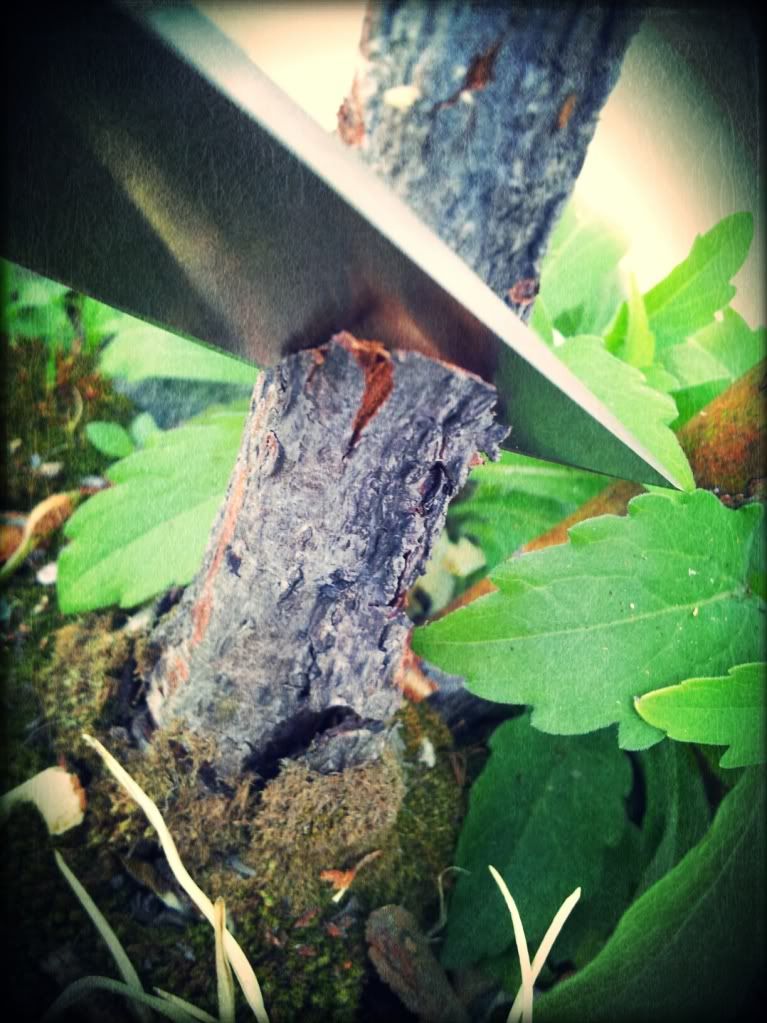 Lightweight. Incredibly light so you forget it once it's clipped to your pants.
Lightweight is a luxury. The choice of the materials and the refinements of the design since 1995 has kept the feather weight of this big knife.
Soldiers needs to control how much they carry. The millie is a good friend for them.
And a good friend for the hunter, the bushcrafter and the voyager.
Again the C36 offers you a very pointy blade for a strong blade. This is polyvalence. The point of needle with the power of a big bad full flat ground blade in the best steels available.
No surprise this knife is a classic and even if a Military II will be produced one day, Eric Glesser at the last Minimeet in Amsterdam told me the Original Millie will be kept.
In all my Military I only saw one broken tip. It was the very first one in CPM440V (S60V) we reviewed with Fred Perrin and he was able to reground it.
The big hole is perfect for Spyderdropping. The knife is open with an elegant movement and close in a breeze with or without gloves.
The quillons, created by the choil and the hump behind the hole, give all power to the blade without to go through an handle "interface". This gives a lot of control. You are able to cut hard and quick. But also by choking up the blade you can whittle and do some precise works. This is where a Millie shines compared to for example my Lionspy which got heft and strong cutting power and certainly a stronger lock.
This is a question of choice. The nested liners in the carbon fiber handle is such a clever invention to keep an extra flat a incredibly solid tool. The balance point is just
All in all, that Sprint Run is a second chance for those who could not pull the trigger on the S90V / Carbon fiber limited edition of the C36 some years ago.
Now S90V is a really strange steel. My Paramillie in S90 V is kept sharp as I don't want to fight with diamonds to get its razor edge back. S90V do not want to lose any atoms.
One of my C36 Military came with a very keen edge. I think it's around 20°. I was able to goes to vorpal dangerous sharpness only by stropping it on leather. I would not be able to get the same results with my equipements unless I got a lot of time on my hands.
So IMHO M390 is not S90V but so far it looks like a excellent alloy. Better than S30V in the way it keeps its high sharpness once polished (And I love to polish my edges). More to come later on a longer run. But this steel is going to be a very strong contender in the race to super powder metallurgy steels.
What a pleasure to pocket a C36 again.This is an EDC which knows how to be forgotten until you need it and the range of use of this Classic is wider than many knives even many spydies. A long blade. A long handle. A research in excellence for 17 years by Sal Glesser.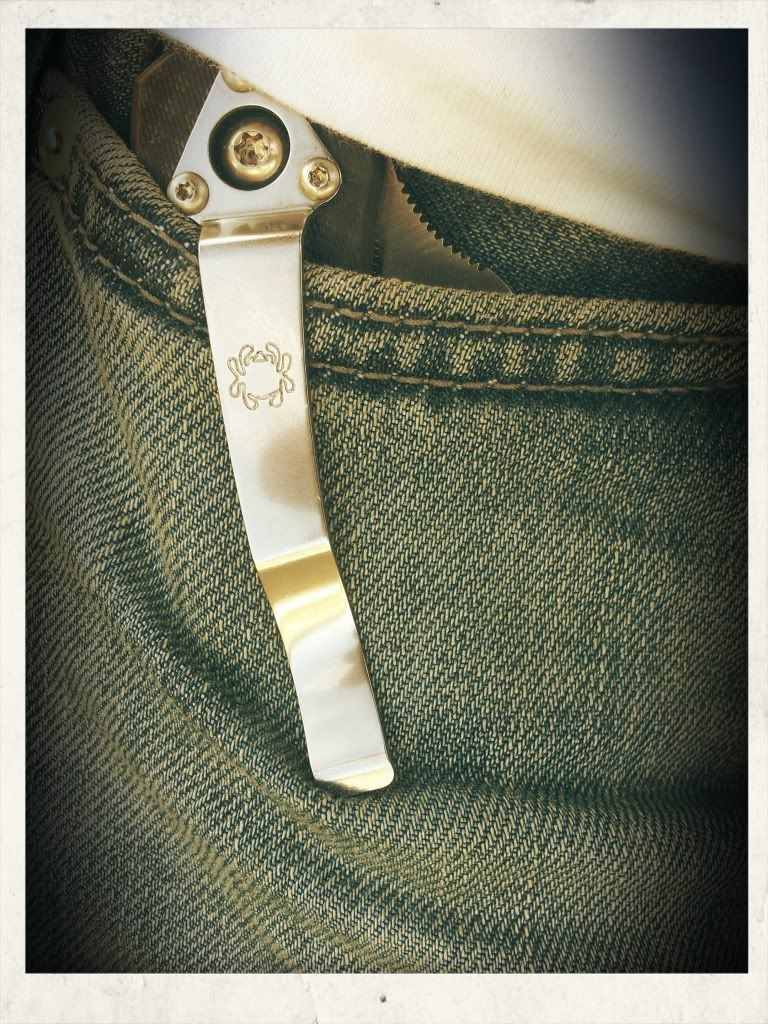 Many Spydies are little big knives: short knives with great power. This one is a long knife which knows how to be light like a shorter folder. And looking at it you can be delighted by its exquisite lines in all its unique engineering details. A must.
---
Two years ago in March 2012 I have ordered and received overseas within 5 working days my Spyderco Gayle Bradley.
I knew at first glance this knife was going to be a hit. You feel it in your hand and in the way it's operate.
Back then, some people were "blocked" by the fact it was made in Taiwan and were nagging about the fact it was not made at 100% in the USA, simply forgetting that Seki was also importing knives into the USA and since Spyderco's first success Sal Glesser have been able to build a plant in Golden Colorado to start a local production.
Also some forumites, like myself, have been wasted their time, throwing pearls to the swines, explaining Taiwan is NOT North Korea….
But despites those "retards", everybody able to hold a GB were going "WOW !!!"
This knife is incredibly smooth and well finished. Oh the gorgeous liners… Some friends who are also in business with Taichung told me each parts of their knives are marked and numbered. We are almost in jewelry.
Two years ago, this is my favorite hard used folding knife: why ?
Answer: outstanding performances thanks to:
its hollow grind is thin and gently convexed. The steel is great. The GB is one the best push cutter in my collection (with the C22 ZDP Walker which is a true state of the art!).
Another great asset: the chunky heavy (I got the first batch more on that later) handle.
This square handle give you a great grip for turning/twisting the edge during the cutting to remove matter, the kind of abuse the Gayle Bradley blade can withstand easily thanks to that great CPM-M4 steel!
On hard materials, the GB is the King. You control the cuts. You feel the blade making constant thick chips of removed platic/wood…. The hidden choil give the control and the "feedback"/feel of the hardware during the hard cutting. Many times you think: it won't do it but… it does, steady and smoothly separating matters. I have noticed how the edge near the choil is usefull and got a lot of applied force for hard matters cutting. This is the same bonus you got with the small Spydie Michael Walker design. Those "hidden" choil give you a lot of leverage near the axis. You can push with all your weight on that portion of the blade, it will separate matter smoothly.
So after two years of constant use: no rust or pitting on the non stainless steel blade. No blade play what so ever. And the lock is still at the same engagement as new.
I was not able to chip /damage the handle. I was taking care of it enough not to have the liners scratched (the blade is scratched though on its sides but it gives caracter to the knife)
My GB is one of the first batch, the liner of the first version are not skeletonized and it helps a lot to rinse and to clean under tap water. It makes it a little butt heavy but I like it that way… Also the clip was so tigh I was obliged to sand the carbon fiber to have it loose. But since that first adjustement, my GB did not change a bit.
I was even able to keep it sharp with only ceramic and stropping. The edge is thin and is easy to realigned. It's especially forgiving, like a well tempered carbon steel and with the incredible perf of a high tech alloy. I have also used the handle liners to break glass and I was glad they were exposed that way.
This is the knife I put to the test each time I got something "hairy" to cut, something, I'm not certain I can do it with a knife. And each time the Spyderco Gayle Bradly was able to do it with ease and each time I have try another knife just to check if it was able to do it as "easily" but no. The only contender is the C22 and it's not a workhorse but a gentleman knife.
Really you can be surprise has how the GB get through wooden knots and with a twist of the handle your break the branch with no damage. The edge goes deep and the blade is resilient. What a knife !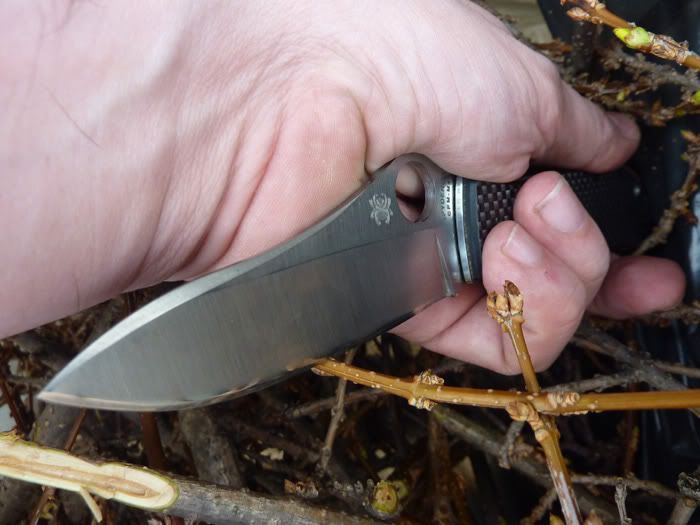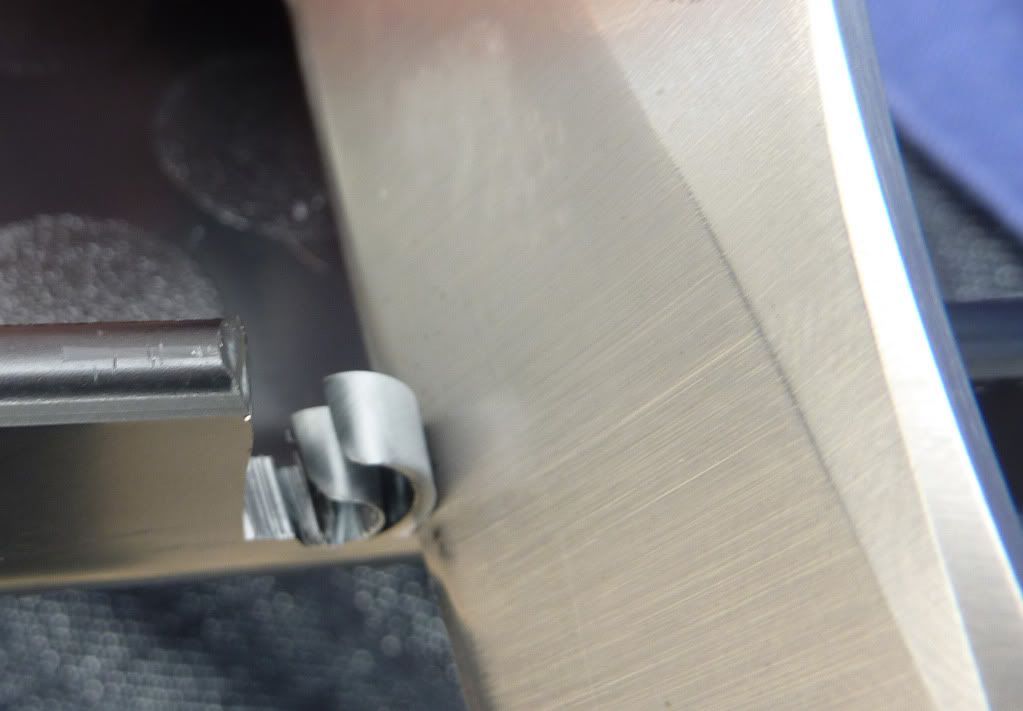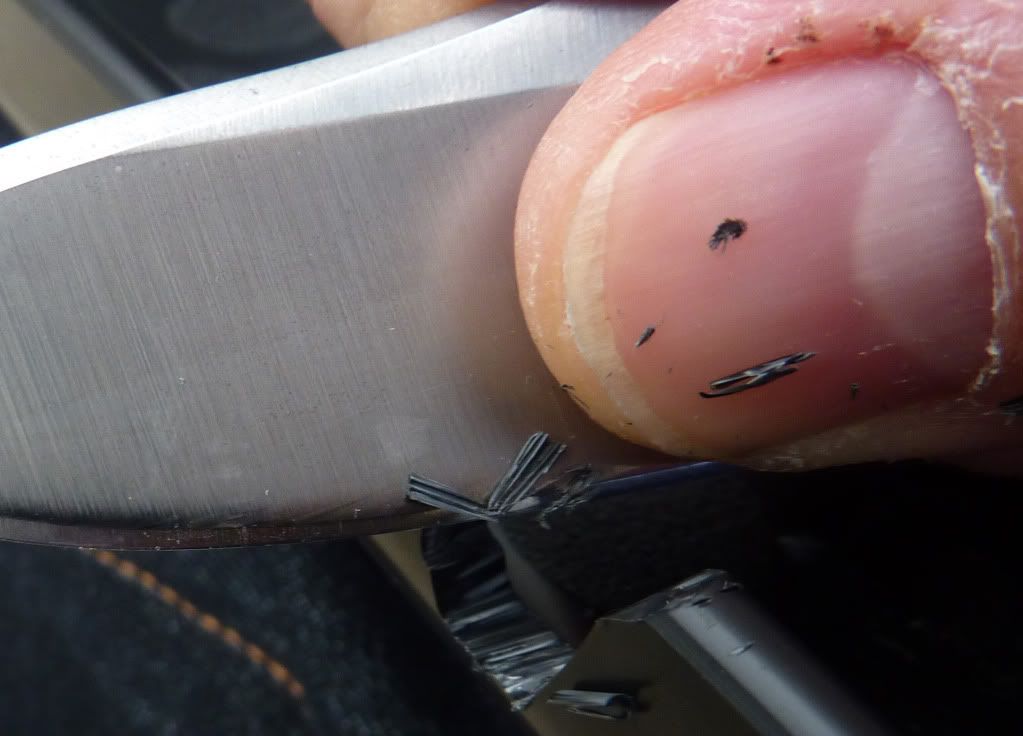 Edit of 20th of may 2012:
I have found those words of Gayle Bradley on the Bladeforums some times ago and I really think this is something to read:
"First of all, thank you for your interest in my Spyderco collaboration. I thought I would address some questions I have read on the forums.
I chose a hollow grind because it gives you a thinner edge with less resistance to the material being cut. The blade material (CPM M4) is so tough and strong it will allow for a very thin edge and still have ample strength for a rough use knife. (My competition knives have an edge thickness of about .014 before the sharpening bevel is ground.) The blade has belly from tip to ricasso for better cutting ability in most cases. The tip is slightly thicker for additional strength. The handle is large enough to accomodate any hand size and most types of grips. Some dimensions not covered in the spec sheet are: liners are .068; blade is .120; thickness is .517. Because of the size of the knife and thickness of the liner material, I chose carbon fiber to reduce weight and add furher strength. One last thing about CMP M4, it is not stainless, but I have found that applying silicone to the blade will prevent most corrosion and stains.
Thank you for your interest in my work-horse design and your trust in Spyderco knives.
Stay sharp, Gayle Bradley"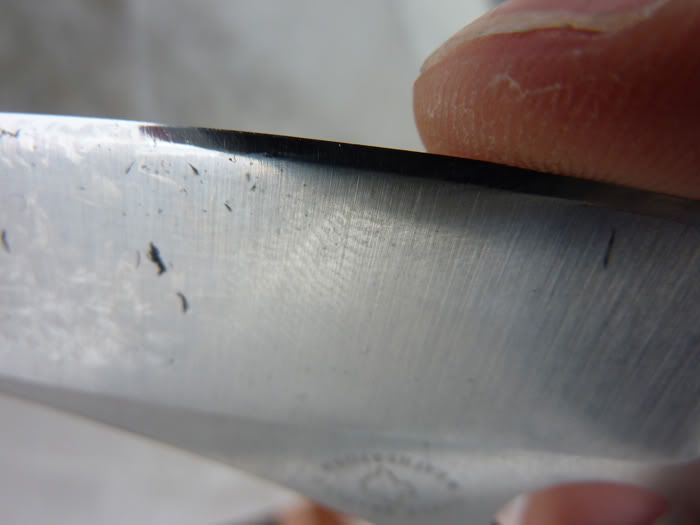 ---

In my quest for a travelling knife, I've been considering a lightweight big folder. I already know and appreciate the Cold Steel Voyager Serie and also I'm a big fan of the Spyderco C36 Military. Then I got the chance to purchase a sprint run (600 ex.) of the Spyderco Catcherman for USN forums. First it was the chance to handle and own one of the most extreme concept ever made by the Golden crew. The C17 Catcherman was designed as "a filleting tool for the serious fisherman" and offered a long and thin AUS 8A Steel blade.
According to the wonderful book "The Spyderco Story" by K.T. Delavigne ("from the vineyard" in French BTW): "… its name was derived from an optimistic reply to the qquestion: "Are you going fishing ?" : "No I'm going catching." Also this model was designed by one of Spyderco's Japanese suppliers, the 4,75 inches long blade offers plenty of belly for skinning and filleting fish. With a .07-inch thickness allows it to flex slightly and pass though more easily…"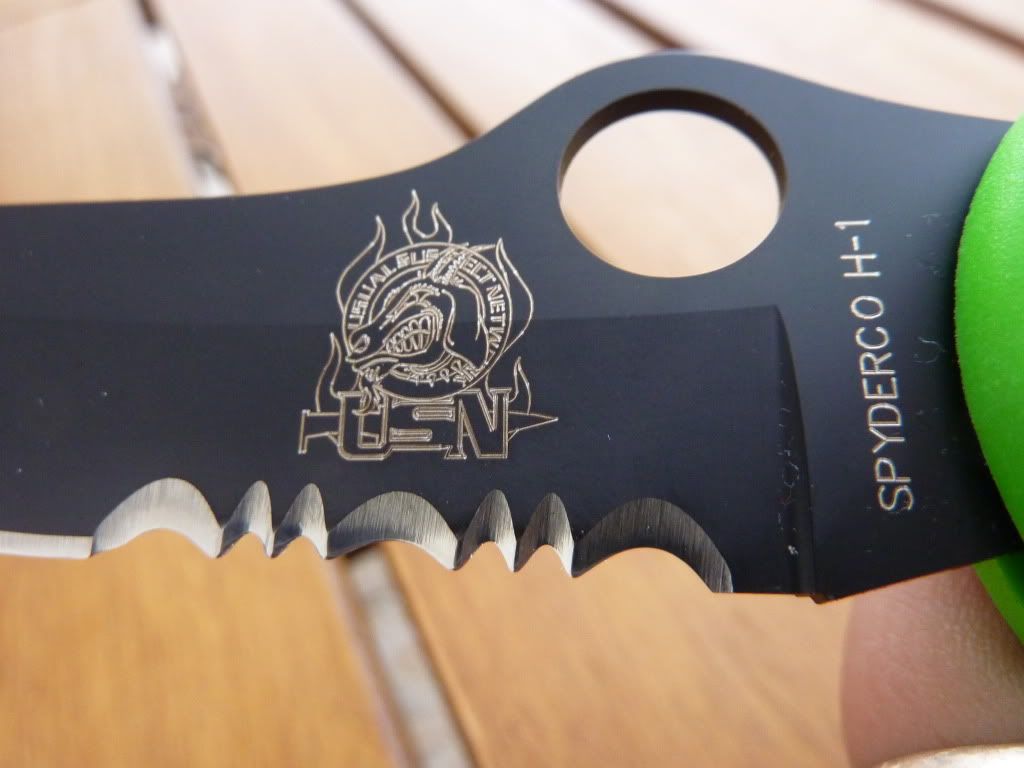 Now imagine this very serious and gentle tool Evil Twin: the USN Special Edition. With its black blade (titanium carbonitride coating!) and partially serrated blade and toxic green handle (the official color of the USN…) the folder filleting tool could be now…a great toy for Dexter Morgan !!!
OK, but now looking at it, this is still a very serious folder and a wonderful travelling companion.
First of all, that toxic green handle is perfect to find your knife in the bottom of your bag, boat, drawer. It gives a green Stabilo look to it once its clipped to your pocket (the clip tip up right carry is integrate to the handle and is as green as the rest for a .) They are serious improvements as it's now a Salt knife.
It's very easy these days to find a lot of review on the new Salt series by Spyderco with their H1 blades. Started with the Salt 1, a modified Delica 3 with a bigger hole in the blade and a stronger tip, it features a steel impervious to corrosion. 'H1′ is a self hardened steel with 1% amount of nitrogen. Don't ask me why this alloy matrix does not want to have an affair with our atmosphere's oxygen. I don't know ! But it works great and it does no rust or stain in salty environnement.
From South African hunters to Bali's divers, the folder are following their owners without piting. So fellow outdoors men (not only fishermen or sailors) you can expect from a Salt knife the relief to be able to use a sharp tool without to mind about cleaning it after.
Your Catcherman from the blade to the clip is purely rustproof.
And H1 Steel performs quite well. I head once that the very edge on the plain edge version is 65 HC Rockwell and 68 on the serration (due to the grounding of the serrations).
Better, the more your use your knife the more it will have a tendancy to get even harder…
Now opening the C17 USN version and you got a thin and long blade beautiful. This is the thinnest blade of all the H1 knives I own and know.
To quote Sal Glesser in the Spyderco Story Book: " The blade was thinned out more than normal and if you look at the top of the spine near the pivot area you'll see that the lock is actually thicker than the blade." It was true for the original C17 it's also true for the C17 in H1 and like many qpeople thought: this is not a flaw, this is part of the design.
Also there is now a little improvement: the pivot is a screw giving you the option to tune the tension. Mine came with no vertical neither horizontal bladeplay.
Why a half serrated version when the original C17 only came primary in full serration or plein edge ? Again the answer is in the Spyderbook: "The combination edge gives you enough serration so that you can cut a bone with the small section of serrations near the handle." Cleverly the C17PSGRBK kept just enough serration to be very useful. It's for example so easy to cut a line caught in the H1 teeth and there is still plenty of plain edge for other chores on the shore. For what I know about H1, even with a thin edge, it has been impossible to chip the edge. It can roll though.
Another good point for the H1 is for cooks. Who has ever cut and prepare a lettuce with good old carbon steel knows that simple fact: the green leaves will turn black in 9 minutes! With VG 10 and stainless steel for example you need to wait for 4 hours before ruining your dish. H1 should be more delicate with food contact. This is something I have been testing with excellent results. Delicate food is delicatly treated.
This is also where the Catcherman shines: in the kitchen. Melons, for example ask for a longer blade than your usual EDC, but also pinnaples where the thin blade of the C17 is vorpal. Again, the acidic juices are not a concern: H1 protected by the coating is impervious to blood, sweat and tears usually able to dull a carbon steel edge in 10 minutes. Also carving any cucurbitaceae for halloween is now a childplay. My C17 came razor sharp and as I not destined it for cardboard or whittling wood, it's still (almost) razor sharp after 4 monthes of constant and regular use. Of course chicken and turkeys are no match for the thin black blade and after rinsing it under the tap you can pocket it without to worry about it.
So yes, really this a knife which becomes quickly addictive especially in moist environnement from the kitchen to the sea shores.
As I really prefer to scuba dive with my Salt Pacific or eat with my serrated H1 Dragonfly (both reviews will come next year), the Catcherman is one of my "carried in the bag" knife and it's the knife wich goes with me when I'm sailing or daycruising. In the galley of a ship, it's great to be able to fold your cutting tool after use. This is a great safety inside a boat where everything rock'n roll in every direction.
Conclusion: new and limited edition in the Salt series, the C17 was always IMHO destined to be mounted with H1 steel. I even hope Spyderco would make a regular Salt Version for the serious fishermen around the world. This is a fruit/meat processing knife and if used properly (no scaling, battoning, shopping, throwing…) you will be very surprise in how usefull it will be. There are not a lot of 4,75 inches thin pointy blade folders around and this makes it a high performance reliable companion.
Frankly the Catcherman was really *not* the knife I would have bought until I hold it in my hands. And… Once open it's light but also perfectly balanced. Very 'handy'. Very serious.
I immediatly figure how useful it could be and eventually it has proven to be really a great knife for food and meat preparation.
Usually I'm so in love with natural (wood) or dull colors (G10, Titanium, CF) for my knives and this one is screaming GREEN like a smurf screams BLUE !:D
But again, the Catcherman is so great once put in use… the black blade, the grinning goat logo and half serrated blade… True, it's almost like a 'caricature" of a 'tactical' folding knife which makes it immediatly sympathic to my eye and strangely… very sheeple friendly. ('Oh, it's green!!!'. Yes it is.).
Makes me think about a clown in a circus. You know clowns got a lot of flashy colors and strange "over the top" gear, like very long shoes for example.
In a movie, the USN Catcherman could be the knife flashed by the Joker in the face of a scared Gotham policeman but…
Like the clown there is a long story of labour and courage behind the make up.
To be a clown is not the easiest job in the circus: you need to be a good acrobat (means your fitness needs to be at the top always), you need to be a musician (good enough to improvised on every tune and to be an multi-instrumentalist too.) and you need to be a good comedian.
The USN C17 is my clown knife: "once you realize what a joke everything is, being the Comedian is the only thing that makes sense."
;)
Really, this knife make me smile everytime I open it. In a very good way.
---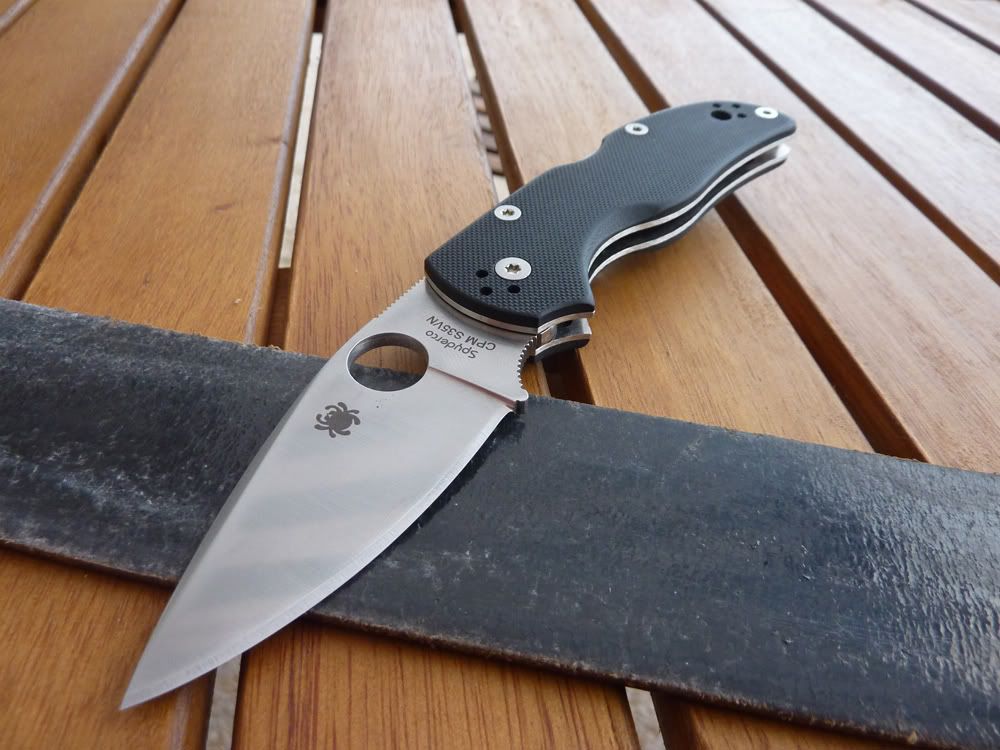 Some years ago the Spyderco Manix was hitting the ground with a mighty THUD!: a leaf blade and a back lock strong beyond any standards.
Then came a mini Manix with a sub 4 inches blade and a stout feeling.
Now imagine a refined version of this Manix: this is what the Native 5 is all about: a little big knife in a gentleman knife size.
At the Amsterdam Minimeet 2011 the Native 5 G10 and Flutted titanium were revealed.


IMHO they were the clever answer from Spyderco to the Triadlock of Coldsteel: better engineering and tighter tolerance for a stronger and solid felt lock.
This is all about Spyderco philosophy: improving and being good when no one is watching. This is also what refinement in invention is all about.
The "Native" project is an American project, providing a Made In The USA knife and starting the production in the Golden Colorado plant.


Now this is a very compact hard working folder with a stout lock and high perf edge. It has the perfect size to be carried in a Denim's watch pocket !
The blade is smooth like butter and only gravity helps you to close it once the lock is release. This is pure jewellery.
Again the construction is made to such high tolerances you can even tight the pivot, the blade movement will remain as smooth as before.
This is a again one of Spyderco "Little Big Knife" with no hot spots on the handle and an ergonomy beyond expectation.
Of course mine has been sanded and I have used some diamond file on the choil to smooth it a little more.


But the edge was so sharp out of the box, only some leather stropping and I was able to cut hairs without even touching the skin.
S35VN seems to be a very stropping friendly steel and I'm heading forward using it as my new EDC.


The Native 5 is a real EDC: short and easy on sheeples. But it's also a very capable and polyvalent tool. My favorite lockback so far.
This was Eric Glesser project to improve the Native to this fifth incarnation: this is an instant classic !
More to come soon.

Something about the engineering: Spyderco uses an induction wire cutting system for high precision tooling of the lock. This is so special and precise. Sal and Eric are very proud of the production quality and the High Tech standard and you can easily understand why. And when you unlock the blade you got the safe feeling the sharp guillotine won't touch your precious knuckles: the fall of the edge (in fact it's the choil) is blocked gently before it touches your finger. This is a very secure knife to operate ! :-)
Thanks to our friend JD here is a VIDEO link about this cutting system:
http://www.youtube.com/watch?v=pBueWfzb7P0
---
I don't have cherry trees or I would have pictured the Higo with some cherry tree blossoming… but here we got roses almost a month earlier !
So it was the occasion to picture the blade in the middle of them.
As you can notice, the Rockstead quality is something you can mesure in time. The knives which has been included in my EDC rotation and my hicking in the woods, did not suffered from his chores. The mirror polished blade is still perfectly intact. The lock up is secure and there is no play.
Now ZDP-189 is a very nice steel on the long run. I mean by "nice"…. "gentle" !
Using a Paramilitary 2 Sprint Run with a blade S90V, this last is a bear to get sharp. As Sal Glesser said S90V do not want to give away molecules.
ZDP-189 which I EDC with the Michael Walker and the Rockstead is "gentle" as I can polish it. (I was not able to do that yet with S90V.
The Higo is a very pragmatic knife, it is made to get dirty and to be clean easily. WIth his incredibely hard blade, I did not have any issue to keep it razor sharp in the woods. The choil makes it a very precise knife for wood cutting. You can applied a lot of force in confidence and the handle is very confortable despite it's open fram structure.


Spring is the time for cleaning. I have used my Higo to cut hard plastic before to have it recycle. I was able to try to compare ZDP with S90V.
I'm very confident, even with a 66,6 HRC ZDP when I'm still very careful with S90V at 60HRC. S90V is like a "alien" steel, it can stay as sharp for "strange" reason I can not quantify even if I can qualify it, knowing how the steel carbid matrix is reinforced by vanadium…
ZDP on the other side both on the Michael Walker and the Rockstead got at first some micro chipping issue, but once resharpen never shown any more unreliability.
Oslo I was not able to get any patina on ZDP and my main way to keep it sharp is some white compound on a leather belt.
It's razor and don't want to give up.
My only little complaint is the shape of the clip but this is really not a big issue as I have prevent any scratches it could have done. (That was not the case on my various Sebenza clips wich has been very nasty on car paint…).
All in all after eight months of use, the Higo-J is still like a new knife. I was not able to scratch the handle, despite my rings on my left hands. The blade stay sharp with easy maintenance. The lock up is secure and the feeling of using a fixed blade is very strong.

---
Only here, you will be able to see the forbidden pictures of the Am'dam Minimeet.
Here we go: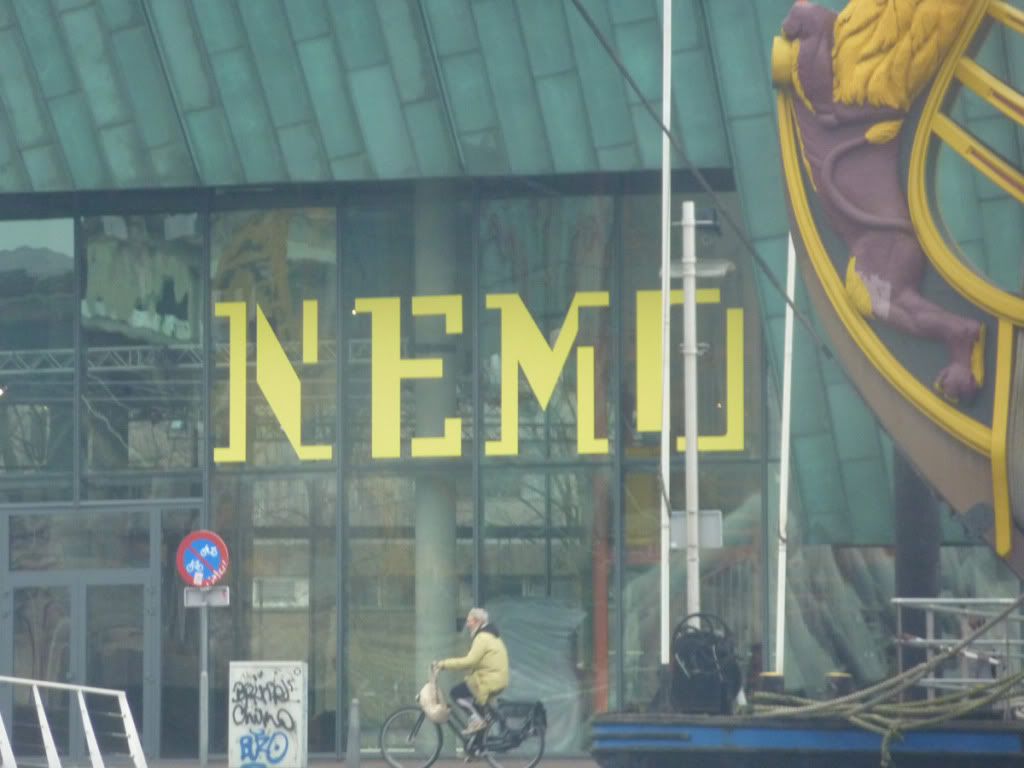 I'm everywhere ! :-)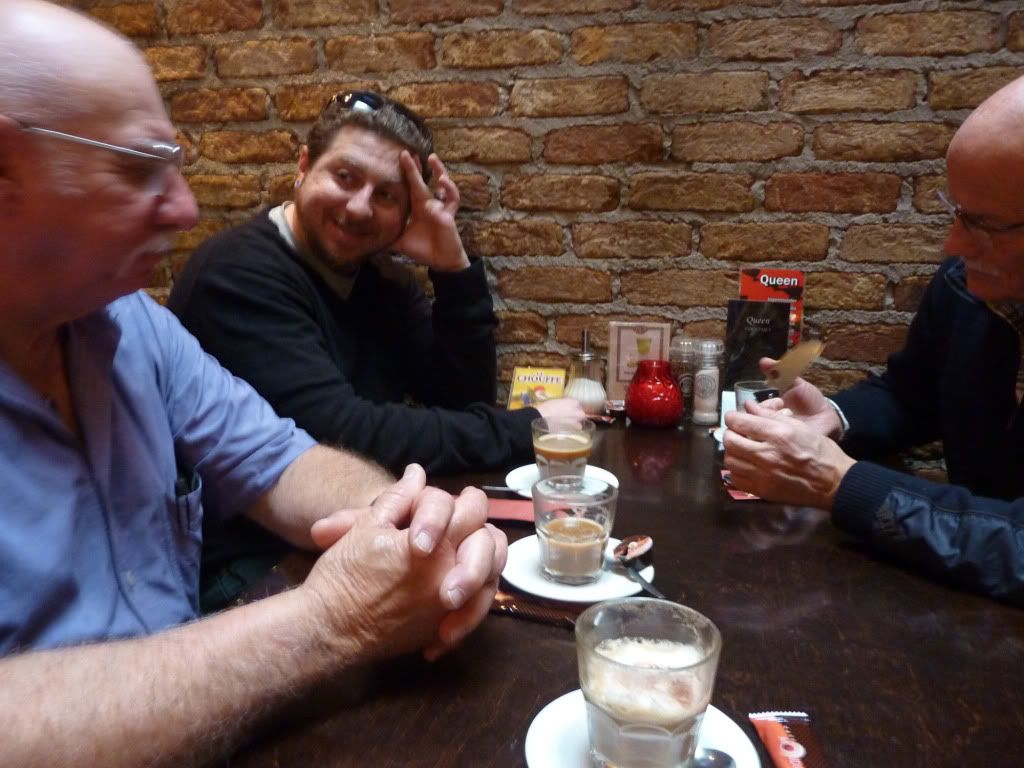 Sal, Eric and Jur looking at the Lucane prototype.


Sal taking a closer look.


The gathering of the spydernuts is starting !


Father and son…


JD and Sal !


Gail and Sal Glesser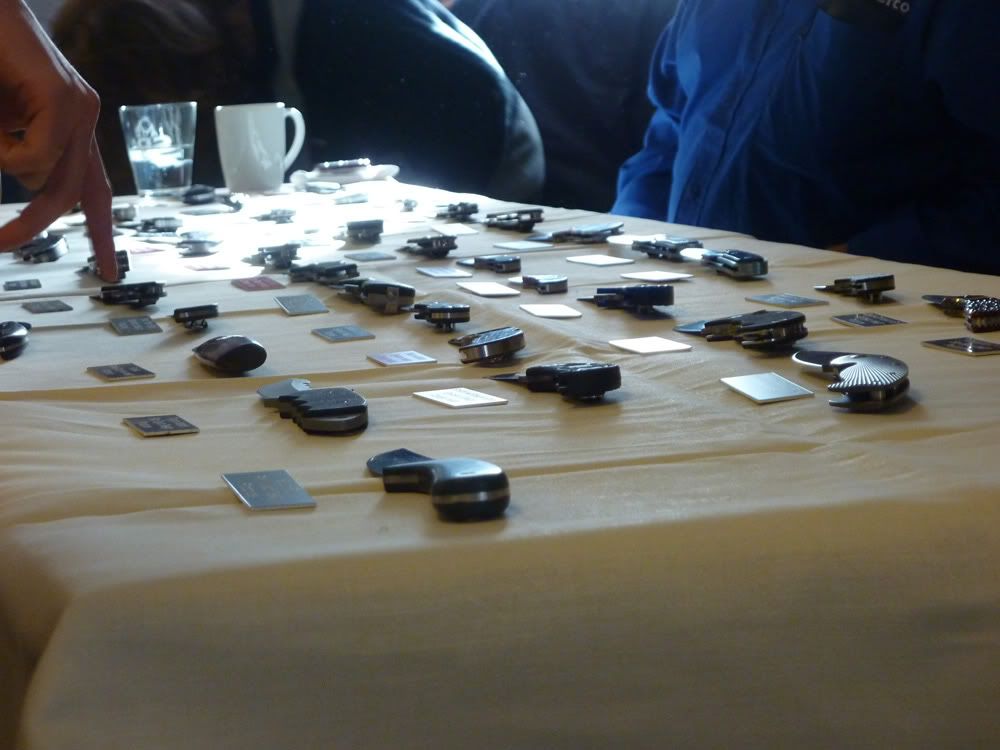 The proto, the concepts all in one pic !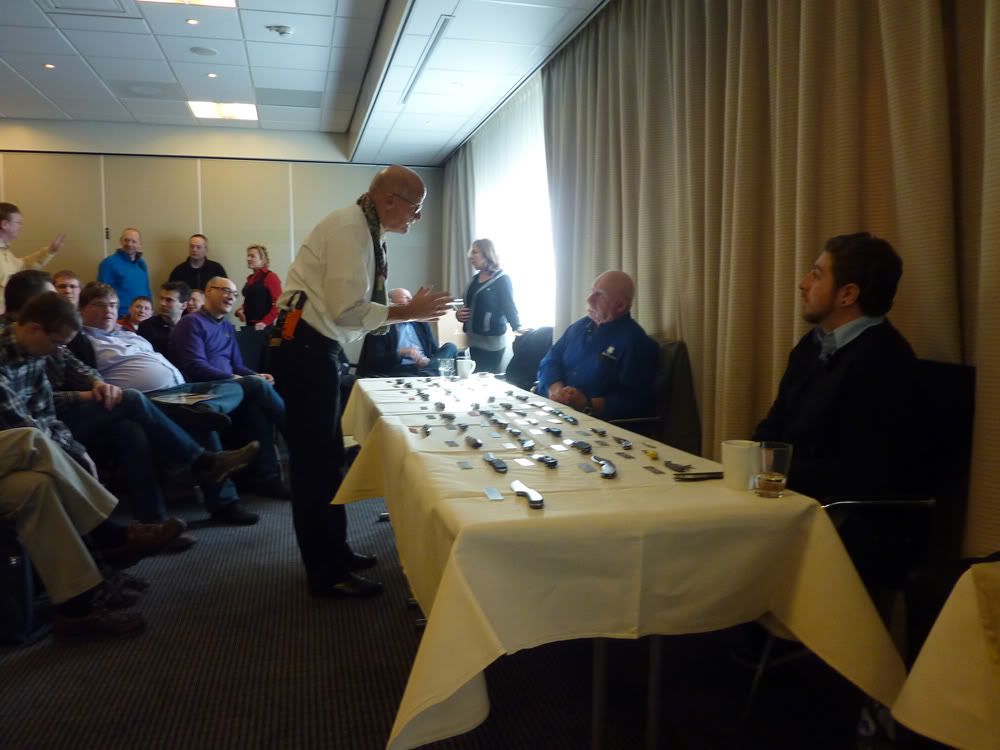 Jur (with his new Spyderbeat Sheath made by Emmanuel Amoreau) giving his last instructions to Sal. ;-)

And all the feedbacks are welcome !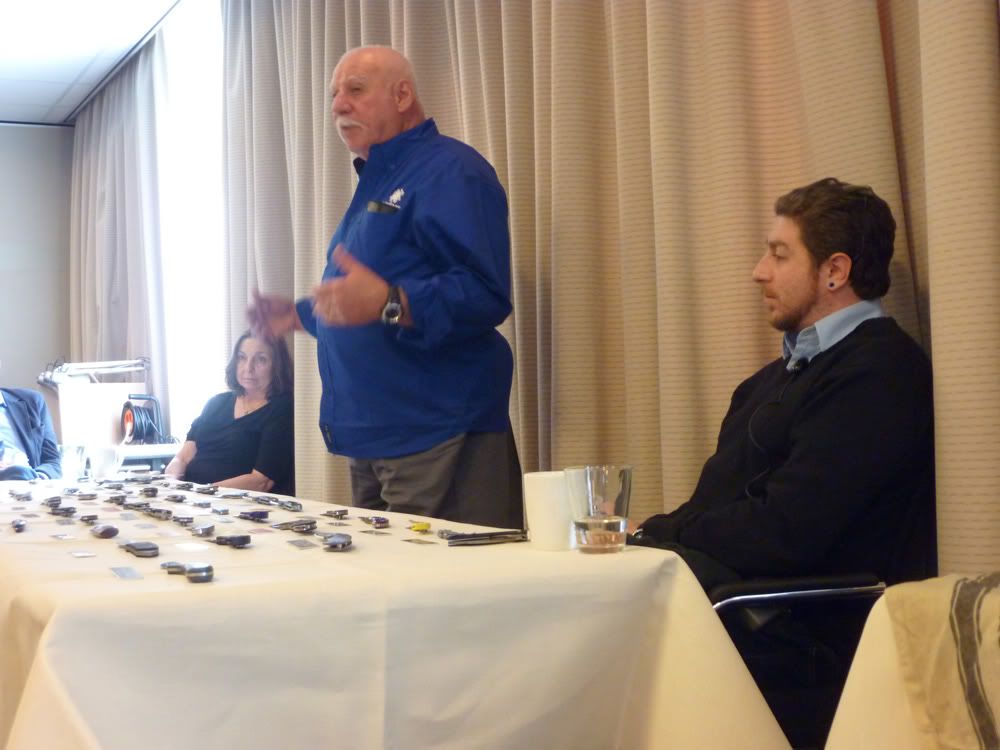 Gail, Sal and Eric.


Gail and Sal's old van where Spyderco started last century…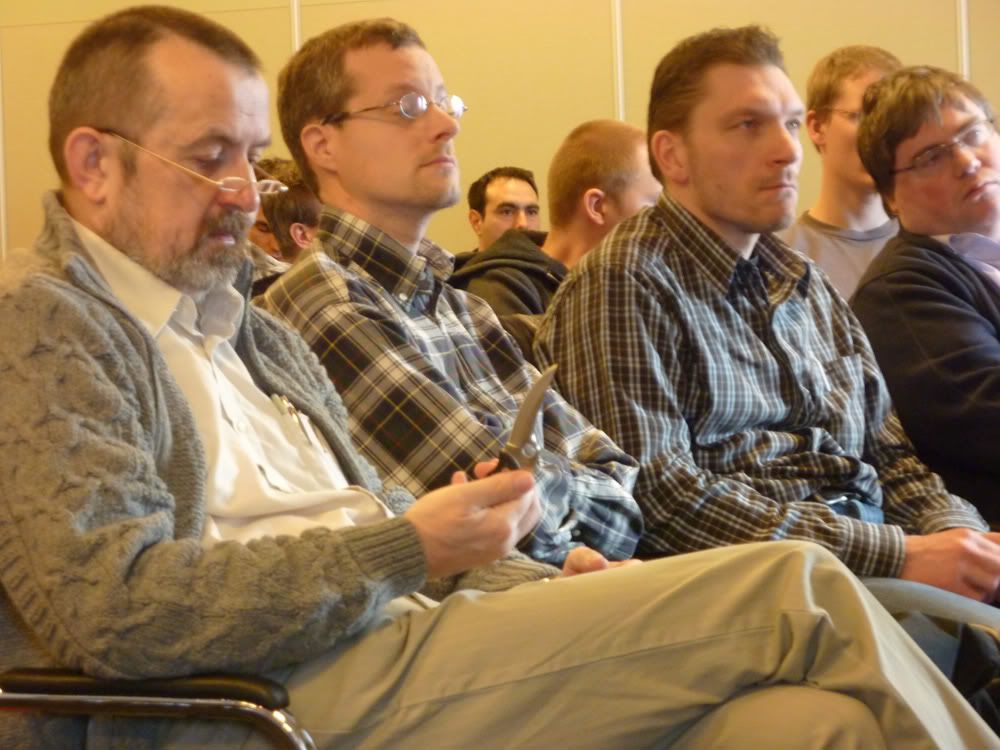 The Massad Ayoob is inspected.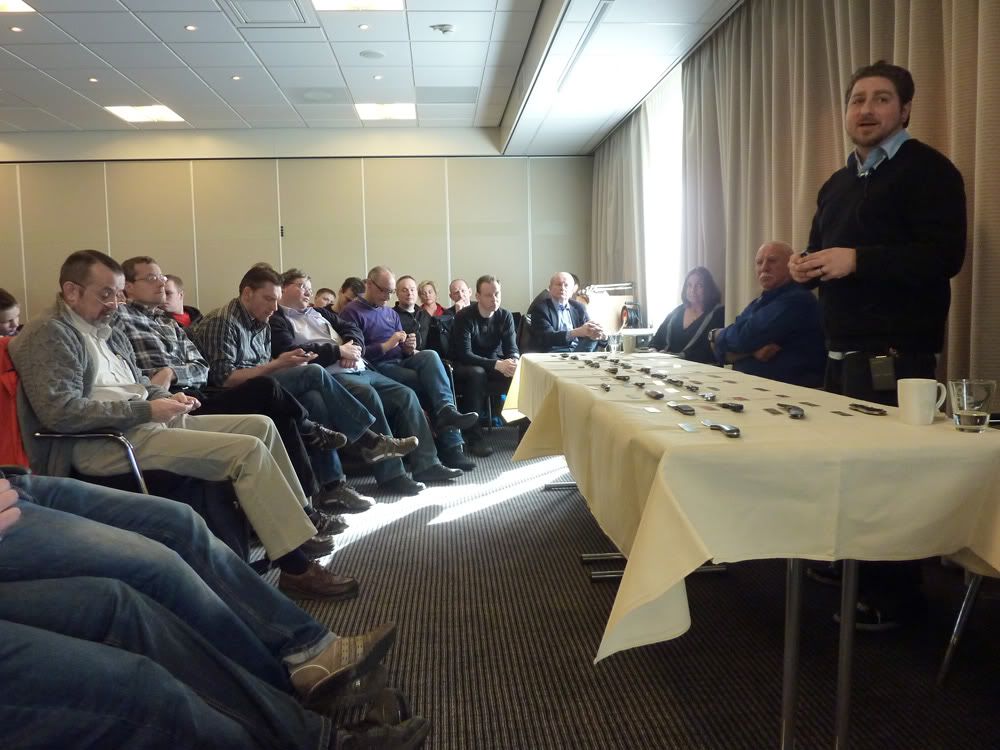 Eric explaining the raffinements of the new back lock !


The graph of the Spyderco Knives Breaking Machin !


Joyce Laituri chatting with Ted and friends…


Gail and the boys ! :-)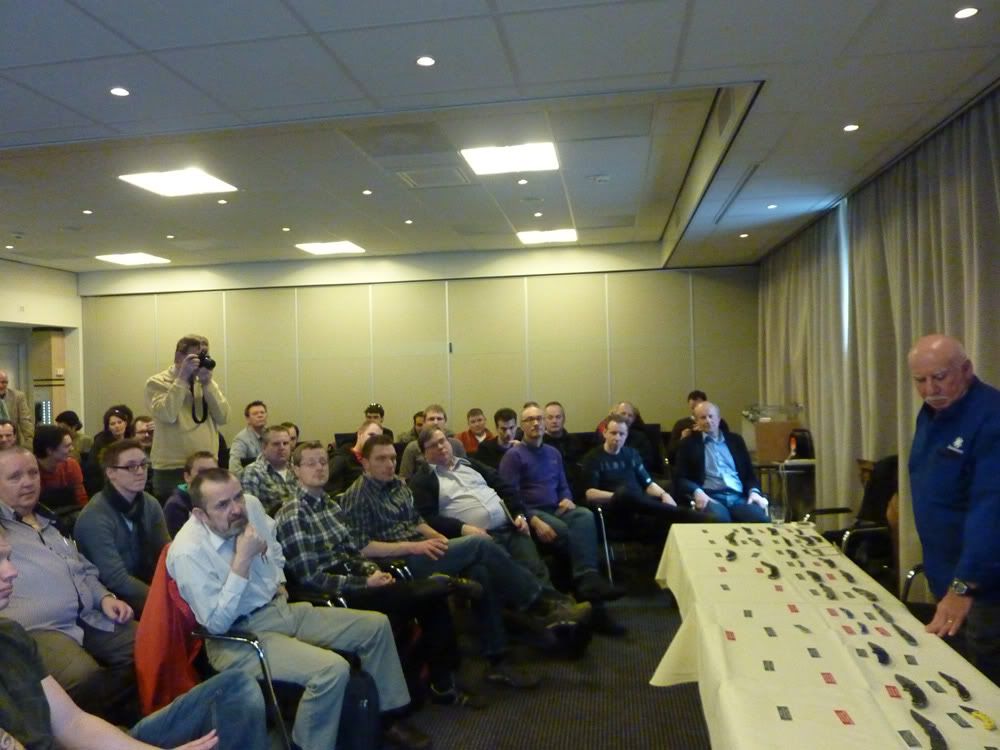 All the knives came back on the table eventually.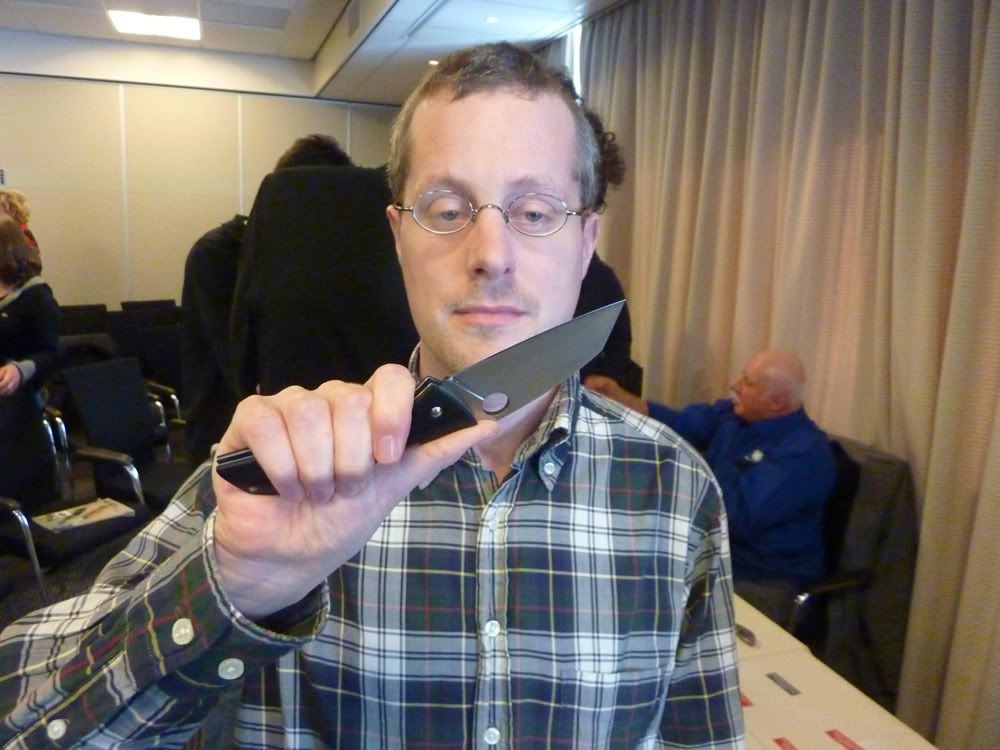 JD and the Lucane.


A closer look at Jur sheath ! ;-)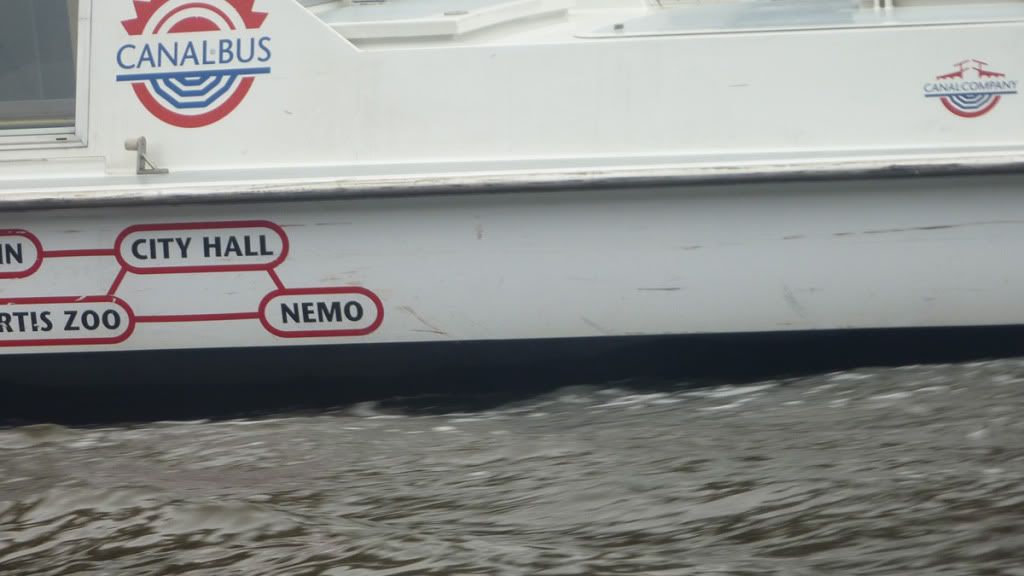 – End of line -
---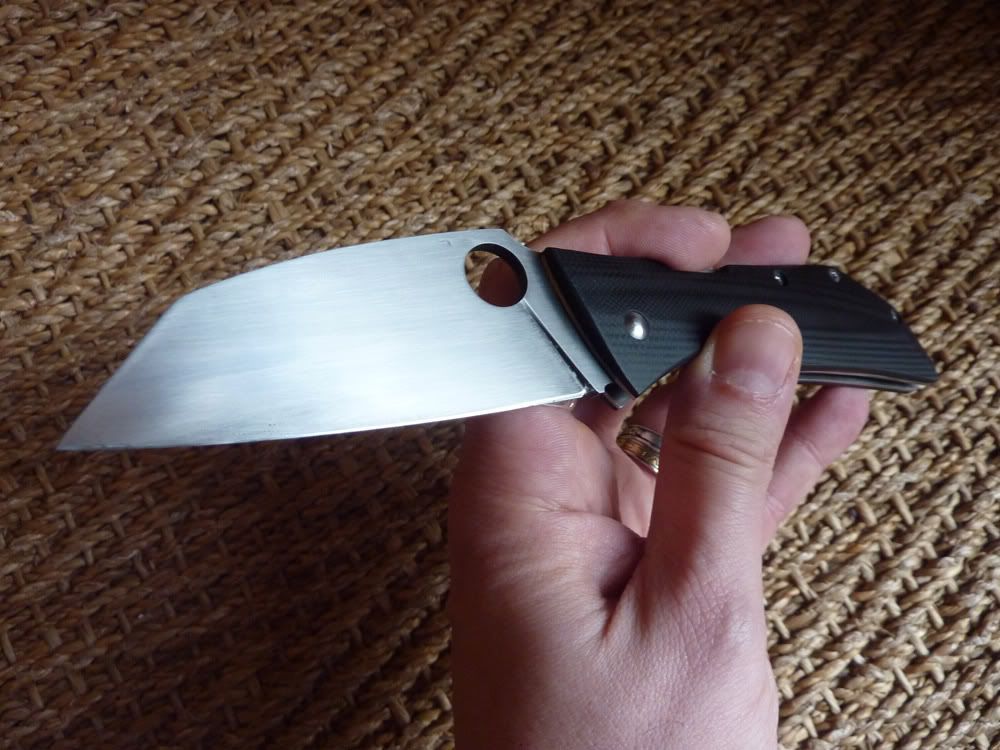 We met Jérôme at last Paris Knive Show. This young gifted full time knifemaker just had received his Spyderhole licence from Golden. He's a huge fan of Spyderco.
I immediatly fell in love with the radical lines of his Lucane Folder. An efficient powerfull blade and an ergonomic handle, this is a workhrose designed by a worker who needed a strong a practical knife as an EDC. It's a knife to use for mondane task and even to eat with it. The back of the blade was especially though after pushing aliments on a plate without to dull the edge.
My prototype is made of 02 for the blade and G10 with SS liners for the handle. It was made to be shown around at Amsterdam Minimeet 2011.
This will be also the occasion to achieve one of Jérôme's dream: to have his baby pictured in the hand of Sal Glesser.
More on it later.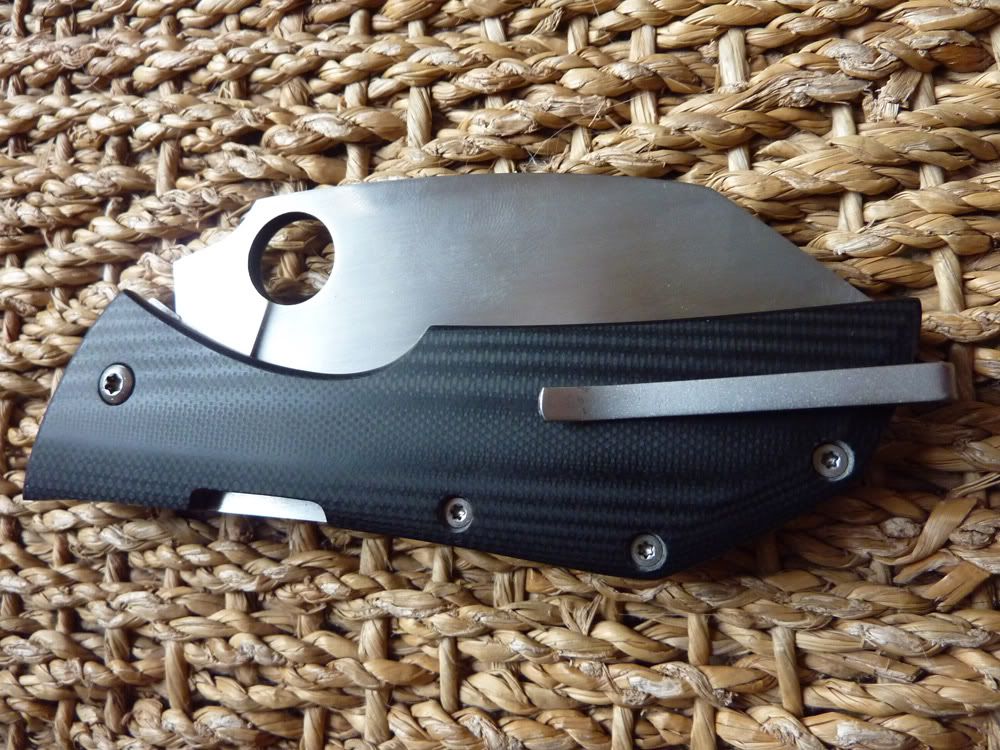 All the pictures down under are (c) Jérôme Hovaere (so, you will notice the hand of the maker!)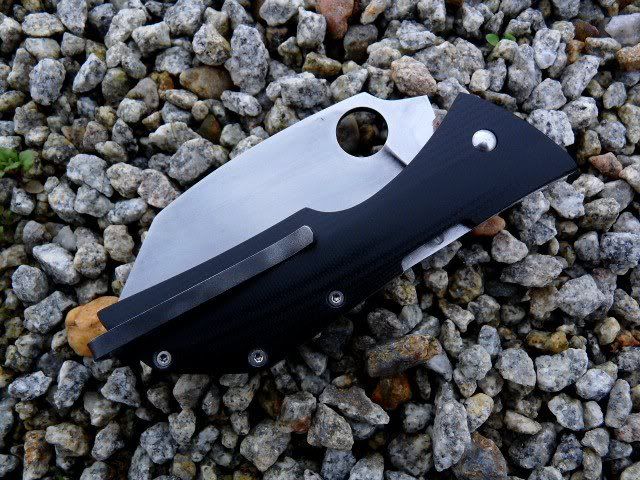 The G10 Proto with another clip.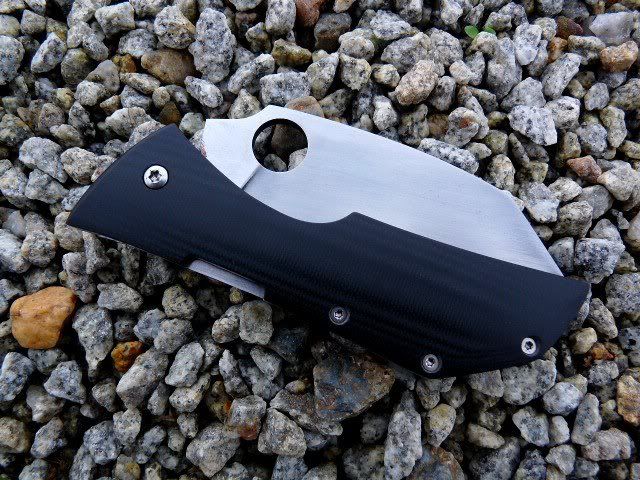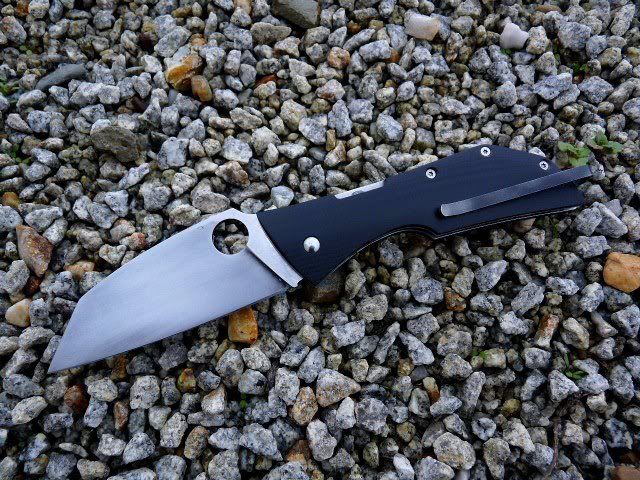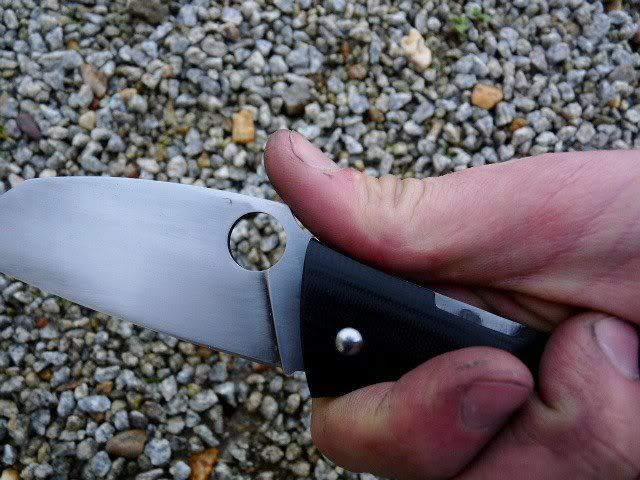 The ergonomy is amazing thanks to its wasp shape handle.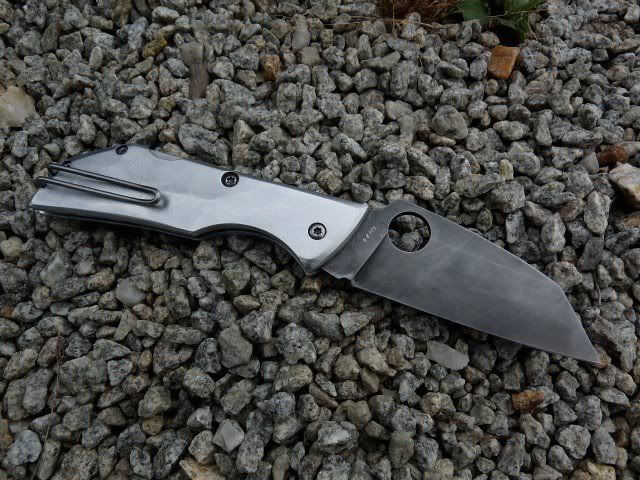 A previous aluminium handle prototype. Notice how the lock release is not placed as on the G10 version.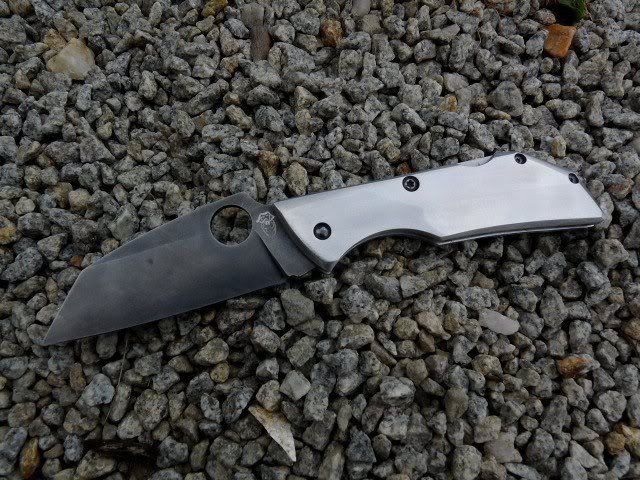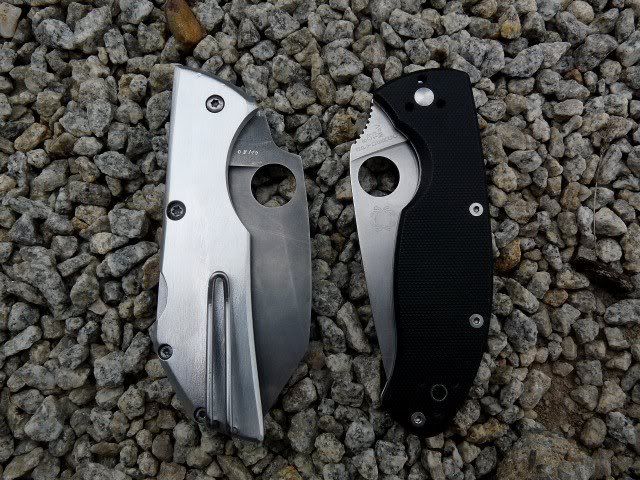 The Lucane next to a Spyderco Tenacious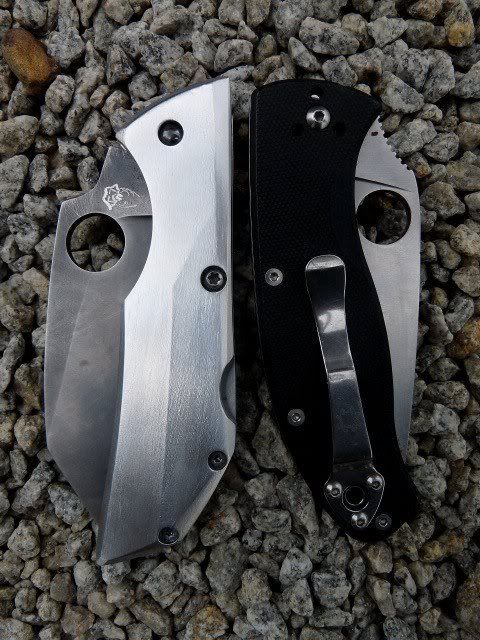 I have forgotten the specs:
Length: 203mm (with clip)
Blade length: 90mm
Once closed: 110mm
Blade thickness: 3,4 mm
Handle thickness: 16mm
Weight: 140 grammes
The steel on this proto is 90MCV8 which another name for O2.
---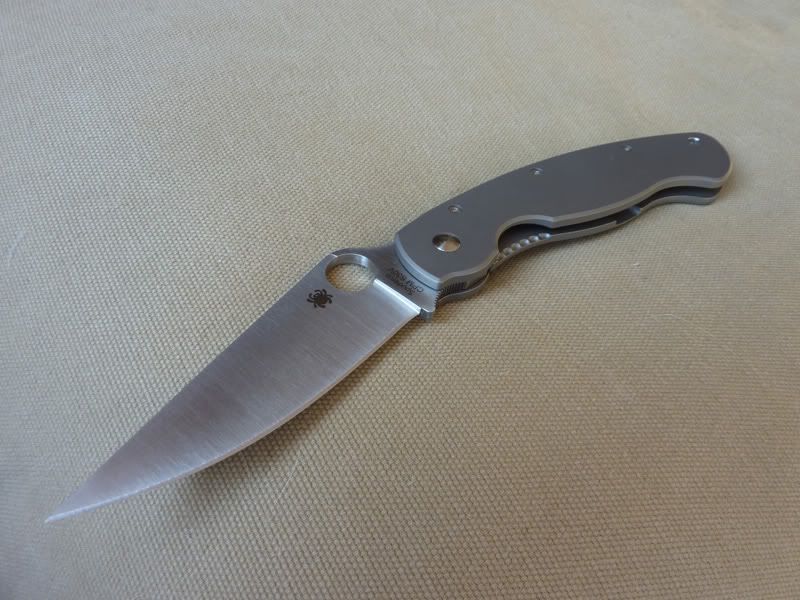 At the occasion of the release of the Military Ti C36 which is some kind of superb hybrid: 80% Sal Glesser and 20% Chris Reeve, I have digged in my archives to find and reedit the loooooong review we made with Fred Perrin back in the 20th century (2nd march 1999).  Anyway here it is with some quotes:
"Yes, the Military is big. Yes, it has a large heavy blade (though the knife as a total is lightweight for its size). But if you are looking for a knife that has the absolute best blade size/weight ratio that fits into the slimmest, lightest handle, this is the knife for you. Not to mention that because of it's weight forward massive blade, it is probably the quickest and easiest manual knife to open there is. Also with its great flat ground thin edged blade, it is one of the handiest do-it-all knives you'll ever use. It is not the knife for everyone, but what knife is? Almost 99% of the complaints you'll ever hear about the Military (and 100% about sticking open), can be blamed on the first generation batch. These new improved versions are FAR superior. Do not buy a Military if you are looking for a collectible. Do not buy it just because a whole lot of us forumites like it a lot. Buy it because you'll USE IT! And therein lies its beauty."
-GENE, MEMBER OF THE BLADE FORUMS-
"Gene – Thank you. The Military Model was designed to be the 'state of the art' production folder of the time. We believe the 2nd generation version is that. Every one of the many parts in this model was examined and refined. We listen to all of the comments (good and some negative), but our own constant testing enforces our beliefs. We believe that nested liners are more evolved and stronger than separate liners. And more expensive to produce. (Ask for favorite custom maker how much more they will charge you to nest their 'full liner' just inside the scale like Spyderco's Military). 'Form' in addition to the 'pins' create rigidity. It may be possible to 'white knuckle' a lock release, but this hasn't happened to our knowledge. Being able to easily close the knife after hard user with gloves on was a major consideration. Any of you that have had a folder lock open and not be able to close it? It's like a chain saw that won't stop . . . what do you do with it? The new 'SecurLok' that Frank Centofante invented is scheduled to be added to the Military Model sometime in '99. This would eliminate the fear of accidental lock release.
The Military Model was not designed as a fighting knife, nor was it designed for suit and tie carry. It was designed to be the most dependable cutting tool accessory a soldier might need while in the 'bush.' The handle is a little larger to afford the dual grip potential. Design is always a great discussion, because there are so many points of view, e.g., blades are for cutting, handles are for holding. A 2″ blade specifically designed for controlled cutting loses its ability to control if the handle is only just long enough to cover the blade. Nothing to purchase on. A scalpel is a good example of this. What is the knife designed to do? To look at? By all means, balance the sizes to appearance. To use? Tougher problem here. Just one designer's point of view. I have avoided responding to this thread, as it was my design in question and this was a comparison type question. It would be expected that I would be biased."
-SAL GLESSER, CEO OF SPYDERCO INC. MODERATOR OF THE  SPYDERCO FORUM AND INVENTOR-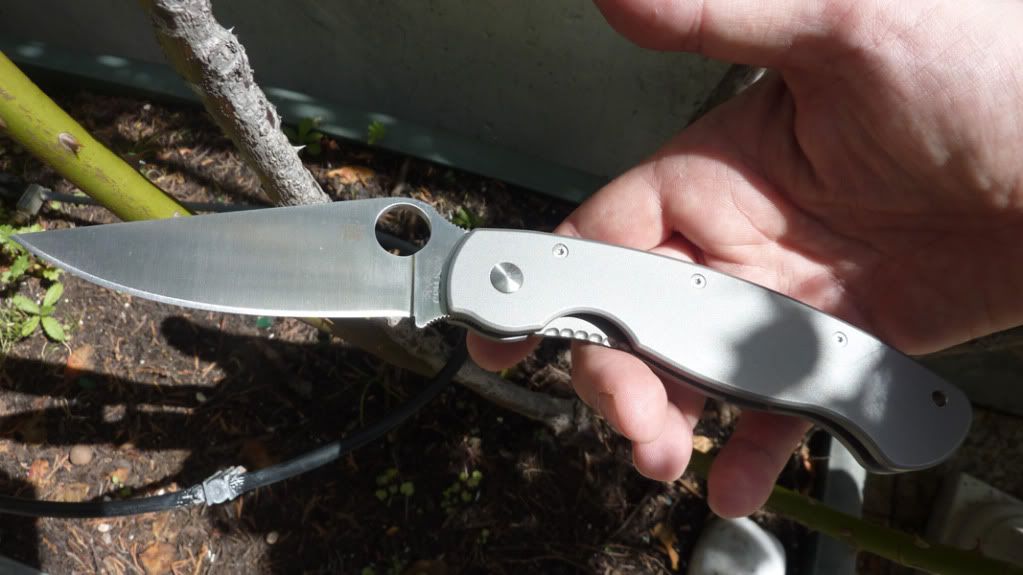 "The designer is Sal. He has a teen-age son. He designed the Military Model with the idea that if his son had to go to war and could carry only one knife, the Military Model is what he would want him to carry. Sal's came up with this model because he wanted a 'survival,' 'camp,' 'all-around' knife that could perform any task in the field, from cutting branches and small trees, field dressing animals, to personal survival."
-JOYCE LAITURI, DIRECTOR OF MARKETING AND PUBLIC RELATION AT GOLDEN COLORADO-
"I remember years ago when Jeff Randall of Adventure Training fame used to take various knives and survival equipment deep into the Jungles of Peru for extensive testing. This period was before Jeff had developed his RAT series of knives. He and his mates beat the snot out stuff, and then posted their evaluations on the Adventure web site. Sal gave him a CMP-440V Military to test; that folder was absolutely abused. There were photos of the knife being used to process vegetation for shelter……skin, slice and dice cayman for the stew pot….and even split firewood. The Military received a Triple A+ endorsement from all who used it; the lock never failed ! Unfortunately , once Randall developed his own line of knives, the test results were eventually removed. Too bad…it made for some good reading. Just as an aside, after having read Randall's review of the Spyderco Military I promptly went out and bought a Military and then signed myself up for a seven day canoe expedition down the lower canyons of the Rio Grande, south of Big Bend National Park….intending to put my Military through it's paces……and perhaps skin a hippo or two, was I.
After all was said and done I think the most challenging task the knife performed was to snag the remaining pickle from the bottom of the jar during a lunch stop.
Despite the fact that the canoe trip fell slightly short of a National Geographic expedition to the remote wilds of my youthful imagination……I had a fine time, and am very pleased to own one, tough, folding knife !
"
Given what's available in current production the G-10 Military is a hell of a bargain and more than adequate for daily duty……and SV30 takes a great edge, and will hold it, even with lots of use, for at least a week. What's it take to put a good edge back on a SV30 Millie with a Sharpmaker ??….a few minutes ? Heck, put a convex edge on that knife and you can strop it on the back of a piece of cardboard and bring the edge "back" even faster.
How important is it that your knife blade go a month until you sharpen it ?
If titanium is to your liking, the Ti Millie is a work of art !
DIAMONDBACK
Spyderco Forum Registered Member
"The millie's only a big knife for the first week, then all your other knives are suddenly too small.
ElThomsono
Rogue Simulant on BritishBlades Forum


And now the 1999 Fred Perrin/Nemo review: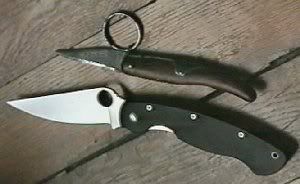 This picture show the C36 Military and Nemo's grand grandfather personnal knife used during Wold War I. This knife has been in real close combat (and you can notice how many time it was used by counting the marks on the handle). The Military is somewhere the grand grandson of that old folding knife, used and abused long time before all that "tactical" hype starts to exist. (Also notice, the full flat ground blade has been so many times resharpen, it is almost now half of his lenght!)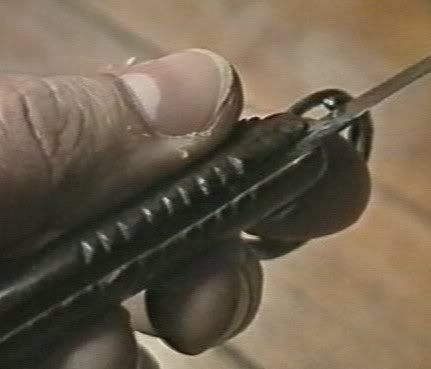 WWI was the first war with enough media coverage for people to discover how much a knife can be a useful tool for the soldiers.
"Thank to Joyce, we have received from Golden three Militaries for us to test and abuse: one full serrated and two plain edge in CPM440V. (Now known as CPMS60V. And the current version is CPM S30V…)
In our own humble opinion, we prefer a plain edge, because we know how to get a really sharp edge on it and we believe a serrated edge is the best option for people who need to cut ropes, plastic, fibrous materials or even rubber everyday…. The Plain Edge is the real Polyvalent Edge. The serrated edge, even though it is really impressive for its nasty cuts and slashes, is not the best cutter in a tactical situation for us. (In fact, we always had a better result with a plain edge!) In a word, a serrated edge is perfect for people who don't like to sharpen their blade. So we can also advise you to carry always two Militaries in your pocket: one serrated in the left and one plain in the right one!" (Some may consider it a joke, but Fred used to be carrying a plain edge Military as well as a serrated Ladybug II!)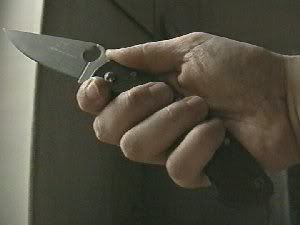 "The Military Model is really feather weight and thank to that, for the first time since a really long time – since 5 inch Cold Steel Voyager was released – we are carrying a big folder.) It's the first time we could really trust a linerlock. This is one of the rare linerlocks that survived our really hard tests. It's easy to see the hollow ground side where the liner comes to lock against the blade. Michael Walker, the father of the "Liner Lock," is involved directly in the improvements noticed in Military.
So, like we said, Military is one of the rare big folder that gives enough confidence for us to carry on a daily basis. Now that we handle our C36, we really enjoy them. Understand this simple facts: it's light, big, and reliable.
Why do we love this knife now? Because it's a beautiful knife ? We have seen so many so called "tactical" craps. How serious the design of the Military Model appears immediately at first sight. No useless cosmetics: this is the M16 of knives !
But first let's have a look at the handle: it's a "real" handle! This is enough rare to be noticed: its handle is the handle of a tool destined to be used.  That extra inch gives a real grip and you cannot lose control of your knife, unless you are clumsy "like a seal" ! Have you ever seen many knives with this kind of long ergonomic handle? The Rescue (from Spyderco) and the Voyager (from Cold Steel) also have one.
On the other side of the handle where is the blade: there is some kind of false guard integrated to the blade where you can apply direct pressures on it without putting excessive force on the handle and the lock.  Even the large clip mounted on the handle is not messing with your grip.  The G10 handle is really strong. You can trust us about that point. We have used G-10 since 1993. We have even made blades of G-10, even G-10 balisongs and stealth folders. It is really a strong and light material. We have hammered it without any problem. This combination of Fiber Glass and Epoxy is almost made to be bullet proof !
The liner lock, as we said, is excellent (despite our efforts to break it and make it fail). It's easy to think that most folders are only made for light chores and are not designed for combat, chopping, or other hard chores. Folders are often considered as "city knives," but the Millie has such a reliable lock that you can use it for hard chores without any pity for it.
Now about the C36 blade. We would like to advise Spyderco to stop drilling these big holes in their blades! Their hole is too small for our fingers to get in and too big to be soap bubble proof. But we noticed that we can use the hole to open the blade really fast. :-) It's a pure joy! When your knife rests in your pocket, you just have to pick it up by the hole in the blade and with a flick of the wrist, the knife is open and ready. The C36 is really easy to open just with a flick of the wrist!!!
No need for any "torsion spring." Why do we need the automatic? Sal would say.



The CPM440V (i.e., the C36 blade material in 1999) is top notch in cutting ability and edge holding with the good heat treatment applied in Golden. The Full Flat Ground of the blade has high performance in blade geometry. It gives a really good penetration power and is the most polyvalent grind available! No more no less! This was the main difference between the Military Model and the old Police Model. The excellent Calypso also has this kind of grind. Just watch the old knives from the 19th century Thiers (France) or Sheffield (England). This V flat grind is nothing new; our ancestors have shown us what grinds are all about! Let's stop believing that we have invented anything new in cutlery. The new "news" in cutlery are often only rediscoveries and "complemental combinations" of old systems. (The clip is 4 centuries old; the serrated edge is also very old; and the Hole also; but Spyderco's genius move was to combine all these features together.)
That C36 was designed as a utility knife and this is a proof of real wisdom from Sal. But let's not forget that a good tool is often an excellent weapon also. Dirty fighting is only another chore after all. The Military is also a good self-defense knife, because it opens really quickly, thanks to the hole and the smooth action. And, as we said, the lock is a rock! The long handle improves your reach, and the slashing ability of this tool is outstanding! You can thrust it, because you trust it. A thrust with a folder is not our favorite move. In this case, we prefer the hammer grip with the edge UP, because the lock is far from our fingers. Just try to hold Military with the edge up, and you will feel a formidable thrusting weapon in your hand.


If you don't have possibility to carry a fixed blade or a balisong, the C36 puts its reliability in the balance. It's so easy to forget where you clipped your Military, when you cannot forget where you try to hide a fixed blade with the same reach as the Military.
Cutting power? We are not aficionados of so called "super steel." The type of steel is not the most important part of the blade. The geometry and the heat treatment are two much more important points. But we think CPM440V is a really good steel, because we have always been satisfied with this steel in our own made knives and other makers knives. Piercing bullet proof vests and performing  multiple rope cutting tests were part of our tests and CPM440V is excellent! The only thing is not to have it harden to high rockwell number. RC56 for CPM440 is even not necessary. In mechanics, soft can often erode hard. Also when a knife is too hard, the edge will be hard to re-sharpen, too much of a hassle for not such results. When it is around HC61, it becomes painfull to re-sharpen and is really prone to break. With CPM440V, we have a really good alternative! It cuts a very very very long time and is easy to re-sharpen, because we don't always have a back stand to re-sharpen our knives (after one entire week of using Military, one minute with a ceramic rod was enough to give it its razor edge back!).  There is no way we don't love CPM440V, and it is no surprise that excellent knives like the Panama Fighters by Sean MacWilliams made of this steel are so good. The only problem with CPM440V is the high difficulty and cost of heat treatment (at least in Europe).  Sometimes, we would really like to borrow Sal Glesser's heat treatment machinary for a moment. :-)  CPM440V, like VG-10, is a very important stainless steel, but we don't believe in mystic super steels! We already tested some crappy CPM440V knives, even some designed by famous designers! Spyderco knows how to heat treat their blades, and their designs are good in the first place.
Something really important: Military is not a NEW knife. It's a knife in perpetual metamorphosis since 1996.
1. Stainless steel torx head assembly screws
2. Double steel posts in back spacer
3. Concave tang ramp
4. Redesigned choil
5. Improved dyeing procedure for the G-10
6. Nested stop pin threaded and screwed from both sides
7. Eccentric pivot pin
8. Redefined serration angle
9. Stronger clip
10. Polished linerlock
11. Harder linerlock material
You see now it's harder, stronger, improved, redesigned and eccentric ! It shows us that, despite the fame of Spyderco products gained through the years, Sal Glesser and his Spyderwomen/Spydermen are always listening to critics and are searching to improve their products. This is so rare !
The 1999 Military is now a second generation knife. It acquired this kind of mega-reliability by standing on the giant shoulders of its 1996 fathers. You can trust people who want to improve things and believe in Quality before Quantity. A good idea is like a good wine: it gets better and better with age. Some people would like a smaller Military. Why not? But we feel it is not necessary. Spyderco offers so many great smaller designs (check C61, C62, and C57!!!).
We think for a tour of duty, the C36 Military Model has a perfect size.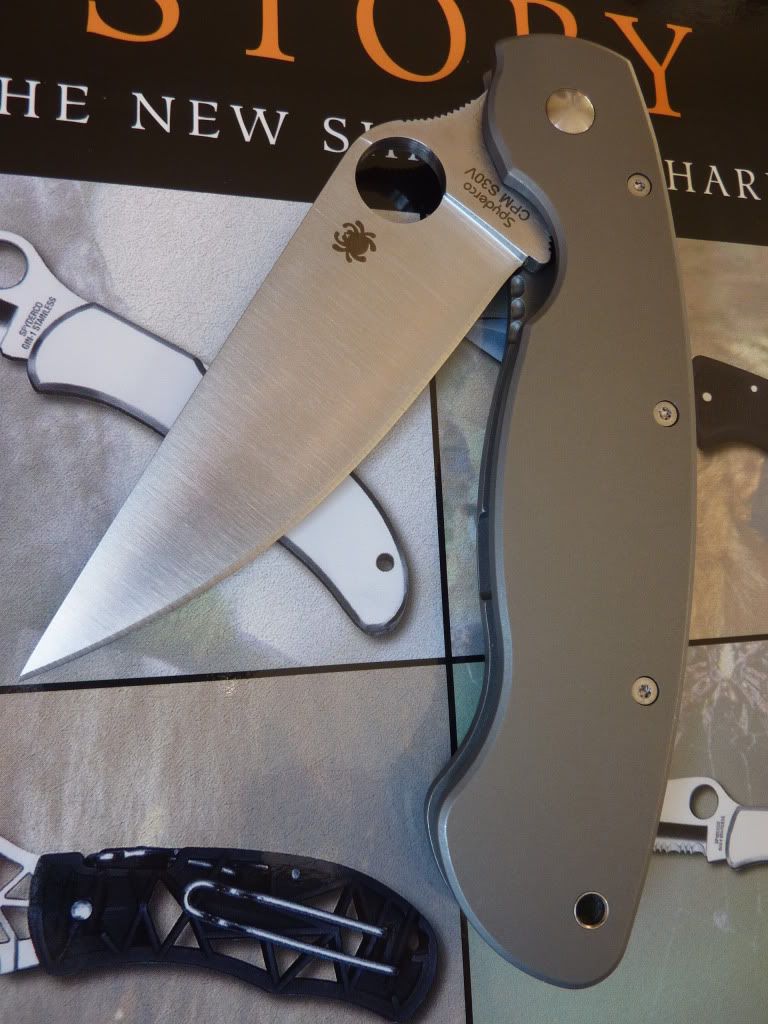 ---
The Beauty:
"The "hump" in the blade is there to house the opening hole. If Gayle submerged the hole, you couldn't access it without a large cut-out and Gayle designed it with no cut-out." (Sal Glesser)


I have ordered last week to a Canadian seller on Ebay (great service from The Great Knife Shop BTW, 7 days door to door from Canada to France!) the C134 which I was inamored with since I ever saw it on the Spyderco catalog.
It was love at first sight.
Three Amigos: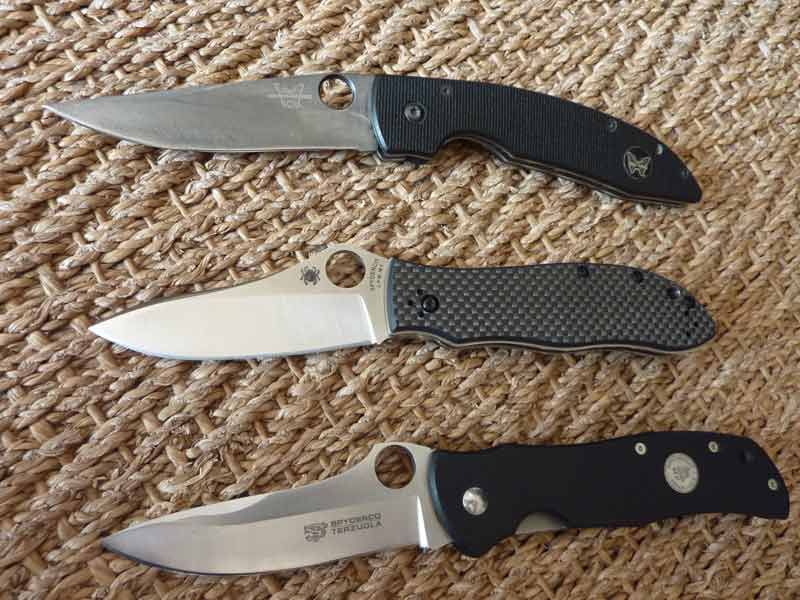 Top is a BM800HS the infamous AFCK in M2. The first "tactical knife" with non stainless steel blade to caught my eye 12 years ago… It was like a space age design with grand dad blade knife !
And also my good old Starmate (#776) which has been in Hell and back and is still as solid as ever (thanks to his eccentric pivot adjustment)…
The GB is simply the smoothest out of the box. The other experience of Spydersmoothness was from my C123 Captain followed by my Paramilitary…
The fit and finish are top notch. This is a custom knife experience: elegant and hightech. Really the Taiwanese craftmen behind such a jewel are true gems and they honor Spyderco by their attention to details and their quality of production. They are jewellers !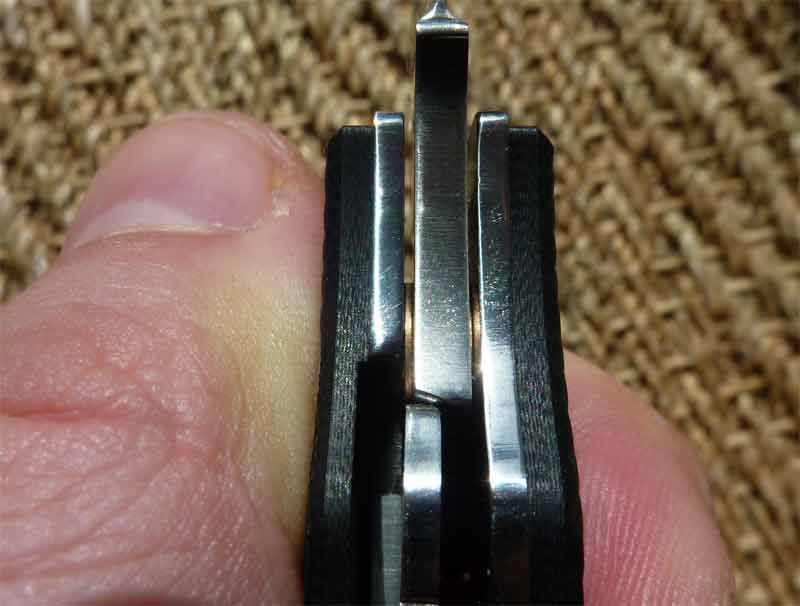 Sal stated that this liner lock would be as solid as a Reeve Integral Lock. (quote: "The lock is .072 thick at the interface. I would guess it's at least as strong as any Reeve Intergral Lock (frame-lock)we've tested, and probably stronger. ") I believe him ! The thin blade, the gentle belly, and the deep hollow ground give a unique "pocket lightsaber" experience. You can whittle some hairs !!! And that incredible CPM M4 High Speed Steel at a RC of 65 ! This is going to be fun !!!
Gayle Bradley is to the knifemaking what Ferrari is to Formula One: performance oriented. The very nice and grippy CF handle give a real motorsport feeling. Mr Bradley is really welcom in Sal Escuderia, as we know how much Mr Glesser is in love with high performance cars ! (Eeven the "Spyder" from Spyderco comes from that love of racing and performances!)
The handle is square and heavy but I love heavy butt knives and square handles. My everlasting love for the Sharpfinger pattern always reflected that.
The balance is perfectly centered under the middle finger. The knife feel very alive and agile in the hands. It screams to be used hard !


I also love how the choil is integrated to the handle. It's almost invisible. The grip is really secure and I don't have any concern about the blade to close on my finger or to have my hand slip on the edge even with wet hands.

Mostly Spydies got a an angle at the pivot which creates an arc like in the Millie, the UKPK…or the Benchmade AFCK…
Or are more straight like the Starmate, the Police…
The heart of the Gayle Bradley (where you hold it between the thumb and the index)got a very pronounced changing of direction which breaks the general line of the knife. (The Marlin, the Harpy got that too but it's an angle necessary to start the sickle blade shape.) The GB is the first Spyderco which got that "crank" line which can be also seen in the beautiful Sukhoi 27 profile.
This could explain the fantastic ergos of that knife.
Also as in the Starmate concept, the straight design of Gayle Bradley's knife offers you a very confortable reverse grip or "edge up" grip. I'm also a big fan of drop point blade on a folder. This one would a great hunter knife.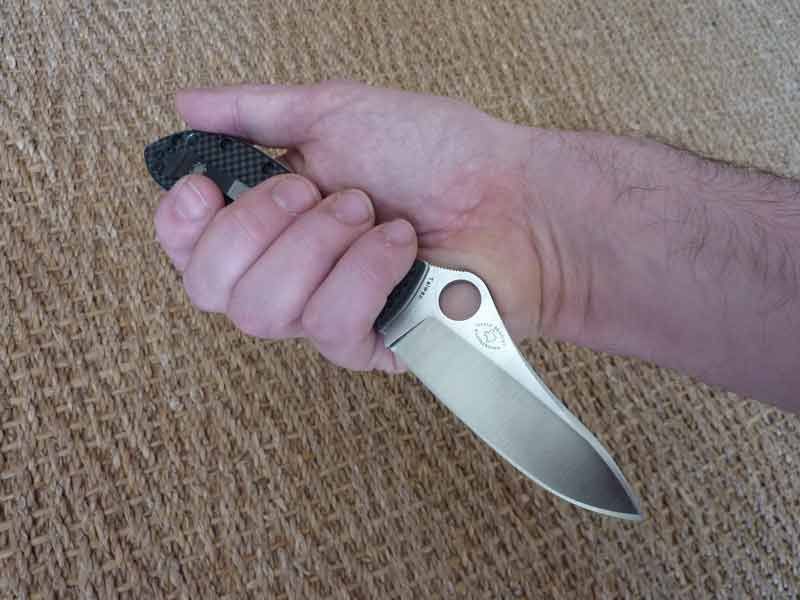 The Ti Millie may be my Spydergrail but the Gayle Bradley is my Dream EDC !
The C134 is a beast of a workhorse dress like a gentleman slipjoint. Another little big knife by Spyderco with elegance and reliability.
Oh, and I can open and close that knife with my right and my left hand with ease: there is areason why you can change the clip position after all !
cheers
Nemo
Now a quote for the designer:
First of all, thank you for your interest in my Spyderco collaboration. I thought I would address some questions I have read on the forums.
I chose a hollow grind because it gives you a thinner edge with less resistance to the material being cut.
The blade material (CPM M4) is so tough and strong it will allow for a very thin edge and still have ample strength for a rough use knife. (My competition knives have an edge thickness of about .014 before the sharpening bevel is ground.)
The blade has belly from tip to ricasso for better cutting ability in most cases.
The tip is slightly thicker for additional strength.
The handle is large enough to accomodate any hand size and most types of grips.
Some dimensions not covered in the spec sheet are: liners are .068; blade is .120; thickness is .517.
Because of the size of the knife and thickness of the liner material, I chose carbon fiber to reduce weight and add furher strength.
One last thing about CMP M4, it is not stainless, but I have found that applying silicone to the blade will prevent most corrosion and stains.
Thank you for your interest in my work-horse design and your trust in Spyderco knives.
Stay sharp,
Gayle Bradley
Here are all the information about C134 on the Spyderco catalog
Gayle designed it to be a monster cutter but it has some subtle refinement that appeals to everyone. (Joyce Laituri – Director of Marketing and Public Relations at Spyderco Inc.)
For Gayle Bradley's Bladesports site it's here
Quote:
Speaking of Gayle Bradley, Congratulations on his new collaboration with Spyderco. We've been using CPM M4 for our cutting competition knifes, and here is a chance to have a taste of that steel for everyday use. We'd like to Thank Spyderco for their generous support of our organization.
UPDATE 18 months later:
the GB is one of those knives which never left my EDC rotation.
After one year I can state that:
- this is one of the easiest knife to close and to open fast. the access to the lock has never been an issue to me and really I close it fast with confidence.
- I was not able to have rust or a real patina despite using it in the kitchen on near the see. I got some sort of grey patina but nor more no less.
-The not so pronounced choil has never been and issue and never my hand was not at least "anchored" to the handle even when wet. The hump of the spyderhole prevented any slippery.
-CPM M4 is a wonderful steel, I was even able to eliminated a nasty edge burr on a bidet !!! :-) (an italian bathroom is plenty of ceramic !!!!)
- My first batch GB is heavier than the new but this heft was usefull when I was probing a wall.
- I was not able to scratch anything on the handle, but the blade while cleaning it with some dry scotchbrit. No big deal.
- CPM M4 is really strobing friendly. Some compound can make magic. Mine is kept razor…
The GB goes in my pocket when I need a hardchore workhorse I can trust for any chores. The thin hollow ground blade has proven to be really usefull even for some bushcraft duty where FFG are queen.
Really this one of the fastest folder to open (spyderdrop in my case, smooth and controled) and close even with gloves. (I really still do not understand the rent and rave about the recess liner accessibility…).
Those were my two eurocents. Your mileage may vary but this is mine.
Cheers
Nemo
Pictures taken in june 2011: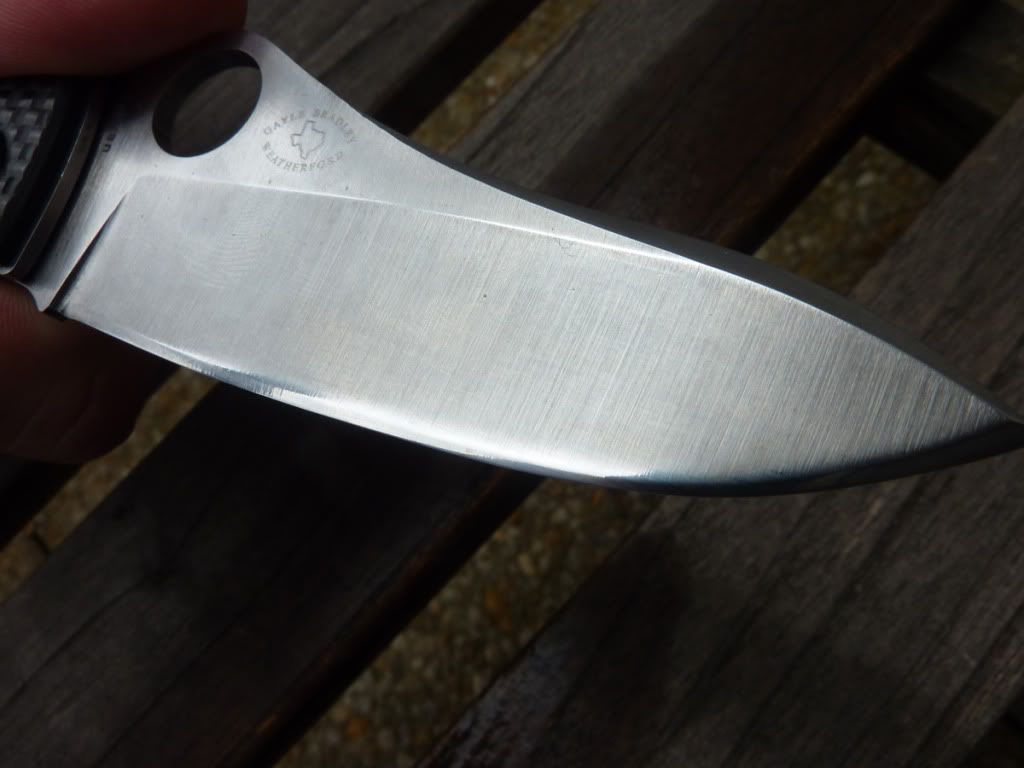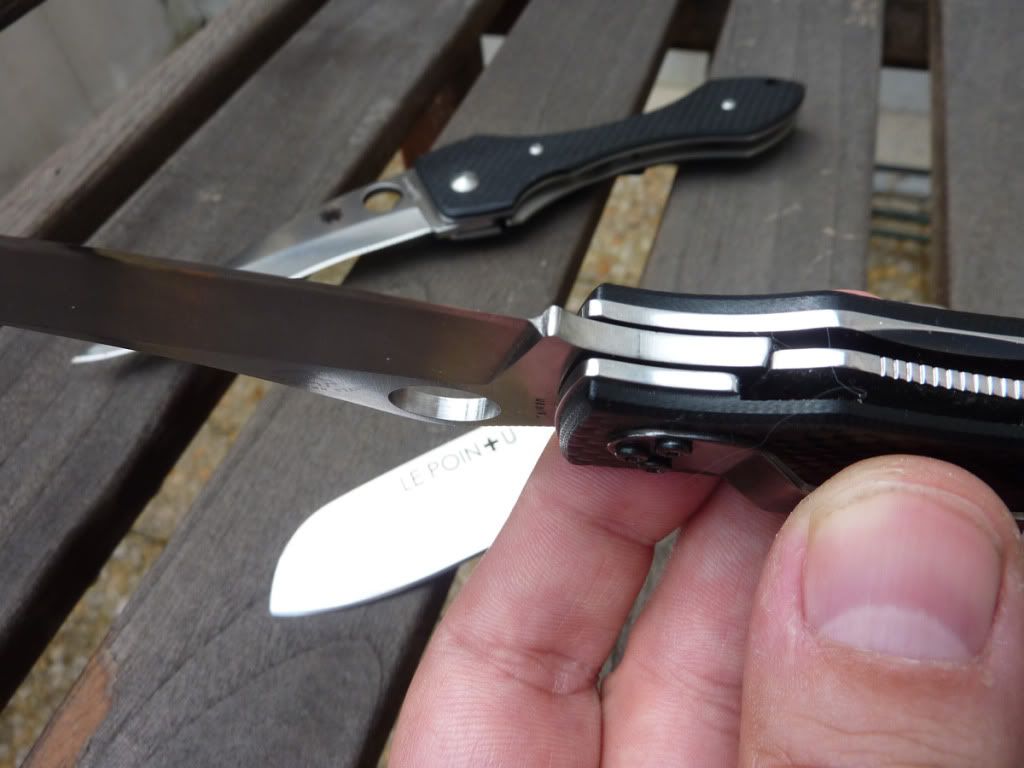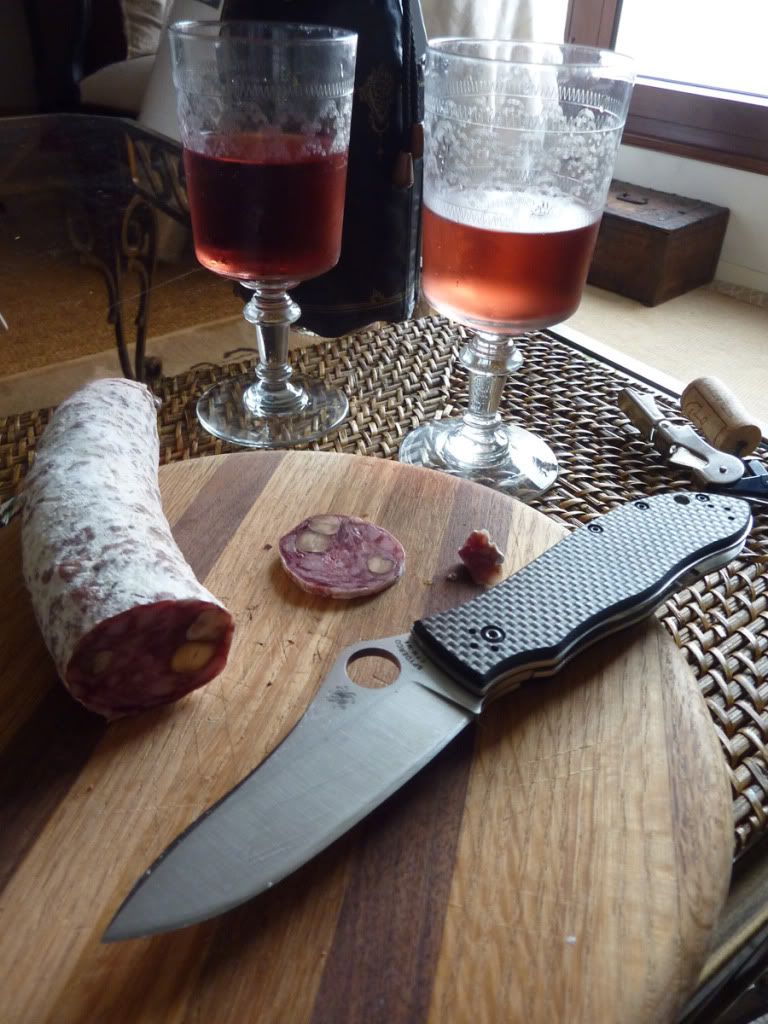 ---